Actor Suriya's press released against NEET examination irked the politicians who belong to BJP party. Actress and choreographer who is one of a prominent member of the Tamilnadu party, compared NEET examination with cinema celebration and questioned Suriya whether films should be banned. Gurumurthy, an RSS ideologue said that people who are dying due to love failure way 3 times higher than people who are dying in the fear of facing NEET and asked whether love and Valentine's day should be banned.
[wp_ad_camp_1]
Now, H.Raja of BJP party came up with a meme to troll actor Suriya for his statement only to get trolled by the users of Twitter. The founder of "Agaram" said that there is nothing shameful than condolencing students before going to examination instead of wishing them to write it well. He said that it worries him on realizing the fact that students are forced to prove themselves by writing examinations even during the ongoing pandemic situation which is a threat to their life.
"The government which is supposed to provide equal chances to everyone, brining an educational system as law that encourages discrimination. People who couldn't understand the reality of poor people are deriving the educational policies." Suriya said in his statement, directly attacking the central government.
"The "Manu neethi" kind of exams such as NEET is stealing, not only the chances of our children, but also their lives." read the statement of the actor who requested parents and teachers to be careful from now on. "Exams should not determine the talent of our children. We must make them (students) realize that there is a beautiful life beyond these kind of silly examinations." he added.
[wp_ad_camp_1]
The actor further compared the ruling government with Drona of Mahabharata who asked for Ekalavya's right thumb, knowing that the loss will hamper Ekalavya's ability to pursue archery. "Modern age Dronas are demanding our children to prove them by writing examinations at 6th grade. Even if our children succeed in those challenges, they are waiting with dangerous weapons such as "NEET" to kill them" the actor expressed his emotion.
Reacting to this statement of the actor, H.Raja who rose to fame confronting actor Vijay during the release of "Mersal" movie, posted a meme trolling Suriya. The meme which showed a picture of Modi communicating with two men, sarcastically said that the government in the centre is going to get dismantled due to the statement released by Suriya.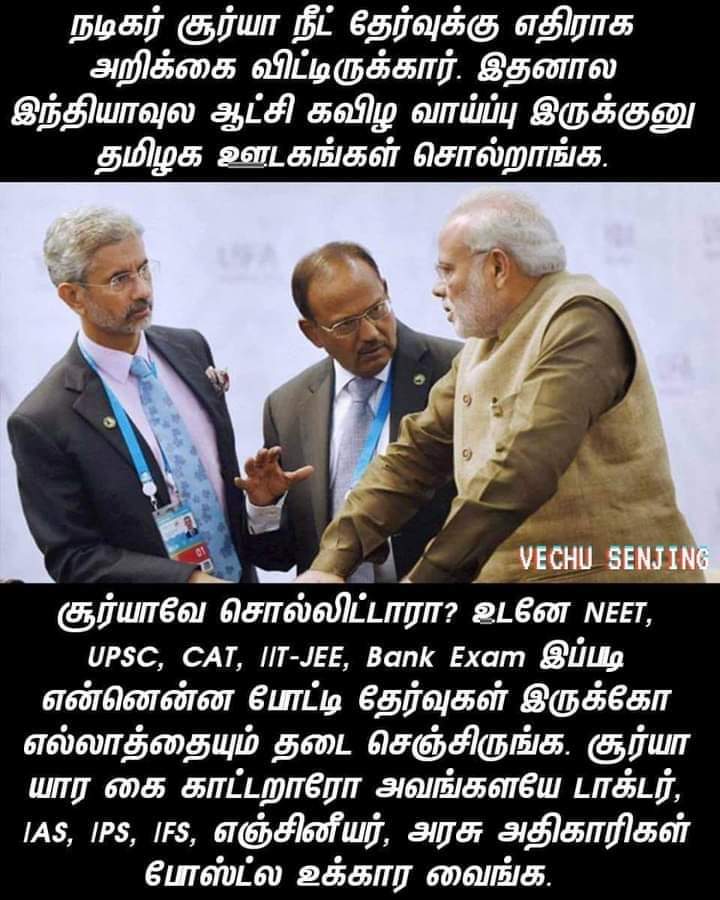 "Not only NEET, Let's ban UPSC, CAT, IIT-JEE and Bank exams as Suriya said. Let's appoint people as IAS, IPS, IFS officers and Engineers according to his guidance" the meme said. Check out his tweet below :
பார்த்ததில் ரசித்தது pic.twitter.com/3wsymkpxTz

— H Raja (@HRajaBJP) September 14, 2020
The BJP politician got trolled for his tweet by the users of the micro blogging social media site. Check out some of their replies :
எச்.ராசாவை அமெரிக்க அதிபராக்கி அழகுபார்க்கவேண்டும்னும் சொல்லியிருப்பாளே? pic.twitter.com/Ts2OGLCK22

— velu s kumaar (@sarasaraathi) September 15, 2020
தாலி , மெட்டியில் பிட் எடுத்து சென்று நீட் தேர்வில் முறைகேடு செய்ய முடியும் என்று கழட்ட சொல்லும் மத்திய அரசு அடிமைகளே
ஏன் இந்த எந்திரத்தில் நீங்கள் (BJP ,RSS) செய்திருக்க இயலாது …? pic.twitter.com/PhJlUvDJp9

— சா. ஆதவன் (@Fljp9fGKJPHADwF) September 14, 2020
[wp_ad_camp_1]
ஒரே ஒரே tweet தான் சூர்யா போட்டாரு ஒட்டு மொத்த சங்கி கூட்டமும் close pic.twitter.com/D7Ux4Rnnnp

— Anonymous Halfboil (@AHalfboil) September 14, 2020
பார்த்ததில் இரசித்தது pic.twitter.com/V5SPvKp91J

— தனிஒருவன்🖤❤️ (@Thannioruvan) September 14, 2020
இது ஒன்னும் அவ்ளோ பெரிய காமெடி இல்லையேடா அட்மின் நாயே…

— அதிபன் (@athipanraj) September 14, 2020
நான் பார்த்ததில் ரசித்தது…இதுதான்😆😅😂🤣 pic.twitter.com/XnOO6dCe2U

— Smj.Ilyas (@ilyas_smj) September 15, 2020
இதுக்கு எந்த சங்கிகளாவது பதில் சொல்லுங்க ஒருத்தனும் வாயை திறக்கமாட்டான் திறந்தாள் குடிச்ச மூத்திரம் வெளியே வந்துரும் pic.twitter.com/tvdfU8rIyh

— mohamed ismail (@KurinjiIsmail) September 15, 2020
Comment your views on this tweet of Raja and the reactions he is receiving