H.Raja Got Trolled For His Hypocrisy !!
BJP
H.raja
hijab
Hindu
Muslim
CM / Updated: 2022-02-11
17:30 IST
By Dhiwaharan
H. Raja, popular politician of BJP party, reacted to the "Hijab" controversy asking students who wear the piece of cloth over their uniform to join in Madrasa if they don't like wearing the uniform alone. As soon as the tweet surfaced in the timeline of the politician, users came up with the screenshot of his 8 year old tweet in which the politician condemned Commissioner of School Education and asked him to vopus the order that demands student not to wear "Thilak" or "sacred thread" to school. Posting the screenshots, users of the micro blogging social site trolled the politician for his hypocrite mindset.
After Muslim students argued with their school managements on attending classes by wearing hijab, a number of Hindu students started protesting against them by wearing saffron shawls.
A group of Dalit boys wore blue shawls to extend their support to Muslim students which caused huge outrage across the state. Video of a lone muslim girl student being heckled by a number of saffron students went viral with many condemning the boys for their atrocious behaviour. The girl student who was identified as Muskan, in an interview, said that she just wanted to submit the assignment and the majority number of boys who chanted against her were from outside college campus.
They accosted her with slogans of "Jai Shri Ram". She responded with a resounding "Allahu Akbar". Her name is Muskan. pic.twitter.com/KAwUXkAYdx

— Brut India (@BrutIndia) February 9, 2022
Celebrities and Politicians from across the country, reacted to the issue. Majority of the influential personalities condemned those who instigated such communal riots between young minds. Now, BJP politician H.Raja came up with a tweet asking the students who wear Hijab to study in Madrasa, a college for Islamic instruction.
"Those who don't like to wear the uniform can join in Madrasa" read his tweet. Check out his tweet below :
பள்ளி சீருடையை அணிய விரும்பாதவர்கள் பள்ளியை விட்டு வெளியேறி மதரசாவில் சேருவது நல்லது

— H Raja (@HRajaBJP) February 9, 2022
However, in a tweet he uploaded on 14th of August 2019, the politician, said "Getting a knot tied in hand and donning a Bindhi are related to Hindu religion. Banning them in school is Anti-hinduism. Would the commissioner of school education has the guts to ban the ornaments of other religions ?? This rule should definitely be vopused" in his tweet.
Check out the screen shot of his tweet below :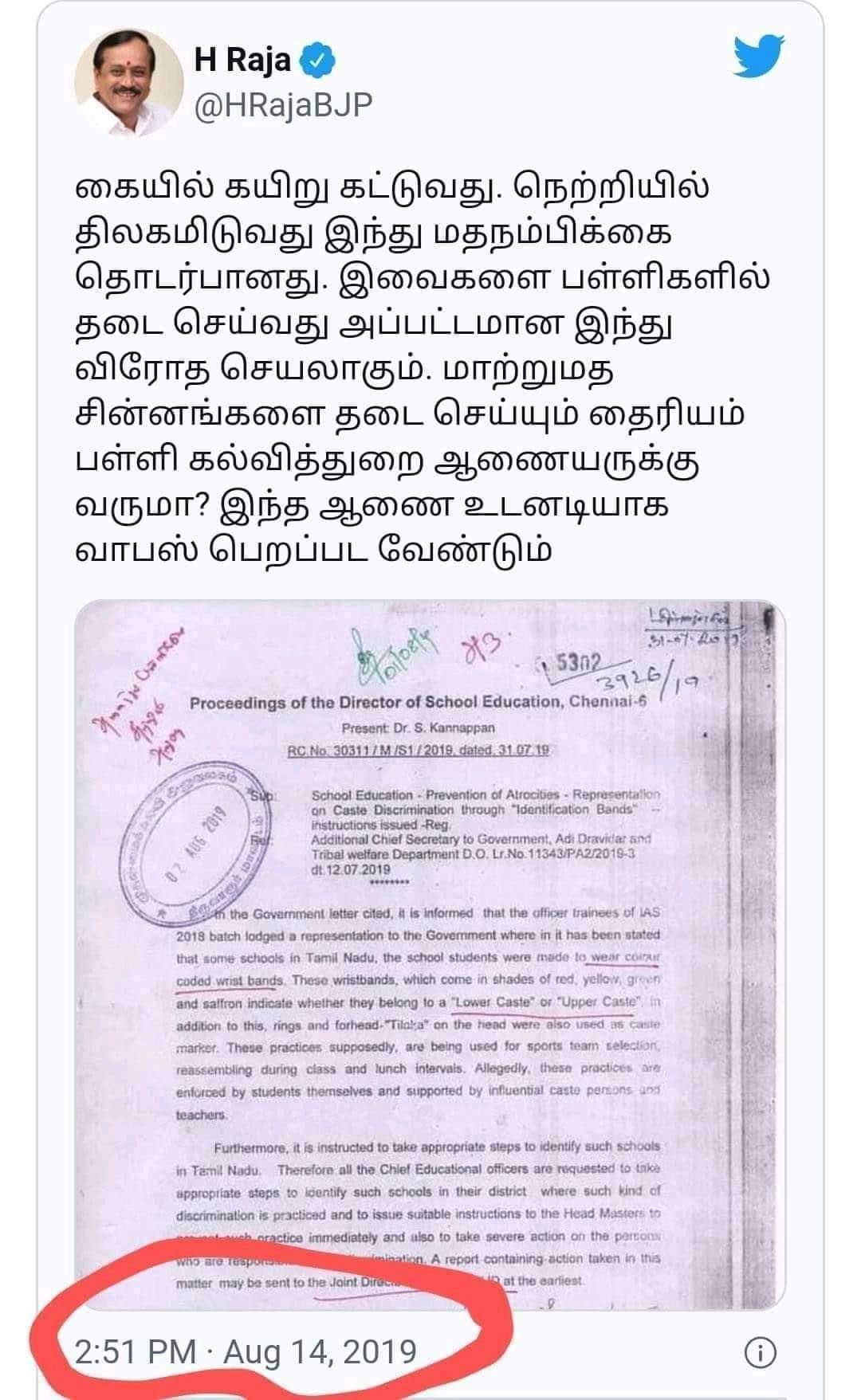 Check out some of the comments that surfaced trolling the politician :
Meanwhile raja during 2019
Kithnai vaai
Unaku vandha ratham
Avangaluku thakkali chutney ah pic.twitter.com/dtD8jAwPWl

— Dr.Sanakyan (@Dr_N_G_S) February 11, 2022
Raja டுபுகே, எப்போ பாரு மாத்தி மாத்தி பேசுறது. எதுக்கு உணக்கு இந்த பொழப்பு. pic.twitter.com/QPd1OOG7NV

— Aravindan L (@i_am_aravindan) February 11, 2022
இந்த நாய்களுக்கு மதத்தை தவிர வேறு எதுவும் தெரியாதா???

— Sivasamysnp (@sivasamysnp) February 11, 2022
அது வேற வாய் ,இது நார வாய் https://t.co/jAmKApDuCE

— BashaBhai (@BashaBhai2020) February 11, 2022
Avanukku vantha raththam, aduthavanukku vantha thakkali chutney.

Naya Paisa ku prayojanam illatha vishayangal la makkal busy ah irukkanum.

Vera side ivanuga aataya potutu povaanuga.

Only korali viththai https://t.co/YHD2H0A7oO

— Yutha Vasanth (@yuthavasanth) February 11, 2022