Groom's Family Demanded 50 Lakhs Dowry & More From 23 Year Old MBA Graduate !! Her Brave Decision Wins Internet
By Dhiwaharan
Singer and Me Too activist Chinmayi who has been raising voice against the harassment that are taking place against women, is also pretty much active in sharing the messages she receive from her social media followers. On Thursday, a series of messages of a 23 year old MBA graduate Chinmayi shared impressed the users of the micro blogging social media site. Through the messages, the girl narrated how she managed to stop her marriage after the groom's family demanded dowry from her parents who was financially and emotionally weak.
[wp_ad_camp_1]
Sharing the screen shots, Chinmayi requested the girls in twitter to be brave enough like her. The narrator who identified herself as Indrani, also thanked Chinmayi for boosting courage through her posts during the case of Kerala "Dowry demand" victim created shock waves in the society. Indrani , 23 years old, said that her parents decided to get her married to feel relieved from the burden. The girl who felt upset, kept quiet after listening to their words on "getting relieved from the burden". However, she regretted her decision of keeping quiet after what happened.
After the initial meetings, the marriage was fixed and the family of the groom were silent during the first rounds of traditional meetings. Indrani's parents started informing their relatives about the "good news" and that's when the groom's family started showing their intentions. The groom's family wanted Indrani's parents to deposit Rs. 50 lakh cash in a joint bank account in the name of Indrani and their son. They also demanded dowry for his elder sister who is living in United States who attend the marriage only if Indrani's parents give a nice amount as dowry.
Indrani's parents who got upset, decided to give whatever they asked as they have informed about the marriage to their relatives and friends. They were planning to sell the farming lands which is their only source of income and Indrani who couldn't keep calm, decided to express herself. "I couldn't remain silent. My instincts were killing me. I shouted loudly at the dining table. I'm an MBA graduate and
not any random item to be sold in the market. What is this bullshit. Im working in an MNC and I earn 50k per month. Now what this shit about dowry is going to decide my worth. Im so pissed about this and cried in my dad's hands that if l'm that burden to him, I will leave the house." message of Indrani read.
[wp_ad_camp_1]
Her father who broke down into tears, called the groom's family and called off the wedding and also promised Indrani about not involving her in such chaos again. She who felt extremely happy, thanked Chinmayi for filling strength in her and for making her speak for herself. Here's the screen shots of her messages :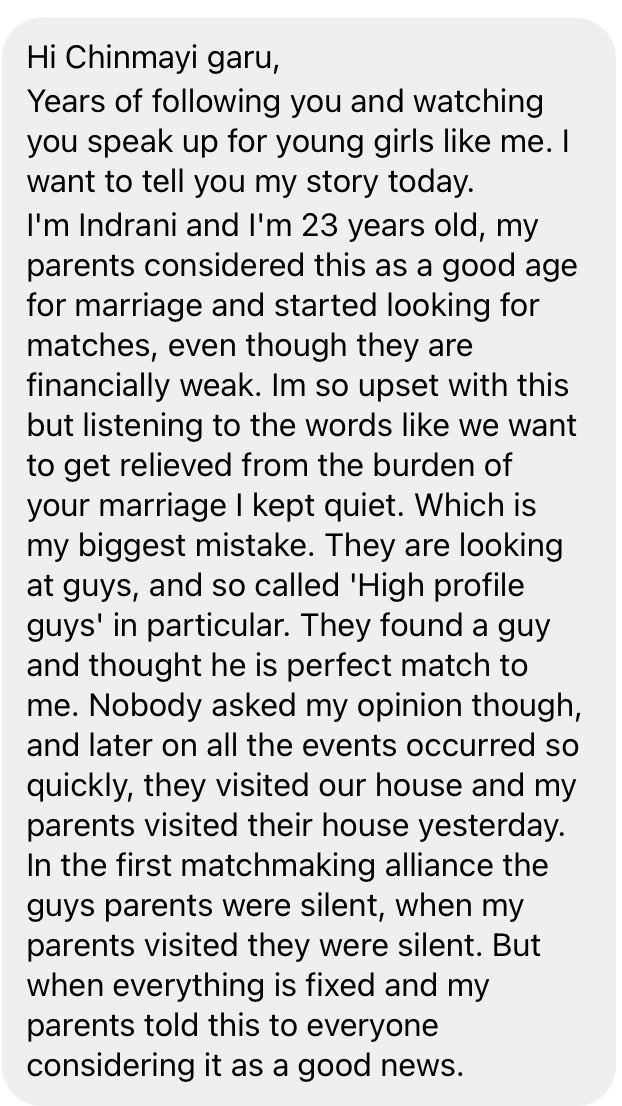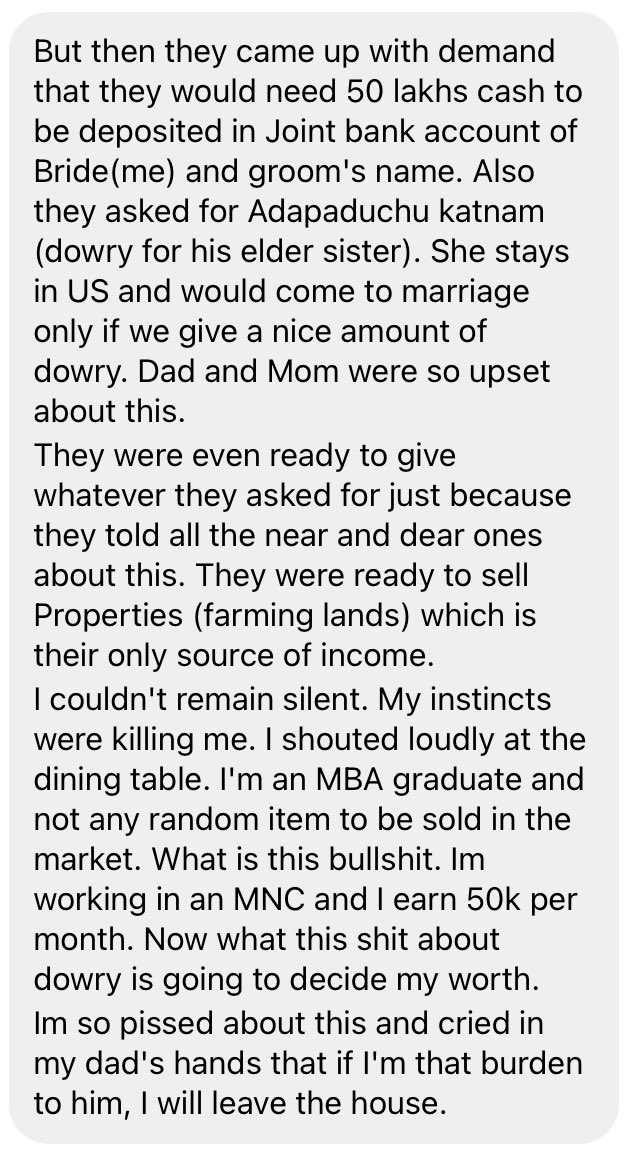 Sharing the messages, Chinmayi wrote "Girls. Please be like this girl" as her caption and people encouraged the young girl for her brave decision. Check out some of the reactions below :
Really Happy for her :). Good that her dad understood.Most of us are choking down cause parents shove marriage(arranged) down our throats as if we come with an expiry date. Whats the harm in letting us marry when we want , to the person we wanna get married to.

— Regina Phalange 😜 (@viji_govind) July 8, 2021
[wp_ad_camp_1]
😭
Happy for her and her parents…

This dowry system really bankrupts many of the families I personally saw and 90% are like that…

Even for middle class familes 1CR is required…
Hopefully all the youth makes there parents realise this…

— Vinay 👨‍💻🏏 (@g_vinay15) July 8, 2021
🙏 Chinnmayi. Marriage is not everything. A change in the society can only be witnessed if girls start saying no to these selfish demands. A Girl is not for sale.Shame on the guy's family who are begging 🥺 for money.

— Prashanthi C (@11Mitochondria) July 8, 2021
It's high time we come out of this mindset that girls need to be 'married off' else are a 'burden'! Hurts me tht even in 2021 we have parents who think this way. But glad they understood instead of forcing her into it! And Grooms grow some spine, tell ur parents not to do this!

— Ramyaa A S (@ramya30380) July 8, 2021
Wow!! What a brave girl. Tears started rolling down while I'm reading this. More power to you and @Chinmayi garu!

— Ajay Kumar (@AjayIsAvailable) July 8, 2021