Government School Teacher's Emotional Words On Seeing The Video Of The Abusive Student!!
Written by Dhiwaharan Published on Apr 23, 2022 | 19:29 PM IST | 82
Follow Us
Comments: 0
A twitter user named Selvam who works as a teacher in a government school, on Friday, expressed his dejection over the viral video in which a student named Maari was seen abusing his Botany teacher. The emotional tweet of Selvam broke the heart of many online users as the teacher said that the act of Maari trying to beat his teacher is bearable but the abusive  words he uttered we're o painful.
A plus two studying student named Maari who abused his teacher inside class room, got suspended after the video went viral in social media platforms with users of it condemning the behavior of the student by tagging Anbil Mahesh, Minister of School education and Chief minister MK Stalin.
அக்கிரமம் தலைவிரித்தாடுகிறது , ஆசிரியர்கள் நிலைமை பரிதாபமாக இருக்கிறது pic.twitter.com/oU4HZhN8M7

— வெண்பா (@urs_venbaa) April 20, 2022
The incident happened in a government school that is located in Aambur located near Thirupathur, Tamil Nadu. Botany teacher Sanjay Gandhi asked Maari who was sleeping in the classroom to submit his record note. Maari, in reply, started abusing the teacher personally and degraded him. Along with Maari, other students in the classroom demeaned Botany teacher Sanjay Gandhi with one of them recording the whole incident in his cell phone. It has been reported that Sanjay Gandhi recently joined the school after getting transfer from a school in Dharmapuri.
In the video which is being widely circulated, a bunch of students who are sitting inside the classroom under the supervision of a Sanjay Gandhi, Botany teacher, could be seen abusing him by uttering inappropriate words.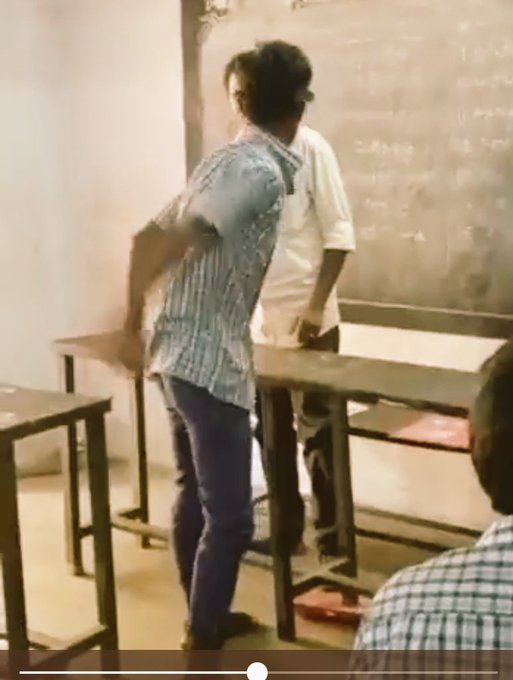 Maari was seen removing his shirt and wearing it again in front of his teacher. He also could be seen gesturing to swing his hand at the teacher who was standing there, starring at the student. At a point, the teacher tries to get out and decides to stay inside the classroom.
Many other students in the classroom could be heard abusing the teacher with cuss words. Recently, it has been reported that Maari got suspended from the school after the video caught the attention of the authorities. Two more students who supported Maari's act were also got suspended, according to reports.
However, a popular twitter users who goes by the handle name "Selvam Arasu Palli Aasiriyar", reacting to the incident, said "I could tolerate the student gesturing to hit the teacher but the words he uttered against the teacher's mother and wife is still paining. What could we tell about this toxic mentality?" through his tweet.
Check his tweet below:
அந்த தம்பி ஆசிரியரை அடிக்க கை ஓங்கியதைக்கூட மனம் ஒப்புகிறது.ஆனால் அந்த ஆசிரியரின் தாய், மனைவியை பற்றி பேசும் வார்த்தைகள் ஏற்படுத்திய வலி தீரவில்லை.இவ்வளவு சீழ்பிடித்த மனநிலையை என்ன சொல்வது😔 pic.twitter.com/xjTzEHKrZ3

— செல்வம் அரசுப்பள்ளி ஆசிரியர்.. (@selvachidambara) April 21, 2022
Here's some of the opinions of his followers and online users for his tweet :
அது எப்படி , இறைவனுக்கும் முன்னே வைத்து வணங்க வேண்டிய ஆசிரியரை(இங்கு ஆசிரியரை ஏன் வணங்க வேண்டும் என்பவர்கள்,அவர்களை ஏன் அடிக்க கை ஓங்க வேண்டு ,குடும்பத்தினரை வசைபாட வேண்டும்) அடிக்க கை ஓங்குவது சரியா, இது மாதிரியான தளர்வுகளே அவர்களை இந்தளவுக்கு கொண்டு வந்து இருக்கிறது.

— KangeyanD (@kangeyan50) April 21, 2022
ஆனால் வட்டாட்சியர் தண்டனை வழங்கலாம் என்று சொன்ன பின்பும் மாணவர்களின் கல்வியும் வாழ்வும் பாதிக்கும் என்று மன்னித்து #Suspension மட்டும் செய்து தேர்வு எழுத அனுமதிக்க அறிவுறுத்திய ஆசிரியரைப் பாராட்ட வார்த்தைகளே இல்லை.
அரசுப் பள்ளி ஆசிரியர் என்றுமே ஒருபடி மேல் தான்.

— DrumsMani (@podhuvudama) April 22, 2022
இவனை போன்று எனது பள்ளியில் படித்த பலரும் 10 ஆம் வகுப்பு தாண்டியது கிடையாது. பலர் குடித்தும், தகராரிலும், வாகன விபத்திலும் இறந்து போய் இருக்கிறார்கள். ஜாதி/ஆதிக்க வெறி தலையில் ஏறி ஆடுகிறார்கள். இவனை எல்லாம் திருத்துவது ஆகாத காரியம்.

— David (@vjs1730) April 21, 2022
வணக்கமங்க அய்யா… நான் கூறுவது தவறாக தோன்றலாம், பெற்றோர் குழந்தைகளிடம் பேச ஆரம்பிக்கும் போது இருந்தே சுய ஒழுக்கம், மரியாதை பண்புகளை காற்று கொடுத்து வளர்க்காமல் விடுவதால் வரும் தீய வெளிப்பாடே இந்த மாணவனின் செயல், பெற்றோர் இடம் உள்ள வளர்ப்பு தான் முக்கிய காரணம்.

— 🖤மா.தங்கராசு❤ (@marimuthuthang5) April 22, 2022