Music maestro Ilayaraja has scored the music for more than 1,000 films and 5,000 songs. He has also rendered 500 numbers and won the national award five times. To honour his achievements, Tamil Film Producers Council is felicitating 'Isai Gnani' with a two-day function at a gala event titled Ilayaraja 75. Top actors and technicians from all south Indian languages including Tamil, Telugu, Kannada and Malayalam, besides Hindi who have worked with the maestro are expected to attend the event and share their experiences with the music maestro.
[wp_ad_camp_1]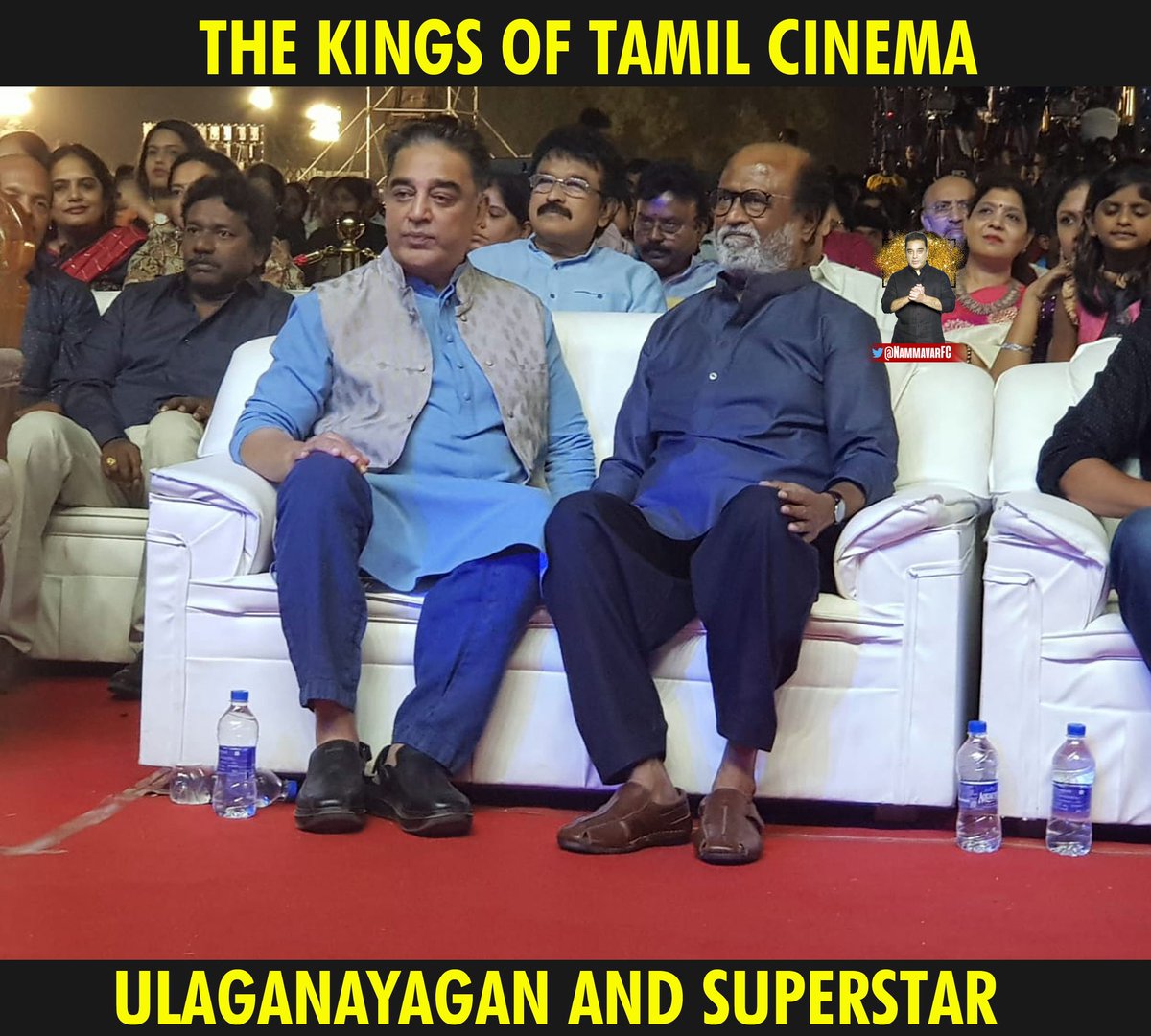 As the function held today, Several phone videos which are made by fans was going viral on Internet. The video are all about the moments which had Rajinikanth and Kamal Haasan along with the one and only music maestro Ilayaraja.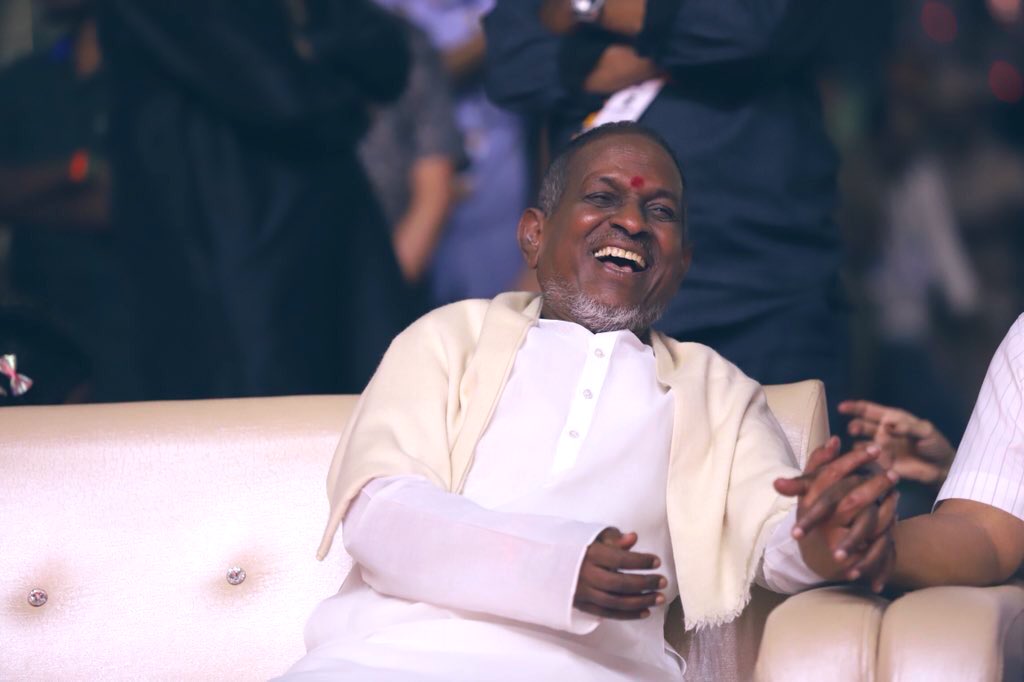 These short low quality videos shows Kamal Haasan singing the songs he composed and sang with Ilayaraja and Rajinikanth's video about him. Check out some of them here :
Rajinikanth's Interaction with Ilayaraja :
"Adhan varudhulla" Thalaivar 😂😂😂👌 that #Petta reference at the end! 😀 Love how Thalaivar & Ilaiyaraaja calls themselves "Saami" !! Friendship goals! <3 #Ilaiayaraaja75 pic.twitter.com/4fxEaQPk3p

— Komban (@Banned_tweeter) February 3, 2019
Kamal Haasan Singing "Raam Raam from Hey Raam" :
ராம் ராம் ஹே ஹே ராம் ராம் இளையராஜா 75. pic.twitter.com/c274PVg1d6

— கமல் பா.சிவா மக்கள் நீதி மய்யம் மதுரை (@podakonkako) February 4, 2019
Rajini Says Ilayaraja composed good music for Kamal Haasan :
ரஜினி: என்னைவிட கமல்ஹாசன் படங்களுக்கு நல்ல பாட்டு போட்டிருக்கார்!

ராஜா: எனக்கு எல்லாரும் ஒண்ணுதான், ராமராஜன் படங்களுக்கு போடலையா, மைக் மோக்ன்னே பேர் வெச்சாங்க!

ரஜினி: சாமி நான் கமலுக்கும் எனக்கும் நடுல சொன்னேன்!

ராஜா: இல்ல சாமி, நமக்கு பாட்டுல வித்தியாசமே பாக்கறதில்ல!

— IlaiyaraajaFans (@IlaiyaraajaFans) February 3, 2019
Check Out some of the other pictures and Fans reactions here :
You may think we're done but… @ikamalhaasan SANG THREE SONGS!!! sorry no video BECAUSE I WAS BUSY ENJOYING THE SHOW #Ilayaraja75 pic.twitter.com/V2mlXTmUVm

— Pooja Devariya (@iamrascalpapa) February 3, 2019
Sagalakala vallavan @iKamalHaasan steps on the red carpet of #Ilayaraja75 Day 2 exclusively on #SunNXT https://t.co/Mr4OGitbj7 #Raaja75ExclusiveonSunNXT #UlagaNayagan pic.twitter.com/3lwwarZDeo

— Sun NXT (@sunnxt) February 3, 2019
Picture of the day. #Ilayaraja75 #KamalHaasan #Ilayaraja ❤️ pic.twitter.com/WzxsKFOPtb

— SS Music (@SSMusicTweet) February 4, 2019
[wp_ad_camp_1]
#TamilfilmProducerscouncil #ilayaraja75 grand musical celebration . Thanks to @rajinikanth sir , @ikamalhaasan sir . #TFPC @VishalKOfficial #kadhiresan #ssDhurairaj @prabhu_sr pic.twitter.com/2aL9Wpg5e7

— TFPC pr news (@TFPCprnews) February 4, 2019
As Tweeted, Thalaivar 'IN' #Ilayaraja75 Now! 🤘 pic.twitter.com/z7Z9BcIWcp

— R@j!n!⭐️Follo🕶ers™ (@RajiniFollowers) February 3, 2019
The lovely 😍 father-daughter duo!

Latest selfie of #KamalHaasan with #Shrutihaasan at #Ilayaraja75 pic.twitter.com/C1JlGWQ42Z

— KamalHaasan ➖ Our Pride! (@KHOurPride) February 3, 2019
#Ilayaraja75 today turned out to be a @ikamalhaasan special. The actor took to stage to sing half-a-dozen hit numbers. He as usual gave an entertaining performance.

— bharathnt (@bharath1) February 3, 2019
@ikamalhaasan ji @rajinikanth sir in #Ilayaraja sirs #IlayaRaja75 pic.twitter.com/E9fmD2wA5Q

— rgvenkateshgnfilms (@rgvenkateshgnfi) February 3, 2019
This made my day and all the people who were there at #Ilaiyaraaja75 … What a lovely sight was it to watch @ikamalhaasan sing Live & @rajinikanth enjoy the same 💖#Goosebumps moment pic.twitter.com/qwP74O5ysu

— Rakesh Gowthaman (@VettriTheatres) February 3, 2019
Only True Friends can be this close and comfortable with each other #Rajinikanth #Kamalhaasan #Superstar #ulaganayagan #Ilaiyaraaja75 pic.twitter.com/RJch7jiyZc

— IndiaGlitz – Tamil (@igtamil) February 3, 2019
Absolute Role Models… 5 decades of professional rivalry, differing ideologies & opposing politics take backseat… FRIENDS FOREVER @rajinikanth @ikamalhaasan #Superstar #UlagaNayagan #ILAYARAJA75 pic.twitter.com/hdFp4cDiI7

— IndiaGlitz – Tamil (@igtamil) February 4, 2019
They know each other well…😍 … #Kamalhaasan #Rajinikanth #Ilaiyaraaja75 pic.twitter.com/LpmsOky6oQ

— Prabu (@iPranavan) February 3, 2019
#Superstar #RAJINIKANTH with #KamalHaasan#Ilaiyaraaja75 #RBSI @rajinikanth @RIAZtheboss @v4umedia1 @anirudhofficial pic.twitter.com/4ejynsYh3q

— RBSI RAJINI FAN PAGE (@RBSIRAJINI) February 4, 2019
[wp_ad_camp_1]
#SuperStar @rajinikanth entry in
YMCA #Ilaiyaraaja75
🔥🔥🔥🔥🔥🔥@RajiniFansTeam my friend @Satheesh_2017 💥💥💥 pic.twitter.com/98cQgSol0M

— தளபதி ராம்❤💞💥 (@ramrajan06) February 3, 2019
What do you think on these golden moments of that demands to be remember forever ??  Comment below !!