Google To Face A Huge Amount As Lawsuit For Tracking People Even In "Private Mode" !!
Written by Dhiwaharan Published on Jun 04, 2020 | 19:12 PM IST | 93
Follow Us
Comments: 0
For illegally invading the privacy of users even when they are browsing in "private mode", Google has been sued in the United states. While many users are firmly believing that their search history is not being tracked when they browse in "private" or "incognito" mode, Google has been found guilty for tracking the details even in that mode.
[wp_ad_camp_1]
The search engine denies this is illegal and says it is upfront about the data it collects in this mode. This purposed class action likely includes millions of Google users who since June 2016 browsed the internet in private mode according to law firm Boies Schiller Flexner who claim on Tuesday in fedral court in San Jose, California.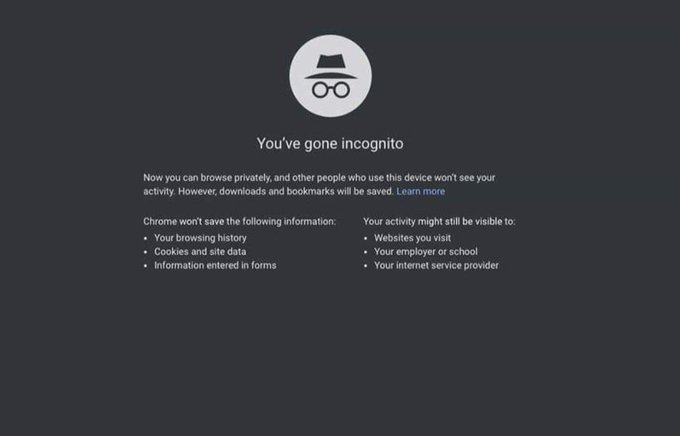 The incognito mode within google's chrome browser gives users the choice to search the internet without their activity being saved in the search history. But the latest discovery has said that the websites visited can use tools such as Google analytics to track usage.
The complaint alleged that Google cannot continue to engage in the covert and unauthorized data collection from virtually every American with a computer or phone. "As we clearly state every time you open a new incognito tab, websites might be able to collect information about your browsing activity" said Google's spokesperson Jose Castaneda who denied the claims completely.
[wp_ad_camp_1]
The search engine states that it is tracking the users activity even in private mode, only help the website owners to "evaluate the performance of their content, products, marketing and more". While private browsing is available from Google for some time, Boies Schiller Flexner said it recently decided to represent three plaintiffs based in the United States.
"People everywhere are becoming more aware that their personal communications are being intercepted, collected, recorded or exploited for gain by technology companies they have come to depend on", it said in the filing. One options is for visitors to install Google Analytics browser opt-out extension to disable measurement by Google analytics, it says.
The class action wants at least $5 billion from Google and owner Alphabet. This report has created waves in social media platforms as people got shocked to realize that they are being watched even while browsing in incognito mode.
Who knew Google was still tracking people's data in Incognito Mode?

— Jules Babayemi (@BeatboxB) June 3, 2020
[wp_ad_camp_1]
Confidentiality and privacy becomes a joke. Highly disappointed!! #google

Google Faces $5 Billion Lawsuit For Collecting User Information via Chrome's Incognito Mode. pic.twitter.com/hBnojtpWvf

— Vineet sharma (@sharmavineet19) June 3, 2020
ummm.. no more incognito tabs google..

— look (@imadeyoufries) June 4, 2020
Comment your views on being tracked even in "private mode" !!