Girl Restricted By Parents To Stay At Home After Priyanka's Incident !! Chinmayi Blasts !!
Written by Dhiwaharan Published on Nov 29, 2019 | 17:26 PM IST | 96
Follow Us
Comments: 0
The news of Priyanka Reddy's death created huge furore in the country where people are shattered in deep shock, especially the parents of young girls. As the incident occurred around 9 30 in the night, few of the Indian parents restricted their daughters from going out or staying out after 8 pm in the night. A girl who faced such restriction from her parents, informed Chinmayi, one of the prominent metoo activist in South India.
[wp_ad_camp_1]
The girl in her message to Chinmayi says that her parents started lecturing her not to roam outside after 8 pm. She who attends her dance class from 7 30 to 9 30 expressed her frustration to Chinmayi as she feels that Chinmayi is the only person who could understand her situation. "Why so? Because Guys can't be changed and we should take our precautions" says the girl in her message.
Check out the screenshot that was shared by Chinmayi here :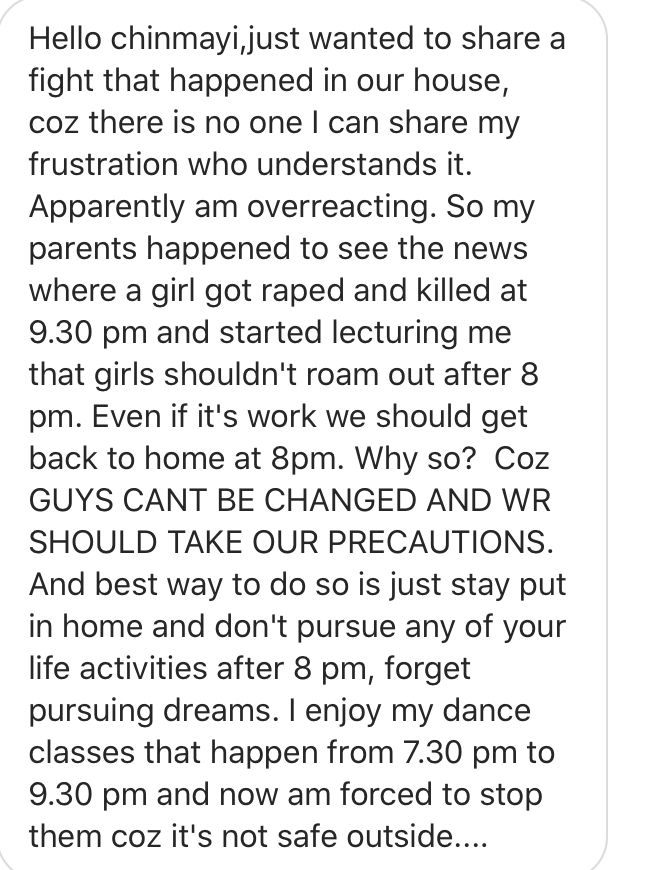 Sharing the screenshot Chinmayi, in a series of tweets asked the Indian parents to preach their male children. She even blamed meme pages and the men who are actively involved in them and fantasizing about raping women. The singer expressed her disappointment on Instagram as well as it ignores her complaint and not finding it as violence.
Check out her tweets here :
The outcome of Priyanka Reddy burned in Hyderabad yesterday. Girls are asked to stay home.

Girls need to stop classes, hobbies, whatever they may do after work just so that they don't get raped.

If this is not screwed up, I dont know what is. pic.twitter.com/287y7T4yWZ

— Chinmayi Sripaada (@Chinmayi) November 29, 2019
[wp_ad_camp_1]
The forever statement of 'Boys cant be changed so you safeguard yourself'. Always, ALWAYS
the onus of NOT getting raped is on the girl. Indian parents need to lay responsibility where it belongs.

— Chinmayi Sripaada (@Chinmayi) November 29, 2019
Meme Pages on Instagram are reeking with sexual violence, fantasising acts with rods, no less. Sisters, mothers aren't spared. Neither is the usage of images of children. I have been calling it out for weeks on Instagram. But nope. @instagram doesn't find these violating policy

— Chinmayi Sripaada (@Chinmayi) November 29, 2019
These meme pages have hundreds / thousands of young boys following and commenting, engaging actively about how they would like to rape the women / girls.

Bottom line – as much as parents police what their daughters do on social media, NO one checks their sons, brothers actions

— Chinmayi Sripaada (@Chinmayi) November 29, 2019
[wp_ad_camp_1]
The furore in internet took place after a twenty six year old doctor, Priyanka Reddy, who went missing since wednesday found dead at Shadnagar. This news indeed shook the entire country as many citizens raised voice against the culprits. The veterinarian doctor suspected to have been raped and murdered by four people including a lorry driver and a cleaner. The news of the incident happened in Hyderabad is spreading like wildfire across the country.