"Wear Hijab After School" – Gayathri Raguramm On Girl Students Wearing Hijab In College !!
Gayathri Raguramm
Girls
Hindu
Muslim
students
CM / Updated: 2022-02-09
11:29 IST
By Dhiwaharan
Actress, Choreographer cum Politician Gayathri Raguramm's tweet about girl students wearing hijab gained her severe criticism from the users of the micro blogging social media site. She wanted students to wear hijab after school hours and said that her party cadres and herself are not against hijab and Muslims. The BJP Tamil Nadu's president of Art & Culture Wing said that she supported A.R Rahman's daughter when an issue was raised about herself wearing hijab in public. Gayathri Raguramm said that everyone is equal in school and culture should be followed outside school.
Karnataka Chief minister Basavaraj Bommai announced three days of leave for schools and colleges after outrage erupted in the educational institutions from various part of the state. After Muslim students argued with heir school managements on attending classes by wearing hijab, a number of Hindu students started protesting against them by wearing saffron shawls.
A group of Dalit boys wore blue shawls to extend their support to Muslim students which caused huge outrage across the state. Video of a lone muslim girl student being heckled by a number of saffron students went viral with many condemning the boys for their atrocious behaviour. The girl student who was identified as Muskan, in an interview, said that she just wanted to submit the assignment and the majority number of boys who chanted against her were from outside college campus.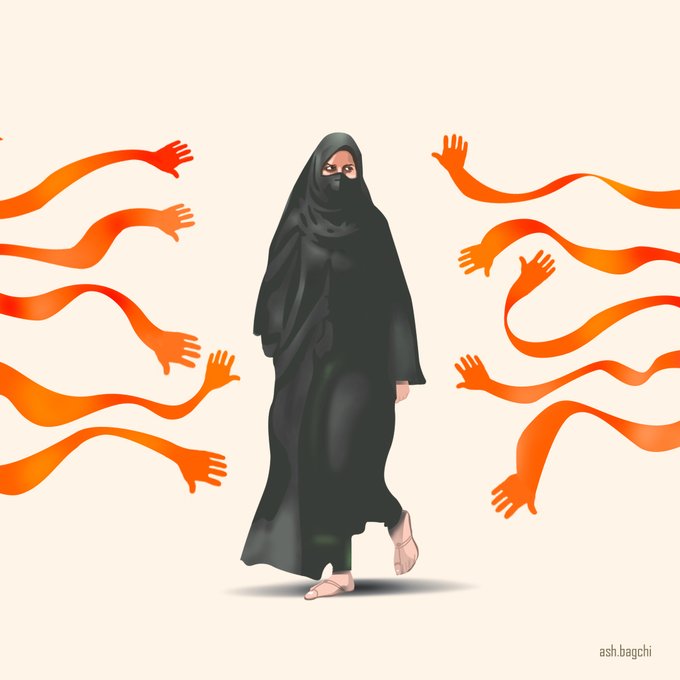 Celebrities from across the country, including Kamal Haasan, Richa Chadha, Swara Bhaskar has been reacting to the issue, condemning those who poisoned the young minds. Actress cum politician Gayathri Raguramm, in her tweet, justified the act of BJP cadres saying "If hijab is the school uniform then all the students should wear it. We are not against Muslims &hijab. Wear them after school. The school uniform should be followed. I support A.R.Rehaman's daughter when she was trolled for wearing hijab recently(outside school),I defended her" through her tweet.
"following culture outside school is not wrong. But We are equals in school. Our clothing should not define who we are (rich or poor) that's why we have uniforms" she further added. 
following culture outside school is not wrong. But We are equals in school. Our clothing should not define who we are (rich or poor) that's why we have uniforms.

— Gayathri Raguramm 🇮🇳🚩 (@BJP_Gayathri_R) February 9, 2022
The tweets of Gayathri Raguramm became a subject to severe criticism. Many questioned the BJP politician for not raising voice against her party members who heckled a lone Muslim girl and justifying their act. Tweets surfaced supporting her views as well. Check out some of the reactions below :
அனைத்து மாணவ பெண்களின் சீருடையாக ஹிஜாபை மாற்ற தோழி பரிந்துரை 💪🏼 https://t.co/flsR0DjwDB

— Savukku_Shankar (@savukku) February 9, 2022
ஒரு பெண்ணைச் சுற்றி நின்று இத்தனை பேர் பிரச்சனை செய்து கொண்டிருக்கிறார்கள் அதை தட்டி கேட்க துப்பில்லை. உன்னை தவறாக பேசினால் உனக்கு எவ்வளவு கோவம் வருகிறது. நீயும் ஒரு பெண்தானே இதுபோல் உனக்கு நடந்தால் இப்படித்தான் வந்து பேசுவியா?. மதத்தை வைத்து அரசியல் செய்வதற்கு போய் பிச்சை எடு. pic.twitter.com/HMGQA29F22

— Govinth (@Govinth58231842) February 9, 2022
— goldenraj che guevara (@goldrajen) February 9, 2022
இந்திய ராணுவத்தில் டர்பன் அணியலாம். ஆனால் கல்லூரியில் புர்கா அணிய கூடாது.
சீக்கியர்களை எதிர்த்தால் டின் கட்டி விடுவான். துண்டை காணோம் துணியை காணோம் என்று ஓட விடுவான். ஒரு பெண்னிடம் புர்கா அணிய கூடாது என்று வீரத்தை காட்டுகிறார்கள் கோட்சேவின் வாரிசுகள்.

— Govinth (@Govinth58231842) February 9, 2022
— புகழ் & தமிழ் அப்பா (@logun89) February 9, 2022
இதையே சபரிமலைக்கு மாலை போட்டு பள்ளிக்கு வர நம் இந்து மாணவர்களுக்கும் பொருந்துமா?? பள்ளிக்கூட வாசலிலையே மாலை கழட்டிவிட்டு திரும்பவும் பள்ளி முடிந்து வெளியே சென்று போட்டு கொள்ள சொல்லமுடியுமா

— Ayyan c (@Naan_raja) February 9, 2022
அது பள்ளி எடுக்க வேண்டிய நடவடிக்கை அதனை பள்ளி நிர்வாகம் பார்த்துக்கொள்ளும் மதவாதிகள் உங்களுக்கு அங்கு என்னடா வேலை !! மாணவர்களை காவிதுண்டு அணியவும் தொப்பி அணியத் தூண்டவதும் எந்த வகையில் நியாயம் !!

— 🔥சில் வண்டு🔥 (@peran_periyar) February 9, 2022