Gambhir & Kohli's Heated Conversation !! Video Goes Viral
Written by Dhiwaharan Published on May 01, 2023 | 05:13 AM IST | 111
Follow Us
Comments: 0
Gambhir and Kohli were involved in a heated conversation after the end of Match no. 43 in the ongoing IPL tournament. It is notable that the former RCB captain gestured "Finger on the lips" after grabbing the catch of Krunal Pandya. It is widely believed that he took revenge for the gesture of Lucknow coach Gautham Gambhir who did similar gesture in the previous encounter between the same two teams.
also read : VR Mall To Be Sealed Because Of This Reason ??
In a group stage match of the Indian Premier League, the Royal Challengers Bangalore successfully defended a meager total against the Lucknow Super Giants. The Super Giants, who were chasing a target of 127 runs, fell short by a huge margin as they were bundled out for just 108 runs, failing to even bat their full 20 overs.
However, the post-match scene was marred by an altercation between players from both sides, including veterans Virat Kohli and Gautam Gambhir. The two teams got into a heated exchange as the match came to an end, with both sides trading words and pushing each other.
Here's the whole video of the incident :
Here is the whole video and i think gambhir sir ko apna emotion control rakhna chahiye, wo virat kohli h jisne aus,eng,sa sbko unhi ke ghar m p€la h aur aap usko usi m ghar m agression dikha ke aa rhe ho,to kuch to expect kro hi wo bhi kohli h,zimbu nhi😂pic.twitter.com/9bizlubDh5

— Chintu🚩 (@HiiChintu) May 1, 2023
It is not yet clear what sparked the altercation, but tensions had been running high throughout the match. The umpires had to intervene to break up the scuffle and restore order.
The incident is likely to attract the attention of the IPL authorities, who may take disciplinary action against the players involved. Such incidents are not uncommon in the high-pressure environment of the IPL, but they are always regrettable and can lead to serious consequences for the players involved.
Watch the videos and reactions below :
— Mohit (@CricketHolik) May 1, 2023
Kohli vs Gambhir rivalry has reached a whole new level FFS, these are unreal scenes in Lucknow. 😳pic.twitter.com/B2a31R38qv

— Arjun (@LifeIsAnElation) May 1, 2023
Delhi boys pic.twitter.com/XOuM609RtS

— JAG19 (@GJA194) May 1, 2023
Naveen ul haq refused to talk with Virat 🤣🤣🤣🤣 full dramabaazi https://t.co/CJrKHVr8DU pic.twitter.com/nRwVqPyPHo

— Sumit (@Iamsrkknight) May 1, 2023
Virat Kohli vs Navin-ul-Haq in 17th Over.FULL FIGHT!!🔥 pic.twitter.com/BSMGgeKNCv

— HBD ROHIT. ᴘʀᴀᴛʜᴍᴇsʜ⁴⁵ (@45Fan_Prathmesh) May 1, 2023
also read : CSK Fan Girl Reacted To The Memes & Simp Posts !!
Earlier, Former Royal Challengers Bangalore (RCB) captain Virat Kohli was seen engaging with the spectators at the Bharat Ratna Shri Atal Bihari Vajpayee Ekana Cricket Stadium during a match against the Lucknow Super Giants. Known for his love for revenge sequences, Kohli was in no mood to miss out on an opportunity to give it back to his opponent in style.
During the fourth over of the match, Lucknow Super Giants stand-in captain Krunal Pandya hit a delivery from Glenn Maxwell towards Kohli, who was stationed at long-off. Although it was not an easy catch, Kohli ran to his right and made it look simple, much to the delight of the spectators.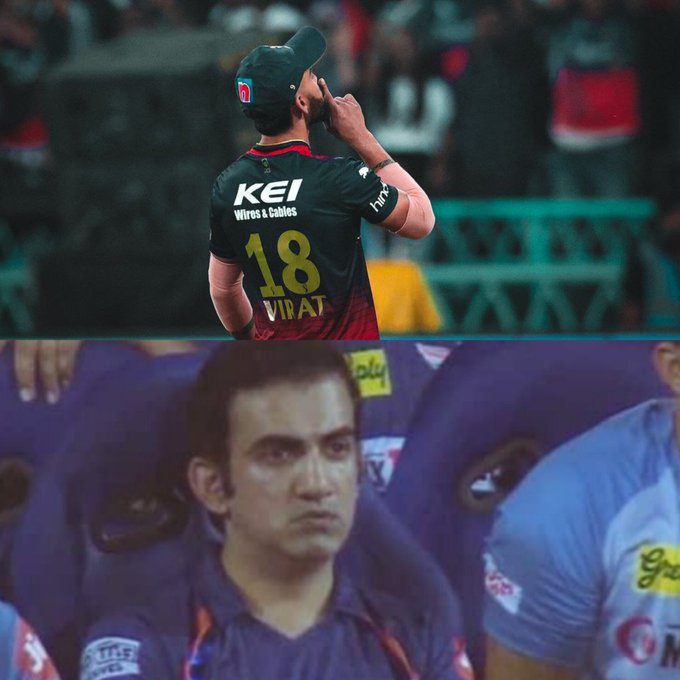 Interestingly, the gesture from Kohli comes after Super Giants mentor Gautam Gambhir had mocked the RCB supporters during a match last month. After the visitors successfully chased down a massive total at the M Chinnaswamy Stadium, Gambhir had gestured towards the RCB supporters, who were left disappointed with the result.
"I won't shut you guys like gambhir, I love the crowd" this gesture from Virat Kohli ❤️pic.twitter.com/d4dxEFSdr7

— ` (@KudosKohli) May 1, 2023
While it is not clear whether Kohli's gesture was in response to Gambhir's comments or if it was just a way of showing appreciation for the support he received during an away match, it was clear that the RCB captain had won over the crowd with his brilliant catch.
Kohli's ability to connect with the fans has been one of his biggest strengths as a captain and a player. Whether it is through his on-field performances or his off-field interactions, Kohli has always been able to make an impact on the cricketing world.
also read : Deepika V Opened On How She Got Proposed By The Love Of Her Life !!
As the IPL 2023 season progresses, it will be interesting to see how Kohli and his team perform on the field, and whether they can win over the hearts of the fans once again. With Kohli's leadership and the talent of his team, anything is possible, and RCB fans will be hoping for a successful campaign in the coming weeks.