From Being A College Student In "Aayutha Ezhuthu" To Trending In Internet As "Dancing Rose" !! Untold Story Of Shabeer Kallarakkal
Dancing rose
Sarpatta
Shabeer
2 years ago
By Dhiwaharan
Ever since "Sarpatta Paramabarai" released on Amazon Prime, every second post that takes place in the feeds of Tamil social media platforms are talking about nothing but "Dancing Rose", one of the many meaningful characters of the Pa. Ranjith directorial. The character was done by Shabeer Karakkal, a multifaceted emerging actor and the viewers are keen to know about who he is and what he is known for prior acting in "Sarpatta Parambarai". The actor is being interviewed by several prominent Tamil youtube channels after he gave life to the fictional character "Dancing Rose" which was inspired from Naseem Hamed, a former professional boxer.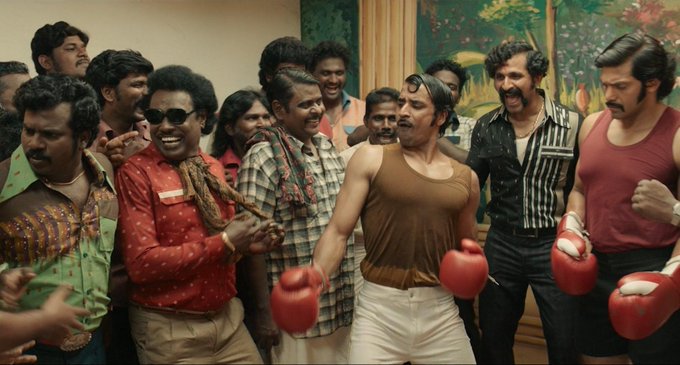 [wp_ad_camp_1]
Shabeer made his first ever onscreen appearance as one of the friends of Suriya in director Mani ratnam's "Aayutha Ezhuthu". The actor has been trying to get a break in his acting career for the past 15 years, according to one of his recent interviews. The role he played in "Sarpatta Paramabarai" gained him the recognition he has been longing for and the actor thanked Nithya, casting director of the film, in his recent interaction with Indiaglitz.
Shabeer Kallarakkal aka DANCING ROSE. pic.twitter.com/aCUSdfJwSN

— LetsOTT GLOBAL (@LetsOTT) July 22, 2021
"Dancing Rose" appears in "Sarpatta Parambarai", sixteen minutes after the start of the film and his outlook which includes a lone curl plastered over his forehead and an unique gait attracts viewers. As soon as he enters the boxing ring in the film to face off Kabilan, played by Arya, people could sense that they are in for a treat. Within minutes he steals the show with his techniques in the ring and the action sequence he was involved is being hailed as one of the best fight sequences in the films that released in the past decade.
As an effect, hashtag "Dancing Rose" trended in the micro blogging social media site with people demanding a standalone film for the character played by Shabeer. Being an aspiring actor and theatre practitioner, Shabeer made his debut as a lead in a 2014 flick "Nerungi Va Muthamidathe" directed by Lakshmy Ramakrishnan. After that, he did supporting roles in films to get recognition and managed to get it only through the sports drama of Pa. Ranjith. It is notable that Shabeer played Vijay Sethupathi's brother in "Petta" as Arjith Singh, Bhuvan in "Adanga Maru", Harish in "Teddy".
[wp_ad_camp_1]
Shabeer has been active in theatre since the year 2009 and is an ardent fitness enthusiast with martial arts training. In the interaction, Shabeer said that he learnt Gymnastic and Silambam from Pandiyan Master, Dance from Jayanthi master and Black Swan dance academy, Kaladi kuthu varisai from KKV ACADEMY. "The plan was to mix all of it in Boxing to play "Dancing Rose" role" Shabeer adds. When the anchor of the show asked him what's his ultimate goal in life, Shabeer, after a chuckle, says that he just wants to be happy in life.
"I didn't have a job. I have been trying to become an actor for the past 15 years. I kept myself busy learning all these." Shabeer said. Talking about rejections, he said that it is a part of an actor's life. "My definition of success will be different from yours. For the past 15,16 years, I have done what I thought was right. Amidst attending various classes, I did a post graduation in between. The process wasn't a struggle for me, thanks to my parents. I had a house to go back to. There was food on my table. But struggles are always going to be there until we get a recognition like this" Shabeer said.
[wp_ad_camp_1]
Throughout the interview, Shabeer could be seen thanking people such as Pa. Ranjith, Arya, his co-artists and assistants for helping him to pull off such a performance in the film. "I am overwhelmed. Please spread the movie. Thanks for supporting "Dancing Rose". I don't know what's happening around me and the only thing I could do is to thank everyone" the actor concludes.
Watch the video below :
Video source : Indiaglitz