Former BB Player Balaji Murugadoss Criticized Vikraman??
Written by Dhiwaharan Published on Dec 12, 2022 | 10:29 AM IST | 163
Follow Us
Comments: 0
A tweet uploaded by former Bigg Boss contestant Balaji Murugadoss about mixing politics and entertainment is being widely shared with many speculating that the Bigg Boss ultimate winner is indirectly referring to Vikraman, one of the contestants of the ongoing Bigg Boss season. Though the aspiring actor didn't mention about the connection between his tweet and Bigg Boss show, it is going viral among the followers of the cash rich show.
View this post on Instagram
Balaji competed with Aari Arjunan in season 4 of Bigg Boss show and became a runner. After that, he participated in the ultimate version of the same show which was partly hosted by Silambarasan. The body builder cum aspiring actor clinched the trophy after competing with the likes of Niroop, Anitha Sampath, Vanitha Vijayakumar and others.
Bigg Boss is a reality game show that is being hosted by political party leader, actor and filmmaker Kamal Haasan. The show will see 20 plus plus celebrity contestants locked into a house with weekly elimination based on audience's vote. The one who survives till the 100th day with highest number of votes will be announced as the winner. So far, aspiring model and actor Aarav, "Madras" fame Riythvika, Malaysia based singer Mugen, Actor Aari, TV star Raju have won the titles.
The list of contestants for the 6th season of the show includes GP Muthu, Asal Kolaar, Myna Nandhini, Mohammed Azeem, Ayesha, Robert Master, Sheriina Sam, Manikandan Rajesh, Rachitha Mahalakshmi, Ram Ramasamy, Dinesh Kanagarathnam, Janany Kunaseelan, Shanthi Aravind, Vikraman, Amudhavanan, Maheshwari, VJ Kathir, Queency Stanly, Nivaashiyini, Shivin Ganesan and Dhanalakshmi.
With the evictions of Ayesha, Ram, Queency, Robert Master, Nivaashini, VJ Maheshwari, Sherina, Asal Kolaar and Shanthi, the show now has 11 contestants competing for the trophy as GP Muthu walked way from the show. Vikraman, one of the strong contenders for the title, belongs to Viduthalai Siruthaigal political party led by Thirumavalavan.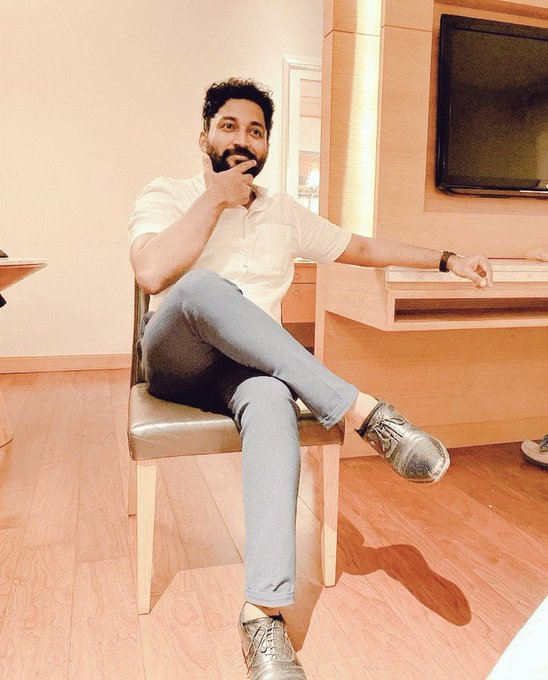 On Sunday, Balaji came up with a tweet in his official Twitter handle commenting about effects of mixing politica and entertainment. "When you mix entertainment with politics. it's gonna be a disaster for common people" he said through his tweet.
Check out his tweet below :
When you mix entertainment with politics. it's gonna be a disaster for common people. 🙏🏼#BalajiMurugadoss

— Balaji Murugadoss (@OfficialBalaji) December 11, 2022
Many of those who saw Balaji's tweet started speculating that he is mentioning about Vikraman and few even referred to host Kamal Haasan who never failed to mix politics while presenting the show.
Check out some of the reactions below :
@Aariarujunan Anney 😶 https://t.co/HGZpr6MMNS pic.twitter.com/VmJnQI0xDp

— Logesh Avinash (@Logeshavinash) December 11, 2022
This guy opposing #Vikraman only because #Aari supported him. Worst da dei 😂🤣#BiggBossTamil6 https://t.co/bVere6Kr45

— Mystery Box (@OpenMysteryBox) December 12, 2022
Everything is about Politics 😎. The Voting by people in hotstar app for their favourite contestant to stay in #BiggBossTamil6 is also politics. People who VOTE as you the title winner in BBU is also politics!#vikraman𓃵 #Vikraman #BiggBossTamil#VaathiVikraman#vikramanarmy https://t.co/EsvMnezRiD pic.twitter.com/Tw5ECzLVYc

— Kakashi Sensei (@KakshiHatake001) December 11, 2022
When #BalajiMurugadoss can mix politics with entertainment, why not others? @ikamalhaasan too! We had/have our CMs, MLAs, MPs, leaders from entertainment. How can you post such a generalized statement? #ClownBala #BiggBossTamil6 #ClownAzeem #vikraman #VaathiVikraman #vikraman𓃵 https://t.co/lhBkwUUwfK pic.twitter.com/fQjBGCE3EE

— Vikraman Fangirl (@VikramanFangirl) December 11, 2022
BBUltimate la Snegan(MNM member)unga competitor ah irkumbodu,ida eduku solala Bala?.People accept entertainers/actors as a politician. In future,as an actor,if u enter into politics,people wil accept u.#Vikraman already in entertainmnt field now he's a politician🔥#BiggBossTamil6 https://t.co/tXRA6isP0J pic.twitter.com/wZbjCzEiIW

— Sunshine (@Daic_selva) December 11, 2022
👍 💪 Super bro. @vijaytelevision can host a political bigg boss separately and pick one contestant from each political party. Whoever is interested in watching politicians lives can watch that show. That will be an interesting take and can be a good lesson for young ones.

— Siva …. (@MoonSun522) December 11, 2022
If this s a sarcasm for Vikraman then hear this. Unfortunately in our society whenever any1 voices out for any "issue" they are branded as politician. Many don't understand voicing out for an issue is not a politician work but it's a responsibility of every common man.

— Jayashree (@Jayashreev89) December 11, 2022
Cinema oru entertainment…aana athula irundhu than namba adutha CM ae choose pandrom 🤣
Athulam ena bro apo ?

— RDSVD (@dddddd2777777) December 11, 2022
U went in to the show twice.. and u still feel it's an entertainment show!! How?!
It's the personality show, it's to understand a person's thinking on how far they can go to get wht they want.. Entrtainmet is jst part of the show.
Politics is not the problm, surrendering to it is

— Shweetha N ᴮᴵᴺᴰᵁ (@Shweetha9) December 11, 2022
Kamal sir பேசுவது அரசியலா இல்ல வெங்காயமா..? திராணி இருந்தால் கமல் சாரிடம் கேள்..

— சுரேஷ்(எ)மகிழன் (@suresh92958625) December 12, 2022
Is this about @ikamalhaasan sir? Because he is also talking some politics in Bigg Boss since season 1. Also acted lot of political films. He is also running a party with the help of fame that he received by entertainment.#vikraman𓃵 #BiggBoss #BiggBoss6Tamil

— Noorul ibn Jahaber Ali (@nooruljourno) December 11, 2022