Forget Other Celebrities, Here's What The Thalaivar Himself Said On This Big Day !!
CM / Updated: 2018-11-29
03:21 IST
By Dhiwaharan
Even before its release, the Rajinikanth and Akshay Kumar-starrer 2.0 is on a record-breaking spree. While 2.0 will be the widest worldwide release ever for an Indian film, it is also the most expensive film ever made in the history of Indian cinema. The movie has been creating a generous amount of buzz since the project was announced. Here are five reasons to check out the film.
[wp_ad_camp_1]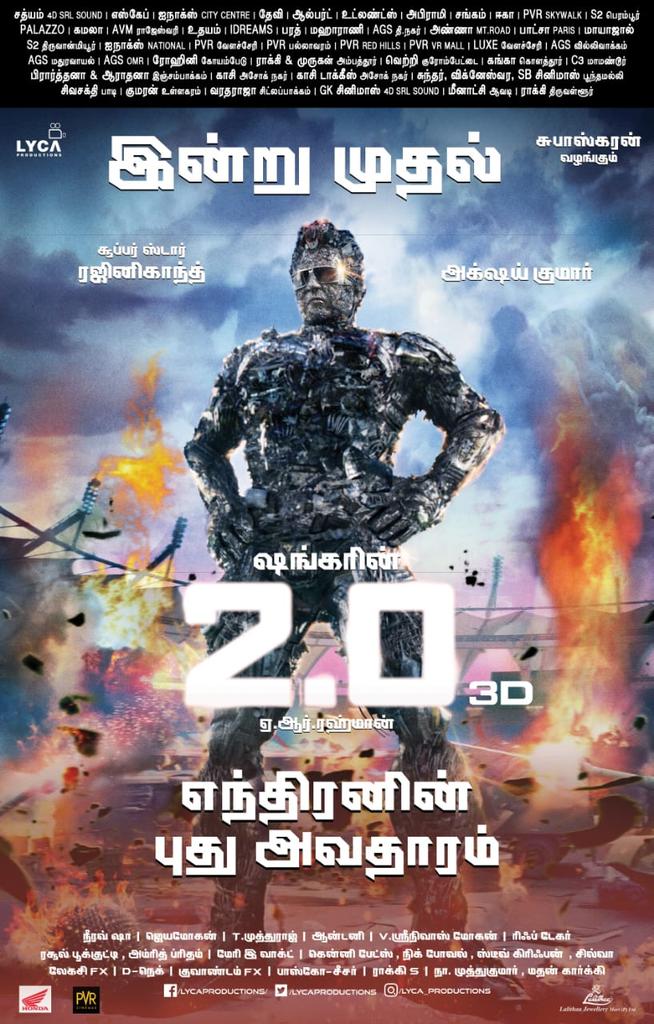 The name sells itself. In the latter half of his cinematic career, Rajini has been open about accepting movies that help him explore unchartered territories in the inimitable Thalaivar fashion. Be it Kabali, Kaala or the upcoming 2.0 and Petta; the superstar seems energised to work on starkly different films.
Bollywood star Akshay Kumar will be making his debut in the south Indian film industry with 2.0. And that is definitely something to look forward to. Will his venture prove to be as successful as the performance of his Hindi movies, only time will tell. Akshay plays the antagonist Crow Man in the film.
[wp_ad_camp_1]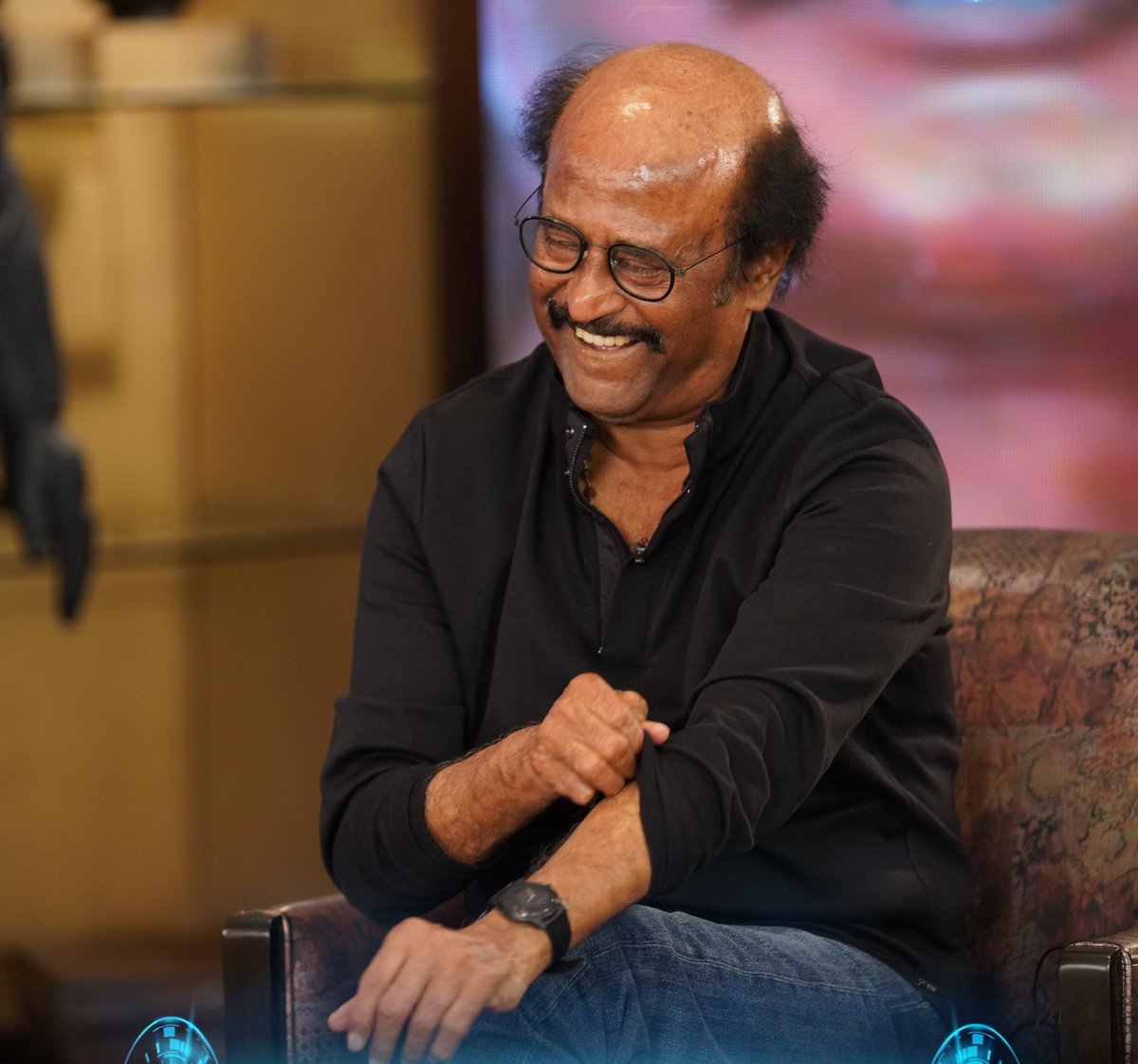 One of the biggest selling points of 2.0 is that the film is big on technology. 2.0's action sequences have been shot on special 3D cameras. The film is being touted as one of the most expensive films made in Asia. Having spent the money they did, there are bound to be some spellbinding moments in the movie.
Many celebrities from Kollywood industry including Surya wished the movie to become the biggest success where some of them said that they are going to watch the movie on the first day.
#2point0FromTomorrow #2Point0FDFS #Excited The wait is over!! pic.twitter.com/aQjMOPFHDm

— Suriya Sivakumar (@Suriya_offl) November 28, 2018
The much awaited #2point0 releases tomorrow. Best wishes to the director @shankarshanmugh sir, Superstar @rajinikanth sir, @akshaykumar sir and the entire team 🙂
@iamAmyJackson @arrahman @resulp @LycaProductions @DharmaMovies @srinivas_mohan pic.twitter.com/lDtuePxRWs

— Baahubali (@BaahubaliMovie) November 28, 2018
Very big day for Indian Cinema. Best wishes to Thalaivar @rajinikanth sir @shankarshanmugh sir @akshaykumar sir @iamAmyJackson and #2Point0 team. Releasing today Pls watch only in theatres.

— Sathish (@actorsathish) November 28, 2018
Stalwarts of Indian cinema #Thalaivar @rajinikanth sir @shankarshanmugh sir @arrahman sir @akshaykumar sir coming together to give us world class experience… Waiting to watch #2Point0 #SuperExcited & Best wishes to @LycaProductions and team👍

— Sivakarthikeyan (@Siva_Kartikeyan) November 28, 2018
Thalaivaar is arriving in Style! Can't wait to watch the grandeur onscreen #2.0 🙏🏽 wishing the team a grand success @shankarshanmugh @arrahman @rajinikanth வா தலைவா😀😀😀 pic.twitter.com/sm75D0hI7a

— Ramesh Thilak (@thilak_ramesh) November 28, 2018
One visionary's belief will be translated today @shankarshanmugh sir #2point0 with this strong support@arrahman @editoranthony @silvastunt @resulp @nirav_dop @srinivas_mohan @LycaProductions all the very best for all your hardwork. Repeat mode for sure 👍👍😊 #Thalaivar 🕴️🕴️

— Editor PraveenKl (@Cinemainmygenes) November 28, 2018
[wp_ad_camp_1]
Tomorrow…. the world will change!
Tomorrow…our world will change
Tomorrow…. will be the new beginning
the 3D wonder arrives tomorrow…
OUR destiny will change forever… TOMORROW #2Point0FromTomorrow pic.twitter.com/LM6Ig7Uox7

— Akshay Kumar (@akshaykumar) November 28, 2018
#2point0 2moro in 3D! Booked!😎

— Vikram Prabhu (@iamVikramPrabhu) November 28, 2018
Getting ready for Thalaivar darishanam from tomorrow….. #2.0 the biggest spectacle on screen…. Can't wait!! Team #Petta wishes Thalaivar, @shankarshanmugh sir and the whole team for a great success 👍👍 pic.twitter.com/rqG8Twl7hA

— karthik subbaraj (@karthiksubbaraj) November 28, 2018
Above all these tweets yesterday night Thalaivar Rajinikanth himself took his official twitter account to wish for the movie. Being the protagonist of the film Superstar wrote "Three cheers to team #2.0 …. The magnificent day has arrived !!"
Three cheers to team #2.0 …. The magnificent day has arrived !!

— Rajinikanth (@rajinikanth) November 28, 2018
Thalaivar Rajinikanth shouted three successive hurrahs to express his appreciation for his team. This tweet from him was widely celebrated by the people especially by the fans of Rajinikanth. Check how joyfully they reacted :
Thalaivaaa 🙏 Waiting for the Blockbuster !!#2point0

— Ram Muthuram Cinemas (@RamCinemas) November 28, 2018
Only actor in the world to act in all 4 formats of film making 👏👏 love you thalaivar 😘😘😘😍😍😍 #OneAndOnlySuperstarRajinikanth #2Point0 #2point0FromToday #Rajinikanth #IndiasPride2Point0 #SuperstarRajinikanth #AkshayKumar pic.twitter.com/aXwBQ5lUnI

— Aravind 2.0 (@AravindMaveric) November 28, 2018
First time I saw rajini sir tweeting for his film.he is super excited for his first ever 4d film.

— Anna Tom (@AnnaTom10) November 28, 2018
Thalaivaaaaa….neenga vantha Mattum pothum #2point0 #2Point0FromTomorrow

— Baba 2.0 (@ganeshfi) November 28, 2018
Thalaivaaaaaaa💕💕💕💕🙏🙏

தலைவா இன்னும் ஏன் நீங்க தூங்கல?! உங்க ஆரோக்கியம் தான் தலைவா முதல்ல முக்கியம். ஓய்வெடுங்க ப்ளீஸ்.#2Point0FromTomorrow #IndiasPride2Point0

— தேனிக்காரன் (@thenikaran5) November 28, 2018
Three Cheers… 3.0 ????? #THALAIVAAAAAAAA

— Dindigul Cinemas (@DindigulCinemas) November 28, 2018
Have you ever seen Rajinikanth tweeting for his movie on the day of release ?? Well, What do you think on his tweet, comment below !!