As Nerkonda Paarvai, the Tamil remake of courtroom drama PINK, gears up to open in theatres, reviews keeps on pouring all over the Internet as the preview show was screened to the reviewers. The film is getting massively positive response from the reviewers who labelled film as the need of the hour.
[wp_ad_camp_1]
Valaipechu, a popular youtube channel also released their review for the film. Having 3 men as reviewers, Valaipechu channel often caught in controversy for their statements. In the Nerkonda Parvai movie review, they said that the film had flaws in portraying the female leads. "Girls in the movie are showed as they belong to upper class. They are losing virginity multiple times and they getting drunk in pubs. At one point we couldn't feel pity for them. We couldn't care for whatever the injustice happens to them. This might be relatable for the audience of North India but when it comes to Tamil audience, it is not relatable" they said in their review.
Watch the video here :
"அந்த ஊர் மேயற பொண்ணுகளுக்கு என்ன நடந்தா என்னன்னு தான் நமக்கு தோணுது"

"Girls Going to pub and having sex with boys is very much casual in NORTH but not in South" says these Tamil reviewers. #NerKondaPaarvai

Is that so @Chinmayi @dhanyarajendran @BDUTT @KasthuriShankar pic.twitter.com/uMgUxhmvQm

— TW ᵀʳᵒˡˡʸʷᵒᵒᵈ (@TrollywoodV5) August 6, 2019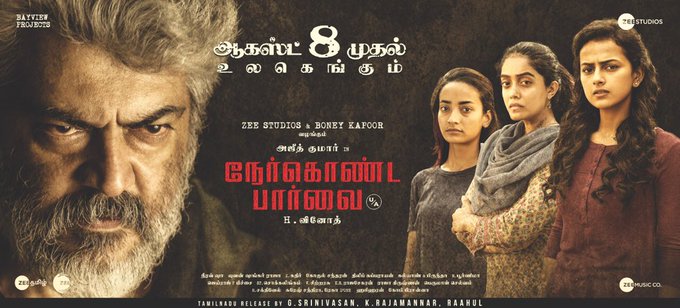 [wp_ad_camp_1]
This doesn't go well among the fans and celebrities of Tamil cinema. They started to express their disgust through tweets. Along with actor Siddharth, Director P.S Mithran, many celebrities thrashed the channel and the reviewers :
#Valaipechu has always been desperate,shameless, uneducated and repulsive yellow journalism. To expect standards from people like them is a waste of time. Strip them of their power. Stop calling them journalists. Real journalists must come together and save their industry first.

— Siddharth (@Actor_Siddharth) August 7, 2019
"இதுங்களுக்கு…" the term used to identify objects is used to Identify women in our common tongue
Not only #Valaiapechu but most men do share this same regressive and insensitive thought of objectification
This only makes #NerKondaPaarvai a much more relevant and necessary film https://t.co/E4Jy8oXNn4

— PS Mithran (@Psmithran) August 6, 2019
Extremely misogynistic and dangerous mindset these so called reviewers have. For them Kalacharam is when men can grope and rape as a matter of right but women have to be caged and domesticated . https://t.co/c3OrNcB0d4

— Srinivas singer (@singersrinivas) August 7, 2019
The everyday misogyny and justification of 'They asked for it' by 3 mainstream Tamil reviewers. https://t.co/kUtnifheAC

— Chinmayi Sripaada (@Chinmayi) August 6, 2019
[wp_ad_camp_1]
After seeing the outrage in social media, the team Valaipechu apologized and removed the review from their youtube channel :
We have learnt that some of our statements in the recently released video review of #NerkondaPaaravai has hurt the sentiments of many, and we regret to have made these statements. The particular video has been taken down.#ValaiPechuVideos #BanValaipechu

— வலைப்பேச்சு (@valaipechu) August 6, 2019
#ValaiPechu #NerKondaPaarvai #NerkondaPaarvaiWorldPremiere #NerkondaPaaravai #NerKondaPaarvaiPressShow #NerKondaPaarvaiReview #MovieReview #ThalaAjith #AjithKumar #BanValaipechu #ValaiPechuVideos pic.twitter.com/OjQpXgu7rh

— வலைப்பேச்சு (@valaipechu) August 6, 2019
Nerkonda Paarvai releases in India tomorrow and it also stars Shraddha Srinath, Andrea Tariang (who also featured in the original film), Abhirami Venkatachalam and Vidya Balan. After Nerkonda Paarvai, Boney Kapoor signed Ajith for an action film, which is tentatively titled AK60.
What do you think on this ?? Comment your views below !!