As all the other teams CSK also participated in the IPL auction and bought Piyush Chawla, Sam Curran, Sam Curran and Josh Hazlewood on their behalf. Very own fans of Chennai Super Kings are not happy with the decision took by the franchise in the bid that took place on 19th of December. They bought leg spinner Piyush Chawla for a whopping price of 6.5 crores rupees. Many fans couldn't find the reason behind the purchase as the team already has three spinners Harbhajan Singh, Imran Tahir, Karan Sharma along with batting allrounder Suresh Raina.
[wp_ad_camp_1]
"We traded very hard (for Chawla) and certainly the captain has a great relationship with him. He's proven that he's a quality leg-spinner which we value very highly," the CSK coach and former New Zealand player Stephen Fleming said.
"He's a different type of bowler than Karn Sharma. We also had to make some decisions around how all fits in but it was an opportunity that came up and we took it. We have a pretty well-balanced squad. We've always favoured spin, our home ground is very spin dominant, so having a lot of spinners is not a bad thing." he added.
However, fans not convinced and are making fun with the decision made by the team management. Meanwhile popular Kollywood filmmaker and ardent cricket fan C.S Amudhan has made a press release sort of announcement through his official twitter account.
The man who is known for making spoof films, conveyed a sarcastic message to troll the yellow franchise. The filmmaker said that Chennai Super Kings didn't buy any young or emerging foreign players because they didn't want any of them to use their experience gained in IPL against team India.
[wp_ad_camp_1]
In a way of justifying his statement, Amudhan said that Chennai always concentrated on buying foreign players who are aged and couldn't play for their nation in future. According to his statement, He said that Chennai would either choose to buy a young Indian player to nurture him for his future.
"It is as simple as that" he said in his statement. "Any player picked for CSK will go on to realise their full potential and become champion cricketers like Jadeja. Chahar, Rayudu etc" his statement said. "Dhoni and CSK do not want this incredible advantage to be passed on to young foreign players" the statement of Amudhan added.
Check out his full statement here :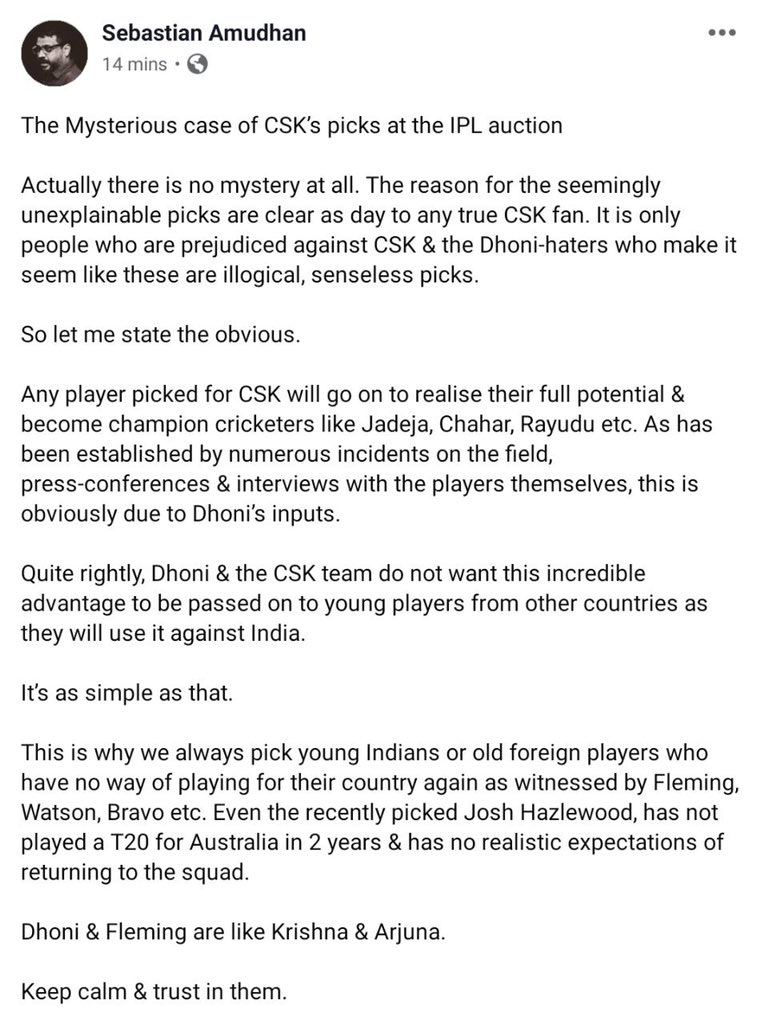 [wp_ad_camp_1]
The director also added that there is no realistic expectation for Josh Hazlewood to return to the squad of Australia. Towards the end of his conversation, Amudhan said that Dhoni and Fleming are Krishna and Arjuna respectively.
Check out some of the reactions for his tweet below :
🙂

— CS Amudhan (@csamudhan) December 21, 2019
Sarcasm overloaded https://t.co/ELcRPX34Rf

— Hari (@gl0ryhunter) December 21, 2019
Right way of thinking hats off to you https://t.co/fsTdYMxbDA

— SACHI (@hussachi) December 21, 2019
Idhu modern art parthu nammala oru artham purinjukara mariyum iruku..
Aanaa nalla iruku.. https://t.co/amR3fKrAxt

— Barathiraja (@barathiraja57) December 21, 2019
இந்த "கிருஷ்ணா & அர்ஜுனா" நக்கல் தான் 👍😜😂🤣

— Lonely Wolf 🐺 (@jaganoffcial) December 21, 2019
What do you think on this perspective of Amudhan ?? Comment your views below !!