Bigil Trailer making waves in Internet since it got released. Fans of actor Vijay are celebrating the trailer like never before as they haven expecting this for a long time. No words could describe the craze level that is being created by Bigil Trailer. Director Atlee, who himself a biggest fan of actor Vijay, carved the actor inch by inch it seems. The film which marks the third collaboration of Atlee and Vijay, has actor Vijay in the lead in three different get ups.
[wp_ad_camp_1]
Produced by AGS Entertainments, Bigil has Nayanthara as lead lady. Kathir, Vivek, Yogi Babu, Indhuja Ravichander, Jackie Sheroff, Daniel Balaji are some of the other actors taking part in the film.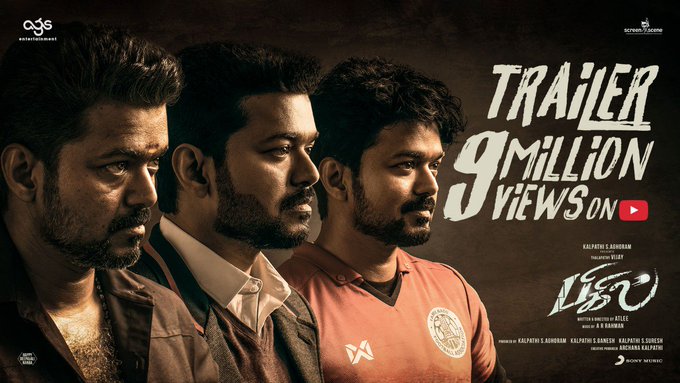 The trailer ticks all the boxes of the expectation list of a Vijay fan. Looking like a emotional action drama, Bigil trailer promises an absolute treat for the fan who are waiting for it since past one long year. As soon as the video released it reached more than 1 million likes.
Not only fans, many celebrities including Shah Rukh Khan were reacted to trailer in a positive way. Meanwhile popular Kollywood reviewer Prashanth who is known for his unique way of reviewing movies posted his opinion on the Bigil trailer.
In his tweet Prashanth appreciated the trailer and said that Vijay is going to rock the Diwali festival with his Bigil. However, he criticized the trailer for improper VFX shots and said that he is expecting the screenplay to compensate it. Check out his tweet below :
#BigilTrailer – Once again, deepavalikku jolyaa solli adikka poraaru @actorvijay annan ! Can sense the strong sentiments inside. And the mannerisms – Unmaya sema !! VFX – A bit patchy , but I hope the screenplay will compensate it !! https://t.co/56Kope791f

— Prashanth Rangaswamy (@itisprashanth) October 12, 2019
[wp_ad_camp_1]
This tweet from Prashanth received many comments as replies. Dance Master Sathish who is busy in choreographing for songs in tamil movies, disappointed with the instant review of Prashanth and expressed his frustration through a reply. Check out his reply below :
Thallipoi vilaiyadupa

— Sathish krishnan (@dancersatz) October 12, 2019
Prashanth who witnessed this tweet from Sathish immediately countered back. "Being a dancer, you have to play, I will sit and watch" he said in his reply tweet.
Neenga dancerne , neenga velayaandunga. Naan ukkanthu paakuren . https://t.co/hzRspwagdW

— Prashanth Rangaswamy (@itisprashanth) October 12, 2019
[wp_ad_camp_1]
The conversation suddenly turned into an argument after Sathish directly asked Prashanth to post his reviews few moments later as it is a time to enjoy the trailer.
Nalla vishiyam varumbothu enjoy pannunga odanney karthukandarvi edukku. Solla thonichuna konjam thalli Sollu .

— Sathish krishnan (@dancersatz) October 12, 2019
To this comment of Sathish, Prashanth firmly replied by saying that no one can decide when he needs to speak. He even asked the dance master to block or unfollow him if he needs to get rid of him.
U can't decide what and when I should speak . If u do not like my comments, there is always a choice to ignore, instead of playing the hero. https://t.co/NoIDH4kR9A

— Prashanth Rangaswamy (@itisprashanth) October 12, 2019
The argument didn't end there as Sathish continued to mock Prashanth.
Hahahahaha seri nalla koovu

— Sathish krishnan (@dancersatz) October 12, 2019
Dhayanithi Alagiri, producer and the founder of cloud nine movies, asked both of them to stop fighting.
sanda podadheengha darlings..

— Dhaya Alagiri (@dhayaalagiri) October 12, 2019
Check out the screenshot of their entire conversation :
What do you think on this verbal spat between the both ?/ Comment your views !!