Articles
Following Captain Vijayakanth, This Tamil Actor/Director Donating 1 Crore For Kerala Flood Relief !!
As the flood situation in Kerala continues to escalate, in a press meet on Thursday Kerala Chief Minister Pinarayi Vijayan requested people to make generous contributions towards the Chief Minister's Distress Relief Fund. Stressing on the damage the state has suffered in the last few days due to torrential rains and flooding, Pinarayi said the government needed more help to rebuild the state.
Celebrities in Kerala and other states have been making significant contributions to the relief efforts while encouraging their fans also to do the same. The twin pillars of Malayalam film industry, Mohanlal and Mamoothy donated Rs 25 lakh each towards the relief fund. The Association of Malayalam Movie Artistes (AMMA) have, reportedly, handed over a sum of Rs 50 lakh in two installments to the chief minister.
[wp_ad_camp_1]
Young actor Tovino Thomas went a step further. He opened the doors of his house in Irinjalakkuda for the public. He has announced that the people who have been affected by floods can stay in his house, where he will also provide basic necessitates for the flood victims until the situation comes under control.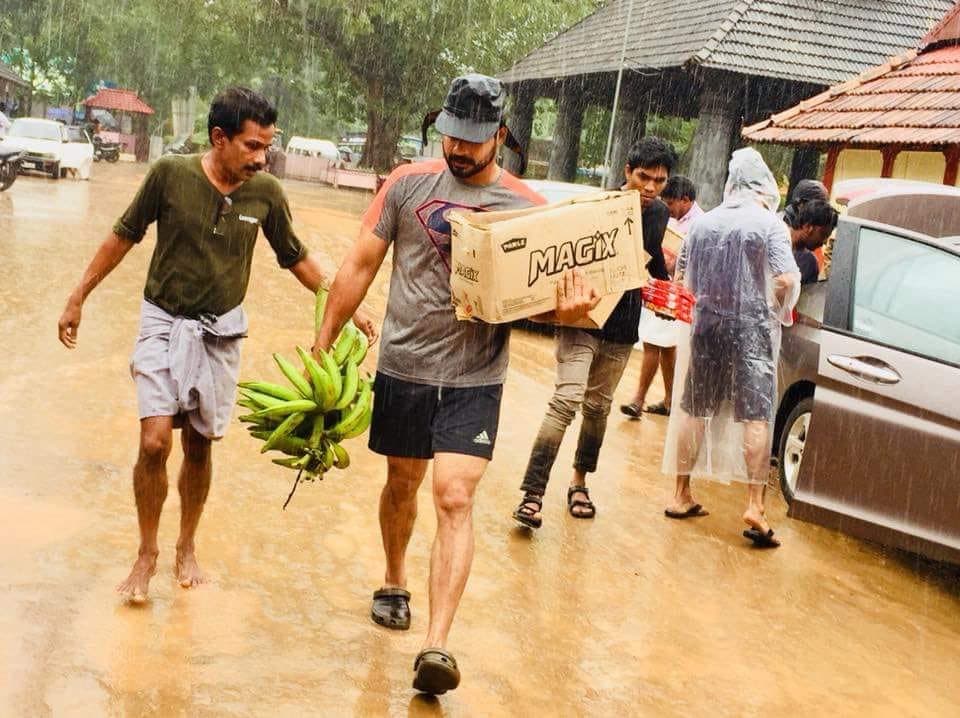 Actor Siddharth has also begun a social media challenge to encourage people to make monetary contributions for Kerala. In a statement that was posted on his Twitter account, the actor said, "I implore you to contribute whatever you can to this urgent cause. Please post your donation proof online if you wish to inspire others to do the same. Let us call this the #KeralaDonationChallenge. We all know how much the internet loves a challenge."
[wp_ad_camp_1]
He also tweeted a bank letter as a proof of making Rs 10 lakh donation to the Kerala relief fund. It may be recalled that the actor also played a very active role in relief efforts during 2015 Chennai floods.
I dare you. I beg of you!

What do I have to do to make you read and share this?

I did the #KeralaDonationChallenge

It was awesome!

Will you? Please?#KeralaFloods#SaveKerala@CMOKerala pic.twitter.com/9RmMjSKVBC

— Siddharth (@Actor_Siddharth) August 16, 2018
Not just Siddharth, other Tamil actors have also been very sympathetic to the plight of people in Kerala. Actors Kamal Haasan, Suriya-Karthi, Vijay Sethupathi contributed Rs 25 lakh each to the relief fund. Karthi on Thursday met Pinarayi Vijayan and handed over the cheque. "Just met the hon'ble CM of Kerala. I understand the state needs more funds than relief material. Please donate generously to "CMDRF". #Keralafloods #CMDRF @CMOKerala (sic)," he tweeted.
Actor #VijaySethupathi donates Rs.25,00,000/-(Twenty Five Lakhs) to Chief Minister's Distress Relief Fund Of Kerala @VijaySethuOffl #KeralaFloods pic.twitter.com/VpCZgoUsns

— sridevi sreedhar (@sridevisreedhar) August 17, 2018
He also met Mohanlal and gave the cheque of Rs 10 lakh as Suriya's contribution to the AMMA fund.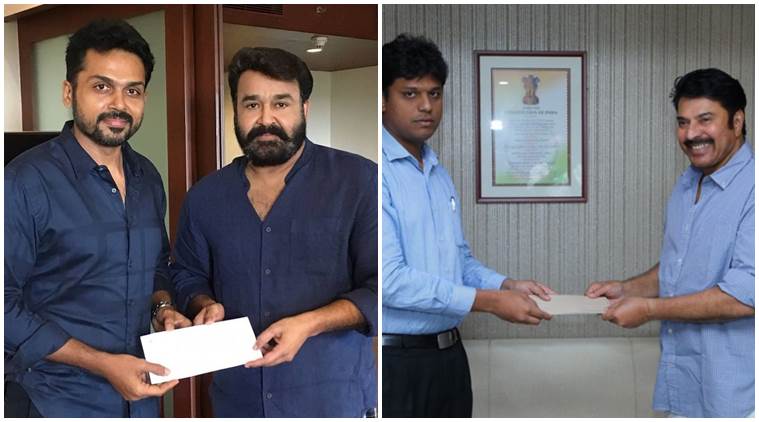 Mohanlal and Mamoothy donated Rs 25 lakh each towards the relief fund.
Actor Dhanush also contributed Rs 15 lakh to the Chief Minister's fund, while Vishal and Sivakarthikeyan gave Rs 10 lakh each. The television giant, Sun TV network, made a donation of Rs 1 crore towards the relief fund.
#prayforkerala 🙏🙏🙏

— Dhanush (@dhanushkraja) August 16, 2018
Actor- turned- Politician Captain Vijayakanth has surprised one and all by giving a huge amount to Kerala for its flood relief programme. He said his party DMDK will provide Rs 1 Crore to Kerala and added that the money will be handed over soon to fund Kerala's renewal.
All DMDK MPs and MLAs would give their 1-month salary to Chief Ministers Distress Relief Fund. Earlier Tamilnadu C.M Palani Swamy and other ministers had also promised their 1 month's salary to Kerala.
[wp_ad_camp_1]
Captain Vijayakanth is known for his philanthropic nature. Kerala will fondly remember his contribution to the renewal of the state.
Raghava Lawrence, who is known for large-hearted gestures, has pledged to donate Rs 1 crore to the relief works of flood-hit Kerala. The multifaceted talent will contribute to the Kerala Chief Minister's Distress Relief Fund.
He announced the news on his Facebook page. Raghava Lawrence stated that he wanted to be directly involved in the relief work when Kerala was in crisis, but he was advised against the decision considering the difficult situation.
He will be meeting Kerala Chief Minister Pinarayi Vijayan on Saturday, August 25, and will hand over the cheque to him. Raghava will be requesting him to permit him to actively participate in the relief works.
The complete text of his post is below:
Hi Friends and Fans..! I have decided to contribute "1 crore to Kerala". I'm feeling very disheartened that it has been destroyed by flood and people suffering a lot they are like our brothers and sisters.
While seeing I wanted to do service by directly visiting the place but they informed its hard to get Into all places because it's raining heavily and told to wait till it reduces.. now that the rain has reduced I thought it would be right if I go through government because they know which areas are more affected thus I have got an appointment with Kerala CM this Saturday. I want to give my donation to CM and place a request to him asking him to help me to do service directly to the affected people. Thanks for all those who have contributed to kerela and who are going to.. I pray to Ragavavendra swamy for Kerala to rebuild soon.
Hi Friends and Fans..! I have decided to contribute "1 crore to Kerala".. pic.twitter.com/GQjQU1MfOD

— Raghava Lawrence (@offl_Lawrence) August 23, 2018
Raghava Lawrence is the latest celebrity to contribute for the relief work from Tamil Nadu after Vijay (Rs 70 lakh).