First Tamil Hero To Support Dulquer Salmaan !!
Dulquer
Dulquer Salmaan
Prasanna
CM / Updated: 2020-04-27
20:15 IST
By Dhiwaharan
Tamil twitter users divided into two different sets as soon as a post of South Indian actor Dulquer Salmaan surfaced in his social media account. Many got offended by the post of the actor thinking that he abused the name of LTTE Leader Prabhakaran and few supported the actor by saying that he is not the one who involves in such activities intentionally.
[wp_ad_camp_1]
Now actor Prasanna, Anchor and actress Ramya Subramanyam, "Kannum Kannum Kollayadithaal" director Desingh Periyasamy has stretched their supportive hand to the actor. They tried to explain people of Tamilnadu not to misunderstand the context of the comedy scene that took place in DQ's production venture.
The film "Varane Avashyamund" produced by the home banner of Dulquer himself released on 7th February and completed its theatrical run. On 23rd of April, the film got released on Netflix and garnered a special attention from the subscribers of the online platform. Now, the film landed in a controversy where many people belong to Tamilnadu accusing the makers for hurting the sentiments of Tamil people by keeping a popular leader's name as dog's name.
துல்கர் நடித்த CIA படத்தில் மேதகு வே.பிரபாகரன் புகைப்படம் ஒரு காட்சியில் வந்தபோதே. தமிழினத்தில் இவர் யார் என்று துல்கர்க்கு நன்றாகவே தெரிந்து இருக்கும்.

பின்பு எதற்காக @dulQuer முகநூல் பக்கத்தில் பதிவிட்டீர்கள்? அப்போ தெரிந்தே தான் செய்துள்ளீர்கள்!#Boycott_VaraneAvashyamund pic.twitter.com/P1w4nQQsLJ

— தமிழன் சத்யா (@diljitsathya) April 26, 2020
It all started when Dulquer shared a particular scene from his movie to promote it with a caption saying "What is the funniest dog name you have heard ? Ours is definitely Prabhakaran. Here's the scene from Varane Avashyamund" he said in his post.
Though Dulquer deleted the post, screenshot of the same is doing rounds in social media platforms. Here's the screenshot of his post :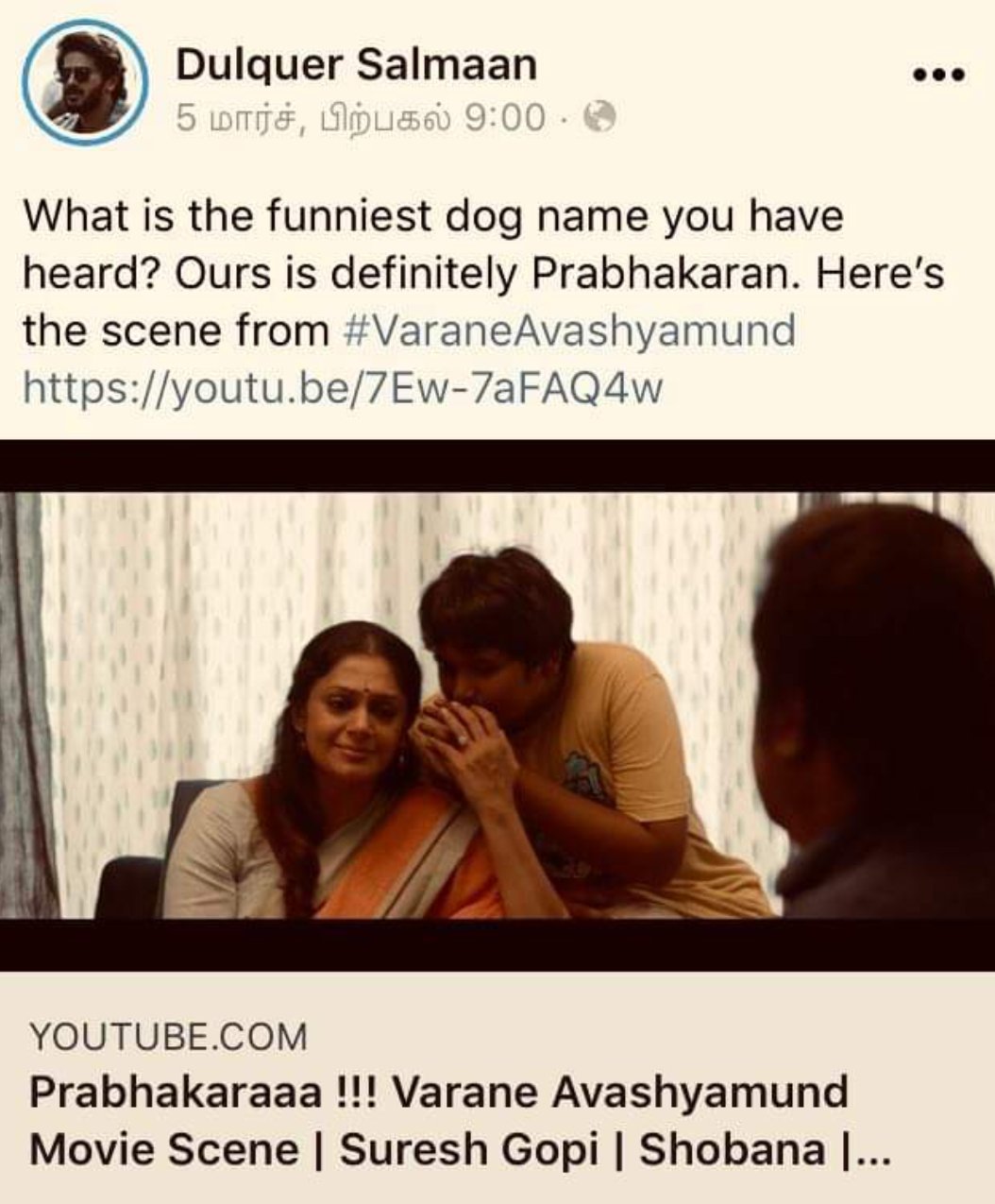 This post from the actor hurt the sentiments of people who see LTTE founder Prabhakaran as their beloved leader. Thiruvenkadam Velupillai Prabhakaran was the founder and leader of the Liberation Tigers of Tamil Eelam (the LTTE or the Tamil Tigers), a militant organization that sought to create an independent Tamil state in the north and east of Sri Lanka.
[wp_ad_camp_1]
In a way of responding to all the hatred he is receiving, Dulquer came up with a clarification saying that the name "Prabhakaraa" was used only as a reference to an old comedy scene in a Malayalam movie "Pattana Pravesham". Check out his twitter post regarding this here :
To all those who were offended. I apologise. And I also apologise on behalf of #VaraneAvashyamund and @DQsWayfarerFilm ! This is the reference to the joke in question. The 1988 film "Pattana Pravesham". pic.twitter.com/7fQrrJRU7u

— dulquer salmaan (@dulQuer) April 26, 2020
Followed by this, the actor came up with a long note explaining that it was not intentional. He said that the name is a common name in Kerala and it wasn't directed at any person living or dead as said in their disclaimer in the beginning of the film. He pointed out that most people are portraying it bad only to spread hatred without watching the film. He asked people not to spew hatred at their fathers and senior actors. He firmly said that it was a genuine misunderstanding through his post.
Actor Prasanna who is known for his significant performance in Tamil cinema, saw this post of DQ and asked apology to the OK Kanmani actor for the misunderstanding that took place. DQ who felt overwhelmed thanked the "Anjathe" actor.
Thank you so much brother ! So kind of you to write in support. Lots of love to you 🤗🤗

— dulquer salmaan (@dulQuer) April 26, 2020
Prasanna even tried to make people understand by providing a couple of examples such as "Enna Koduma Saravanan Sir"
Namma oorla like how we use "aaniye pudingavenam" or "enna koduma saravanan" the name is used from a famous old film dialog. Dear ppl i understand the sentiment involved with the name but let's not spread hate based on misunderstanding. https://t.co/JlmCWJgk74

— Prasanna (@Prasanna_actor) April 26, 2020
Prasanna continued to have the back of his fellow actor in front of people who firmly believed that Dulquer intentionally did it.
[wp_ad_camp_1]
April 26, 2020
Anchor Ramya, to support Dulquer, said that he is one who feels he belong to Chennai. "We are cooler than this and can take things with a pinch of salt . Pl stop spreading unwanted hatred ." she wrote in her post to which DQ replied by saying "Thanks so much anbe ananya ! I think what you pointed out is the reason why it affects me so much."
Thanks so much anbe ananya 🤗🤗🤗 ! I think what you pointed out is the reason why it affects me so much.

— dulquer salmaan (@dulQuer) April 26, 2020
Here's what "Kannum Kannum Kollayadithaal" director Desingh has to say about Dulquer :
Here's his post and Dulquer's reply to it :
Thank you Desingh !!

— dulquer salmaan (@dulQuer) April 27, 2020