Ever since we became aware of the movie rating site Internet Movie Database or IMDB, The Shawshank Redemption of Frank Darabont is the film that topped the list followed by films such as God Father, Dark Knight, 12 Angry Men etc. The entire 250 films list wouldn't have one tamil film and the few Indian films that could be seen in the list are Aamir Khan's 3 idiots, Taare Zameen Par, Lagaan, Dangaal. Gangs of Wasseypur, Andhadhun are the only non-Aamir films that took place in the IMDb top 250 films that contains cut films like Pulp Fiction, Unforgiven etc.
[wp_ad_camp_1]
Now, for the first time, a Tamil film topped the list, sending The Shawshank Redemption to the second place. Yes, Jai Bhim of actor Suriya which released on 5th of November grabbed the first spot with 53,000 plus votes. IMDb ranks films based on the votes they are receiving from the audience. Though "The Shawshank Redemption" received 24 lakh votes so far from fans all these years, "Jai Bhim", within 10 days of its release time went to the top spot, due to the problem it discussed and the fan base of the lead actor.
"Jai Bhim" released on Amazon Prime on 1st of November with much expectations among fans. The film is getting humongous amount of positive response from fans and is being widely watched due to the word of mouth. Based on a true event that happened in the year 1995, the film concentrates on showing light to the hardship people of tribal community went through at that time. Exposing the police brutality, the film shows how lawyer Chandru won the case without receiving a penny from his client who is a wife of the victim. Though the incident took place 25 years ago, it looks still relevant due to the police atrocities that are still taking place in the state.
Directed by T.J Gnanavel, the film is produced and performed by actor Suriya under his own banner 2D entertainments. Actor Kamal Haasan, after watching the film, said that the film made him shed tears. He appreciated Suriya, Jyothika and the crew members of the film for stretching their voice for the oppressed through their product. Ranjith, through his tweet, said that many more films about many more Rajakannus will be releasing in Tamil cinema in the coming days. Director Karthik Subbaraj also uploaded a tweet in his twitter space supporting the film. Many other celebrities lauded the film, running time of which is 2 hours 44 minutes.
[wp_ad_camp_1]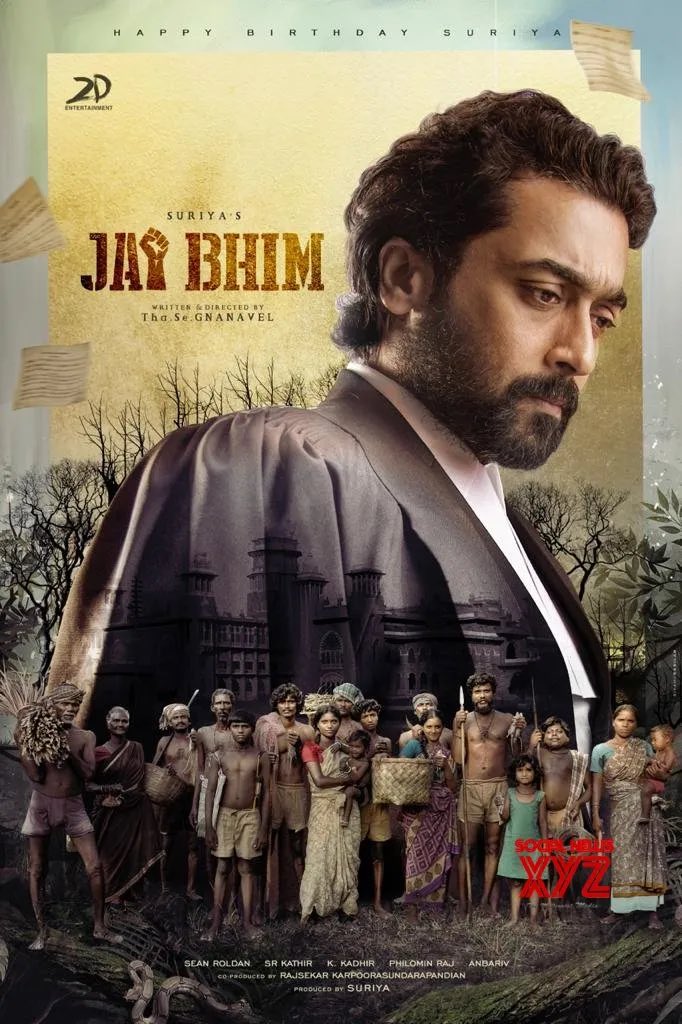 Surprisingly, the film grabbed the spot above the likes of Inception, Schindler's list, Pulp Fiction, The 12 Angry Men, The God Father and other globally recognized films. Check how fans are reaction to the feat of "Jai Bhim" in Internet :
Actor @Suriya_offlयादव's Jai Bhim tops the IMDB list of Indian movies of all time.

The film, based on the 1993 Cuddalore incident, received a rating of 9.8 on IMDB! Congrats to the team.#JaiBhim is a masterpiece. More power to south cinema.✊🏻#JaiBhimOnPrime @prakashraaj

— Prahlad Yadav (@iPrahladYadav) November 5, 2021
Highest rated IMDb movie! @Suriya_offl @jose_lijomol #jaibhim #suriya #surya #suriyasivakumar #manikandan #lijomol #imdb #indiancinema #kollywood #rvcjmovies pic.twitter.com/y4Tzd5frYx

— RVCJ Movies (@rvcjmovies) November 7, 2021
[wp_ad_camp_1]
🔥🔥#JaiBhim pic.twitter.com/h6c9cHD5A5

— 𝗕𝗲𝗮𝘀𝘁_𝗠𝗼𝗱𝗲ᵀⱽƒ😎🤏 (@_Master_Hitesh_) November 8, 2021