The first ever interview of Vanitha Vijayakumar, the most controversial contestant of the third season of BIGG BOSS season has been released by Cinema Express. In the third season of Bigg Boss Tamil season 3, among all the 16 contestants, Vanitha Vijayakumar, eldest daughter of veteran actor Vijayakumar has grabbed the attention of the viewers for all the wrong reasons.
[wp_ad_camp_1]
From the very first day, the former actress has been confronting with other contestants for various reasons. She mainly hated for involving in the argument between Madhumitha and Abhirami Venkatesan. Netizens has stated that her statements are very hypocritical and biased.
Vanitha's exit from the Big Boss house is seen as differently by different people. She was receiving a lot of flak on social media for her aggressive attitude in picking up fights and instigating the housemates against one another etc. This kept the tempo of the reality show alive. Some people worry who will take up her role after her exit.
[wp_ad_camp_1]
Now, in the first interview after her eviction, Vanitha revealed many things that happened inside the house. Starting from her fight with Madhumitha while supporting Abhirami to the confrontation with Abhirami, Vanitha expressed the things that really happened in the Bigg Boss house.
Vanitha who saw few episodes after coming out of home seems to be shocked of seeing Abhirami's behaviour inside her house. "When I said to Abhirami that she is playing, She just walked away as she always do which was mentioned by Kamal Haasan recently. I just know that she walked away from me. But she has created a scene and was giving content to Bigg Boss by crying infront of camera about which I am not aware at all. If I knew that she is crying, I could have consoled her. But she behaved in a very strange way" said Vanitha Vijayakumar in the interview.
Source : Cinema Express 
She also explained about the task in which a verbal spat occurred between her and Tharshan. "I was shocked when someone like Tharshan who never does this before intimated me. He was not even in the game and I felt he disrespected. One should respect their senior. I could not confront Cheran Anna like how Tharshan did to me." She added while talking about her issue with Tharshan.
[wp_ad_camp_1]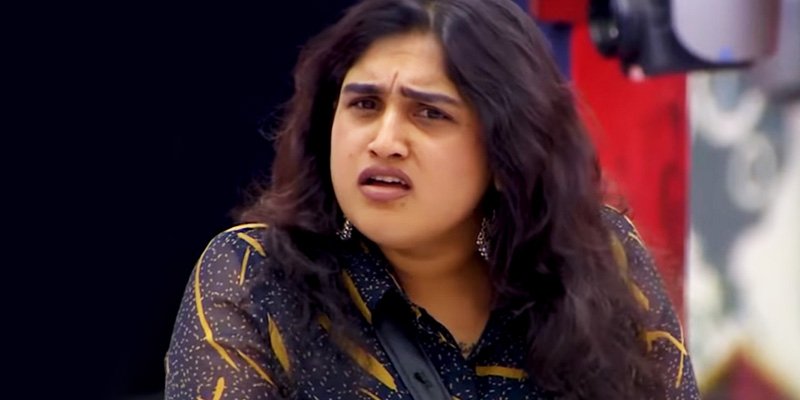 The third season of Bigg Boss show is keeping the netizens busy since the opening episode. Starting from Abhirami's verbal spat with Madhumitha to Vanitha Vijayakumar's elimination, the show providing its own essence unlike other reality shows. Despite the rumour of being a scripted show, Bigg Boss manages to entertain the audience in daily basis.
What do you think on this interview of Vanitha Vijayakumar ?? Comment your views below !!