Finally The Total Amount Spent For Our PM Modi's Foreign Trips Revealed !! Its Huge !!
By Dhiwaharan
Many people often criticize PM Modi for his foreign trips. Even the opposition keeps targeting BJP for PM Modi's trips.
[wp_ad_camp_1]
In fact, the Prime Minister is always criticized for affecting the governance due to these trips. Since a long time, we were wondering as to how much he spends on these trips. Finally, the RTI has revealed all the information about the costs incurred on his foreign trips.
As per RTI, PM Modi the total amount of the trips was a whopping Rs 355 crores. The reports came to light after an RTI activist Bhimappa Gaddur from Bengaluru inquired about the amount that was spent. In all, the PM has spent around 165 days abroad in these 4 years.
[wp_ad_camp_1]
The details of the same have been posted online; PM's tri-nation visit i.e. to Canada, Germany and France was the most expensive trip and it cost Rs 31.25 crores.
The Prime Minister has taken 41 trips in 48 months; here are the details;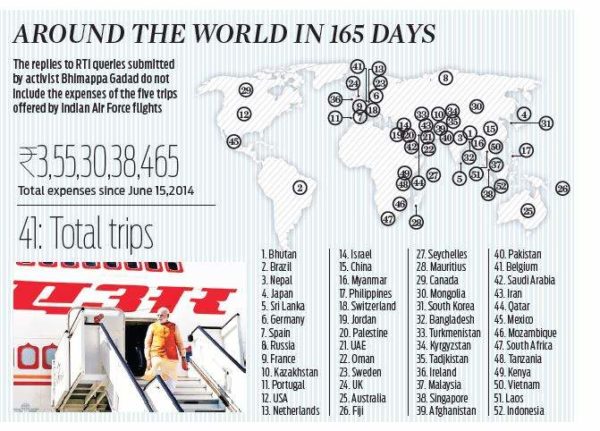 The activist is shocked to see the details. He said,
"The highest amount of Rs 31, 25, 78, 000 was spent on his nine-day visit to France, Germany, and Canada between April 9 to April 15, 2015, and the least amount of Rs. 2, 45, 27, 465 was spent in trip to Bhutan on June 15 to June 16, 2014."
[wp_ad_camp_1]
Well, let's see how Congress reacts to this. It is in fact the tax payer's money that the PM has used on his trips.