Versatile actor Prakash Raj who recently appeared in "Jai Bhim" as Inspector General Perumal Saamy, reacted to the slap controversy that is being discussed in online platforms since the release of the film. The actor said that people missed to recognise the tragedy tribal people are going through but making a issue out of himself slapping a guy who speaks Hindi in the film. He also explained about the original context of the scene and brushed off the speculations.
[wp_ad_camp_1]
For the past few days, a particular video from "Jai Bhim" of Suriya-Jyothika is doing rounds in social media platforms with many Hindi speaking individuals getting offended over it. The video shows actor Prakash slapping a man who speaks Hindi and asks him to talk in Tamil. Misunderstanding the context of the scene without watching the movie, a number of Twitter users who belong to the north part of the country has been posting tweets, expressing their displeasure.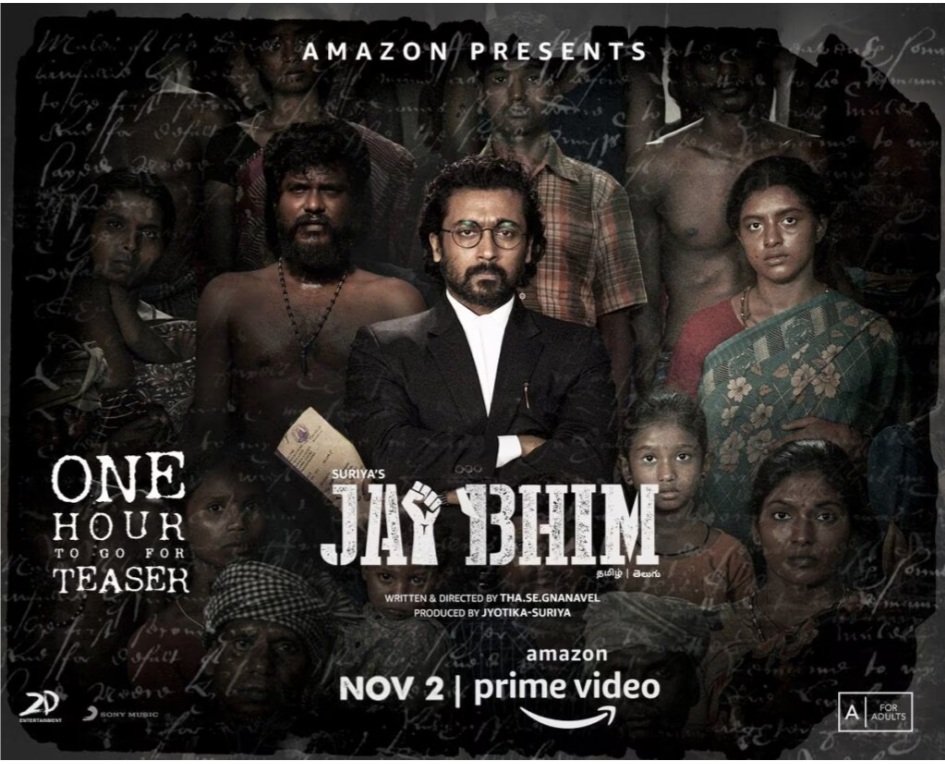 In "Jai Bhim", Prakash Raj plays the role of a honest police officer who helps a tribal woman to get justice in high court. In the process, he investigates a number of culprits including police officers and a pawn broker. While interrogating the pawn broker who pretends to be knowing only Hindi language, Prakash Raj would slap him and ask him to talk in Tamil to make him confess.
Misunderstanding the scene, a number of Twitter users could be seen slamming "Jai Bhim" makers, alleging that they kept such scene to degrade the Hindi language. "Prakash Raj with his propaganda in the movie 'Jay Bhim' where he slaps a person who speaks in Hindi" a twitter user wrote whereas nother one said "I am really heartbroken after watching #JaiBhim, nothing against actor or anyone but felt really bad, there is a scene in the film where a person speaks Hindi and Prakash Raj slaps him and tells him to speak in Tamil. Honestly this kind of scene was not needed…. Hope they cut it"
[wp_ad_camp_1]
Prakash Raj with his propaganda in the movie 'Jay Bhim' where he slaps a person who speaks in Hindi. pic.twitter.com/1SwPVssbK7

— Amit Kumar (@AMIT_GUJJU) November 2, 2021
Despite the counter explanations that are being made by the Tamil audience in the Internet, Prakash Raj himself came up with an explanation while interacting with a media portal. The actor said that the set of people who got upset, failed to see the agony tribal people are going through after watching a film like "Jai Bhim" and said that it exposes the agenda of such people.
[wp_ad_camp_1]
Explaining it further, Prakash said "For example, the anger of South Indians after Hindi being forced on them. How else will a police officer who is investigating a case react when he knows that a person who knows the local language chooses to speak in Hindi to dodge questioning ? This has to be documented, right ? The film is set in the 1990s. If that character had Hindi imposed on him, he would have reacted in the same way only. Probably if it came across as more intense, it is also because that is my thought too, and I stand by that thought" Prakash Raj said.
The "Ghilli" actor also said that people are getting irked because that it was Prakash Raj on screen. He said that such people exposed their intent through their thought. "If the pain of the tribal people did not move them, then, all I say is, "Unakku avlo thaan Purinjithaa daa ? Nee thana avan ?" (Is that all you understood from the film ? you are that person, right ?)" the actor said and added that there is no point in reacting to such bigots.