Fans Thrashed This Director For Degrading Vikram's Acting Ability!!
By Dhiwaharan
As soon as the video interview provided by director Rajakumaran to filmmaker cum actor Chithra Lakshmanan became a subject to public view, the former has been receiving the wrath of actor Vikram and other online fans. They started criticizing the films made by Rajakumaran and stated that Vikram is one of finest actors of Kollywood film industry. However, reactions agreeing to the claim of the were also surfaced in the micro blogging social media site.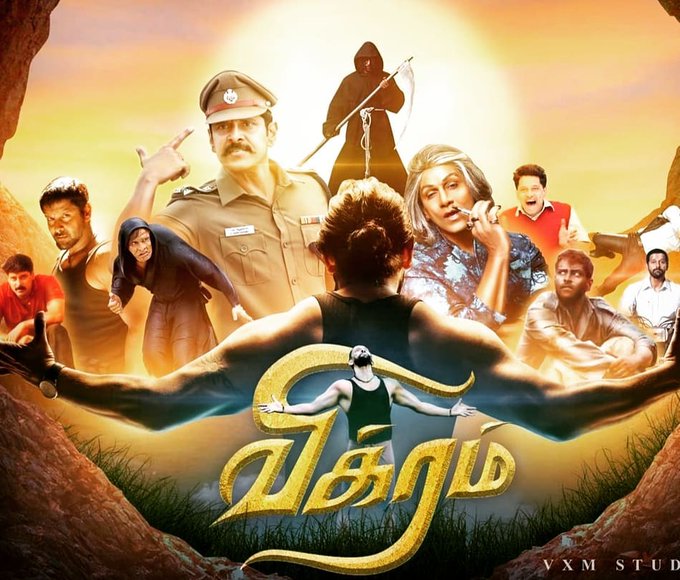 Director Rajakumaran who is known for directing films such as "Nee Varuvai Ena", "Vinnukum Mannukum", in a recent interaction with filmmaker cum actor Chithra Lakhsmnan, said that he couldn't accept Vikram as a good actor at all. He said that the actor lacks the ability of acting in close up shots without make up and instructions in his statement.
After working as an assistant director to ace filmmaker Vikraman, Rajakumaran got launched through "Ne Varuvai Ena" as a filmmaker. He directed Parthiban, Ajithkumar and Devayani in the film which became a huge success among the audience. He went on to direct Vikram, Devayani, Sarathkumar, Khushboo in a film titled "Vinnukum Mannukum" which got released in the year 2001.
In a recent interview with Chithra Lakshmanan for his YouTube channel Touring Talkies, Rajakumaran shared about his experience directing actor Vikram during the early stage of his career. The filmmaker who also appeared as a comedy actor in Santhanam's "Vallavanuku Pullum Aayutham", made a strong statement on Vikram's acting ability.
"I think Vikram expected more salary as we used his dates a little extra from what was committed. I recommended to the company (production house) but they didn't give him, I guess. But I don't have any problem with him personally" said Rajakumaran in the interview.
The filmmaker went on to talk about a statement made by Vikram about acting in his film. "After release, Vikram, in an interview, said that he "hates" this film. If you people think that "Sedhu" gave Vikram the career in acting, it is wrong. It may have showed you an actor named Vikram but the film which connected him with the family audience is Vinnukum Mannukum" Rajakumaran said.
"I presented Vikram as a bouquet to every house after placing him inside a beautiful package of Devayani, Khushboo and Sarathkumar. The film might have failed to perform in the box office. But it became a hit in "K tv". It will be definitely telecasted twice or once monthly in that channel" The filmmaker said who went on to add about his opinion on Vikram's acting skills.
"The role Vikram did in Vinnukum Mannukum is something that was close to people. Acting is not about playing a role of an handicapped. It is all about how you perform in a close up shot without any source till the director says "Cut". Vikram can't act like that. I won't accept him as a good actor at all" said Rajakumaran.
"He would act like Kamal or Rajinikanth. He don't know any acting beyond that. Apart from this, the roles he got recognized for are the ones in which he did the roles of a physically disabled. He won't know what reaction should be given in a close up shot and I faced such problem with him in my film. He is a good friend of mine. I don't have any problems with him personally. Maybe he couldn't have made such statement if the movie became a blockbuster" he further added.
Watch the video below :
Source : Touring Talkies 
The video went viral among the users of online platforms as a result of which the filmmaker happened to receive hatred from the actor's fans. A number of fans came up with videos to prove the acting ability of the "Sethu" actor.
Check out some of the reactions below :
Ne eduthathu athu oru padam nu Vikram ah intha pechu pesriye da ?? Neeye antha padatha one time ku mela pathruka mata .. https://t.co/MzeYkECCcX

— Anantha (@KAnanthakannan) March 18, 2022
இதுவல்லவா நடிப்பு 🔥 https://t.co/wOxNz2VcwD pic.twitter.com/a76ixCtLGt

— Santhosh (@sanvik28) March 18, 2022
அந்த ஆண்டவனே நம்ம பக்கம் இருக்கான் 💪 https://t.co/q0ZsBl2Exl pic.twitter.com/lyO7ALxAJc

— Dᴀᴠɪᴅ Aᴅᴀᴍ CVF (@David_AdamCVF) March 18, 2022
கேன கூதி வேற எதுடா நடிப்பு…
ஏதாச்சும் Promotion வேணுமா
இல்ல யாராச்சும் சொல்லி இப்படி வன்மத்த கக்குறியாடா
தேவயானி அக்கா மேல எவ்வலோ அன்பு வச்சி இருந்த ச்சீ ச்சீ 🤦🤦🤦🤦
ஒரு படம் பண்ணிட்டு நாய் பேசுது பாரு சு🗣️🗣️ #எங்கஅண்ணணபத்திஉனக்குஎன்னடாதெரியும் 🤬 https://t.co/ZHVIZdrJwj

— Chiyaan Babu (@ChiyaanBabu5) March 18, 2022
Chithralakshmanan sir Mindvoice be like 😂❗️

உன்னையவே தேவயானி புருஷநாத தெரியும்
Nee inga vanthu Vanmatha kakkitrukka#ChiyaanVikram #ActingMonster https://t.co/yVDsW4gcnH pic.twitter.com/uspWLgUjo8

— VarmanKumarRohith (@varman_rohith) March 18, 2022
காலத்தால் அழிக்க முடியாத நடிகர்
~ #ChiyaanVikram #chiyaan61 #cobra #mahaan. pic.twitter.com/3DWCCo5r99 https://t.co/yrHjHFopMY

— professor CVF (@itsmecvf) March 18, 2022
தேவயானி ஹஸ்பண்ட் னு கூகிள்ள போட்டு தான் இவன் பெயரே என்னனு தெரிஞ்சுக்க வேண்டியதா இருக்கு..
இவன் பேசுறான் விக்ரம் நடிப்ப பத்தி 😆

இதுக்கு சில அஜித் ஃபேன்ஸ் 🔥 வேற விடுறானுங்க 🤧 https://t.co/wOxNz2VcwD pic.twitter.com/oQK3x8FkTX

— Santhosh (@sanvik28) March 18, 2022
ராவணன் படம் லாம் இவர் பாத்ததில்ல போல 💔😅 https://t.co/j1pVqVs6tt

— மஹாநதி™ (@iamThalapathyYn) March 18, 2022
Ne eduthathu athu oru padam nu Vikram ah intha pechu pesriye da ?? Neeye antha padatha one time ku mela pathruka mata .. https://t.co/MzeYkECCcX

— Anantha (@KAnanthakannan) March 18, 2022
விக்ரம் மாறுவேட போட்டி, மாற்றுத்திறனாளி role தான் அதிகம் விரும்புறது என்னவோ உண்மை தான்.

ஆனா ஜெமினி, தூள், தில், சாமி, அருள்னு கமர்ஷியல் role ல ஹிட்டும் இருக்கு. இவனுங்களுக்கு use பண்ணிக்க தெரில..

அப்புறம் இவன் ஏதோ பெர்சனல் வன்மத்த கக்கிவிட்ருக்கான்👎 https://t.co/YOzE5Px1yR

— 🎭 (@praveen_twitzz) March 18, 2022
ஆமா நடிக்க தெரியாம தான் பாலா, மணிரத்னம் இயக்கத்தில எல்லாம் நடிச்சுருக்கார்… வன்ம குடோனா இருப்பான் போல https://t.co/pD587t4yYT

— . (@nepenthe_07) March 18, 2022
Quotes la சிரிக்கிற சில்ர கூதிகளுக்கு சமர்ப்பணம் 👍 https://t.co/LSBWX78Jke pic.twitter.com/Uuvqwd9tCw

— ℳ𝓇 . சசி விக்ரம் ❜ 🏌️ ツ (@Chiyaangod) March 18, 2022