Fans Slammed "Valimai" Makers For This Blunder Mistake!!
Written by Dhiwaharan Published on Mar 13, 2022 | 17:02 PM IST | 47
Follow Us
Comments: 0
Uploading a couple of screenshots from the recently released "Valimai", fans of Tamil cinema, especially fans of actor Ajith condemned the makers of "Valimai" for their lack of sincerity in the production of the film. Through the screen shot which was shared from illegal piracy, fans pointed out the camera man who was caught inside the frame. Many questioned how the makers could be that much lethargic for a film of a superstar like Ajith kumar.
"Valimai" revolves around a cop named Arjun who is about to hunt a biking gang which is involved in causing harm to the people of Chennai by providing drugs, committing murders and chain snatching by using their bike riding skills. When Arjun is all set to nab them with his experience in Police department, he comes to know about his own brother being the part of the evil gang.
Rest of the film lies on whether Arjun saved his brother and youngsters from tthe head of the evil gang.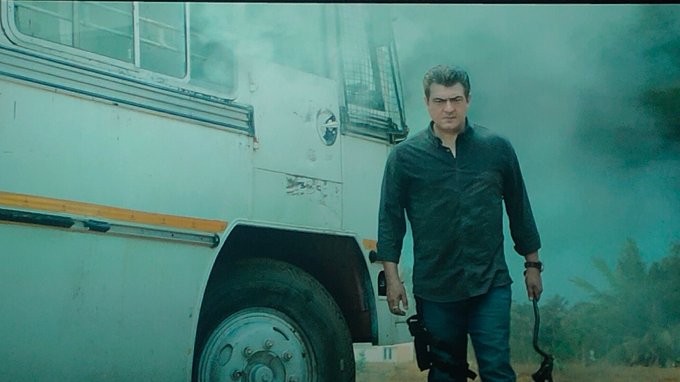 Ever since the most awaited "Valimai" starring Ajith kumar and Huma Qureshi released in theatres, the film is being strongly compared by the fans who watched a Tamil film named "Metro" which got released in the year 2016. Fans who felt that the plot of both the movies are same, opined their views in online platforms and few went on to state that "Valimai" is a copy of "Metro". Reacting to the allegation, Director Anandha Krishnan who made "Metro" himself came up with a tweet opening about the similarities between his film and "Valimai".
Recently, fans came up with a comparison video alleging that the climax sequence of "Valimai" got copied from "A new police story" Of Jackie Chan. Now, a number of fans slammed the "Valimai" makers for letting a camera man visible inside the frame.
— Shittier Tamil Movie Details (@TamilDetails) March 12, 2022
 One of the fans said that the editing of the film is so poor to an extent, in a scene, Ajith opens a car door after stepping down in the surface from his car.
Indha scene la kaal entry koduthuduvaru.. then door open aagum.. @editorvijay sir.. yen ipd. pic.twitter.com/ofwVjmhHT1

— பொறியாளன் (@poriyaalan_007) March 12, 2022
Check out some of the reactions regarding the same below :
Idhaya 3varshma Eduthanga 🤦‍♂️

— ᴅᴋ ᴅʜᴀɴᴜsʜ (@Dhanush01256238) March 12, 2022
3 Varsham enada paninga… 🤦#Beast https://t.co/TBcQ9DMO6G

— Philosopher 💭 (@Philosopher_err) March 12, 2022
Can you believe they took two years for making this film? Nothing can justify this lethargic filmmaking. Now I'm curious to know what really happened behind the scenes. Vinoth should open up one day. https://t.co/w48ZPZNmQy

— George (@VijayIsMyLife) March 12, 2022
Better not to believe in directors taking their previous works in consideration
Every movie is a separate one https://t.co/BN4ASrixp3

— kvnscherry | RRR month (@kvnscherry) March 12, 2022
enayaaa ithellam.. 3yrs ah ena pannangaloo editing , Roto & direction team https://t.co/oPu9fN7wwL

— Manibharathi Selvaraj (@smbmanibharathi) March 12, 2022
படத்துல லாஜிக் mistake தாண்டி
என்னென்ன இந்த மாதிரி Errors இருக்கு'னு ஒரு Threadae போடலாம் போல…

Mirror
This camera Angle yesterday Car door Matter 🙄😲#Beast https://t.co/C3EEqDBcGy

— Master Dharunⱽⁱʲᵃʸ ᴹᵃᶠⁱᵃ (@Dharun_Vijay7) March 12, 2022