Fans Slammed Dravid & Rohit For Declaring Before Jadeja's Double Century !! Rockstar Replied
CM / Updated: 2022-03-05
22:07 IST
By Dhiwaharan
Team India declared in the first innings in he first test against Sri lanka while Ravindra Jadeja was batting at 175. Online fans of team India started slamming captain Rohit Sharma and coach Dravid for not letting the all rounder to score his maiden double century. Now, Jadeja himself came up with a statement saying that he was the one who asked the team to declare the innings as the conditions were getting better to bowl.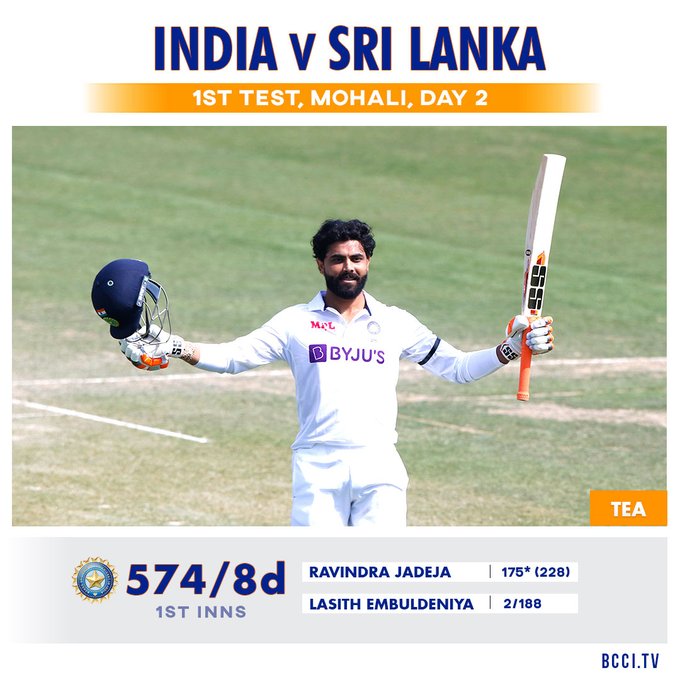 The hard hitting all rounder was at his best as he played some remarkable shots all over the park. India's batting innings was declared when Jadeja was batting at 175 alongside number. 10 batsman Mohammad Shami. India ended up with 574-8 at their first innings.
The decision made by Rohit Sharma and Rahul Dravid left Twitter divided. With many finding the call to be sensible, several reckoned that Jadeja should have been given a chance to get his double ton.
Check out some of the reactions that surfaced against Sharma and Dravid for declaring the innings :
Just 20 mins for tea.

There is absolutely no reason to declare. Shame on Rohit and Dravid.

— Sai Krishna💫 (@SaiKingkohli) March 5, 2022
India declare the innings. Jadeja is on 175, he probably needs another 2-3 overs to reach his 200. Aah I've seen this before…..#INDvSL #Jadeja #Rohit #Dravid #CricketTwitter pic.twitter.com/8LT80sDEWC

— flick_18 (@133notout) March 5, 2022
An Indian batsman near his 200 , Rahul Dravid waiting to declare

Bad memories 😬😬

— Kaygee18 (@Kaygee1803) March 5, 2022
What was the urgent need to declare when Jaddu was on 175 and was playing so well.

He deserved a double..

Rahul Dravid and his stupid calls at times are beyond me #INDvSL

— BeardedDragon (@yashasva) March 5, 2022
It wouldn't be Rohit's Decision to Declare imo, We all know it was the same guy who declared when Sachin was on 194* ,Insecurity at its best , Well played Sir #Dravid #Jadeja pic.twitter.com/cRCrXuhwof

— Sibi_Tweets (@MSibiruban) March 5, 2022
Rahul Dravid has got some real problem with 200s 😅
Rahul Dravid in the dressing room, #Jadeja unbeaten on 175 and India declare their first innings against Sri Lanka. #INDvSL pic.twitter.com/q68ebyzzmr

— Veer (@iVeerChoudhary) March 5, 2022
You are yet to be dismissed after your return from injury, our Rockstar🙌✨❤
They can declare the innings but they can't take away what you are capable of😤❤
Go well champ @imjadeja🙌❤#Jadeja #dravid pic.twitter.com/nldhDCD8oe

— Xeno Mystic♌ (@xeno_tweets_) March 5, 2022
Utterly worst decision to declare when Jaddu was 175* what's the hurry it's just day 2 second session. Worst call made by Rohit and Rahul Dravid. He could have got 200 in 5 to 10 overs why so much hurry

— Ajay (@NAjay87) March 5, 2022
Before dravid
Now Rohit 😏#BCCI#RohithSharma#100thTestForKingKohli #CricketTwitter pic.twitter.com/WjcxjiMwq1

— Vignesh Vicky (@Imvicky228) March 5, 2022
Now, it has been revealed that Jadeja was the one who made such decision for the betterment of Indian team. It has been reported that Jadeja sent a message to team asking for declaration as he wanted his side to exploit the variable bounce and turn on offer.
Jadeja said that it was an ideal time to declare giving opposition a session under difficult circumstances. "I also told them that there is variable bounce and deliveries have started turning. So I sent a message that there is something on offer from the strip and I suggested that we should put them in to bat now itself" Ravindra Jadeja said to the media.
"They were already tired fielding for nearly quarter to two days" Jadeja who also picked up rival skipper Dimuth Karunaratne's wicket, said after second day's play. "Since they were tired, it was not easy to play the big shots straightaway and to bat for long hours. So plan was to declare quickly and exploit the fatigue of the opposition batters" Jadeja explained.
"When I was batting, there were some deliveries that turned and some kept low. There was natural variations off the surface and that was the plan. To keep the ball on the stumps, it can go straight or also turn from the same spot, and that's what happened. My first ball turned and second ball I thought that I will bowl on the fourth stump and if it turns or stays low, there was always a chance of getting a wicket" Jaddu said.