Mumbai Indians clinched the victory against Chennai Super Kings with Pollard's terrific knock of 34 balls 87. When 16 runs were needed in the last 6 balls, Pollard kept the strike by denying singles and smashed two fours and one six. 2 runs needed in the last ball and Ngidi who got punished for his two full tosses, bowled a yorker length delivery and Pollard jammed it to the right of long-on. By the time the throw comes to the bowler's end, Kulkarni is comfortably in.
[wp_ad_camp_1]
Fans of team CSK got extremely dejected on realizing that the bowlers of their favourite team couldn't defend a mammoth total of 218 runs. A catch off Pollard dropped by Faf Du Plesis in a crucial time costed the match for the Dhoni led team. Pollard was named as the Man of the match with Rayudu being the top scorer for Chennai.
"Not being too tough on bowlers, we dropped catches at crucial intervals. The bowlers would execute better and learn from this. If you look how it went. we were very off target when it came to execution. It is important to do that. The wicket was easy to hit. In a tournament like this, you will win and lose a few close games. When you are under the pump, you learn a lot. Irrespective where we are in the points table, we take one game at a time. We hardly ever focus where we are standing on the table. That has been our good point along the way." Dhoni said post the match.
Online fans of CSK team were expressing their disappointment over the loss of CSK. They couldn't digest losing continuous games against Mumbai Indians as it was the 10th loss of Chennai against Mumbai in the last 12 games they faced each other. It is notable that Chennai lost the trophy to Mumbai in the 2019 IPL finals in a similar manner. Meanwhile, a number of fans questioned the last ball field set of Dhoni for Pollard where it was 2 runs required.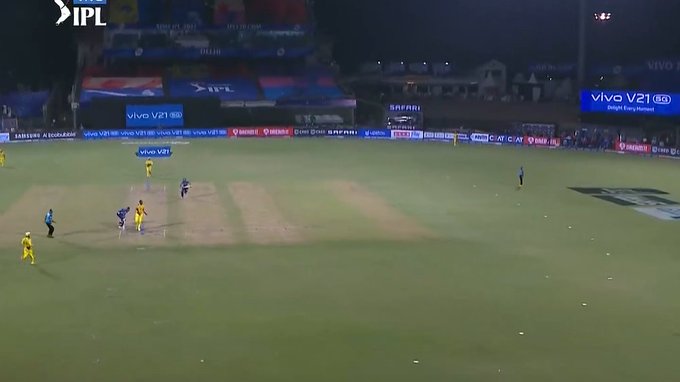 [wp_ad_camp_1]
"No offense to Dhoni but what was that fielding setting for the last ball specially knowing that Pollard is a smart guy." a social media user asked whereas another one said "What field was this, though, with 2 to win off one ball????"
However, a number of other followers said that Pollard was looking to hit a maximum and he mistimed the ball as a result of which they ran two runs. Knowing his intention, Dhoni kept the fielders near the boundary line, believed a set of fans. Check out some of the reactions below :
What field was this, though, with 2 to win off one ball????#MIvCSK pic.twitter.com/ZvAXwVq9JL

— Rohit Sankar (@imRohit_SN) May 1, 2021
No offense to Dhoni but what was that fielding setting for the last ball specially knowing that Pollard is a smart guy.

— Bhawana (@bhawnakohli5) May 1, 2021
See this fielding set for last ball in which Mi needs 2 runs.. It is not possible that dhoni would set fielding like this.. We can clearly see fixing in this match. Ones a Fixer always a fixer.. #CSKvMI #stopfixing @DelhiPolice
Please investigate ipl2021 fixing @Ipl2021 pic.twitter.com/AsDk1u1pUw

— Yash Trivedi (@Kingtrivedi007) May 2, 2021
[wp_ad_camp_1]
First five balls from Ngidi in last over were all full toss on leg side without any fielder there, was Dhoni not seeing this?

He never came even once to tell bowler to bowl wide torker on off side #ipl #ipl2021

— SRK Salman Fan (@SRKSalmanFan) May 2, 2021
Those who are arguing that Dhoni shouldn't place the fielders like this on the last ball when 2 runs were needed on that delivery. Let me tell you all that strike was in Pollard's hand and if MSD had placed the fielders in circle, 9th six from Polly's bat wouldn't far!#MIvCSK pic.twitter.com/XqCFhcNu2w

— 𝗛𝗮𝗿𝘀𝗵 𝗧𝗶𝘄𝗮𝗿𝗶 (@harsh__t) May 2, 2021
Exactly same doubt why haven't Dhoni speak to bowler and placed the field properly on the last ball.

Really surprising!!!

— Mr.Calma (@AneesSharief3) May 1, 2021
Unexpected Last ball field from #CSKvMI where #MI need 2 runs in 1 ball

Still can't believe , #Dhoni is captain here 😔 pic.twitter.com/Y9osJwl3IY

— SID ka CIRCUIT (@Sidkacircuit) May 1, 2021
My opinion – Turning point of the match –
1. FaF du plessis dropped catch of Pollard.
2. Dhoni having same field when 2 needed off last ball as field when 8 needed off 2 🧐 (No mid on, mid Wicket, short mid Wicket)

Anyways CSK can still easily make it into the playoffs 🦁
🥳

— Neelkant_Agr (@neelkantmani) May 1, 2021
Pollard is going to hit hard anyway so even a mistimed shot would fetch the deep fielder and he was not a good runner between the wickets. So it was risky but calculative. Had MS brought the field up and if Pollard hit over the 30 yards, you would find faults as well.

— Bala Ramana 🏏 (@ramana475) May 1, 2021
Comment your views on these reactions of fans !!