Fans Got Upset Over Messi For Stopping Croatia Model From Keeping Her Promise!!
Written by Dhiwaharan Published on Dec 14, 2022 | 21:16 PM IST | 266
Follow Us
Comments: 0
A promise made by former Miss Croatia named Ivana Knoll about going naked if her team enters the finals, is no longer valid as the Messi-led Argentina team crashed team Croatia in the semi finals. Many fans were upset over the world famous footballer for preventing Ivana from keeping her promise.
La Croate Ivana Knoll est venue soutenir son équipe au Qatar… en maillot de bain.#Quotidien pic.twitter.com/jzI4B31NDK

— Quotidien (@Qofficiel) December 13, 2022
The controversial model has been making headlines for her seriously revealing outfits in the ongoing FIFA 2022 world Cup that is taking place in Qatar. She rose to fame initially after making her presence in the previous world cups among the crowd.
Her fashion choices are all inspired by the iconic red and white checks of her native Croatia. However, fans were afraid over the fact whether she would get arrested for showing off so much skin. In Qatar, tourists are not expected to dress like the locals but they were asked to cover their shoulders, upper arms and legs.
Croatian model Ivana Knoll continues to turn heads at the World Cup with another dazzling red and white outfit for her country's semi-final clash with Argentina

She has been dubbed the 'World Cup's hottest fan' pic.twitter.com/ixFfpu1EkK

— Lilian Chan (@bestgug) December 13, 2022
Despite the warnings, Ivana made the promise of getting fully naked if her teams enters the finals and wins the world cup. While speaking to a German media last week, the actress was asked how she would react if her team Croatia wins the title. Responding to the question, she who was wearing a regional flag at that time, said "If that happens, the flag falls… "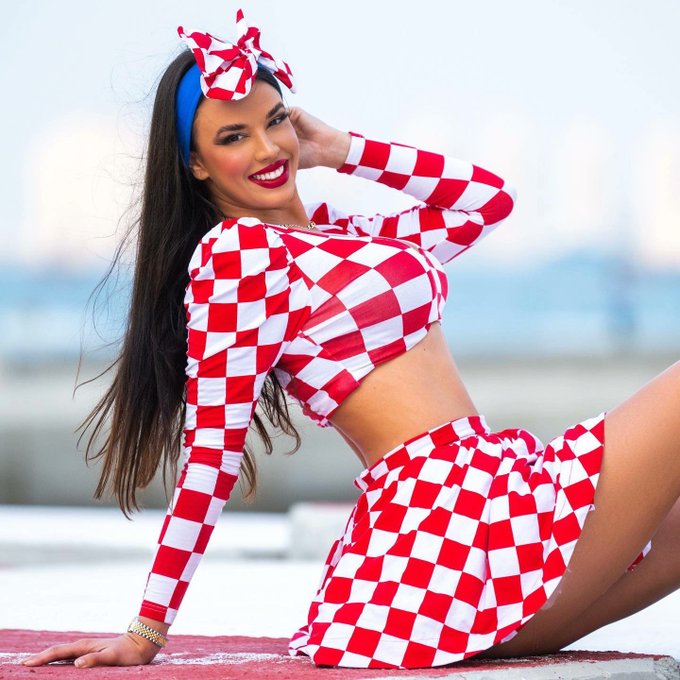 However, her promise is not going any further as Croatia lost to Argentina in the semi finals and got eliminated from the tournament.
"We will never forgive you Messi, never" an ardent follower of the game said based on the incident whereas another said "Messi Hurt The Whole Nation, Unlucky 🤣😅🤣"
Check out some of the reactions below :
What we saw Vs What we missed to see😂 pic.twitter.com/J03YTCwqbv

— Kingkutu 254🗯️ (@kingkutu_kot) December 13, 2022
His smile >>>any girl in the world pic.twitter.com/RdEC63YKoa

— Neelansh (@NeelanshT100) December 13, 2022
— Out Of Context Esportes (@nocontextsporte) December 13, 2022
You lost to this team…😭😭 pic.twitter.com/98Slv5iTCt

— V̳i̳c̳t̳o̳r̳.̳M̳.̳r̳a̳z̳l̳e̳r̳ (@mmvithy21) December 13, 2022
She wasn't specific, we can win it for croatia on PS5 pic.twitter.com/LJGa5p6Wkr

— BiGGiE (@Ohh_Kojo) December 13, 2022
airport this way pic.twitter.com/MZUUeJ9q8e

— 3B_2L (@3B_2L) December 13, 2022
I'm soooooo sorry I really am and I feel for you lads , please please please forgive me 😜🤣🤣🤣🤣🤣 pic.twitter.com/XBx07pGyC1

— Najdawi Issam (@issam_najdawi) December 13, 2022
— 🅢🅟🅔🅒🅣🅔🅡™♡👻 (@AbdulraufKhamiz) December 13, 2022
Former Miss Croatia MESSI said you did not have to go naked because he respect women bodies.

— Nigga Ustas (@MustaphaALadan3) December 13, 2022
Ex-Miss Croatia, Ivana Knoll, is now GOING HOME ❌🇭🇷 pic.twitter.com/ZrXcL9QxWi

— SPORTbible (@sportbible) December 13, 2022
We're not getting Ivana Knoll nudes pic.twitter.com/Y7VkMgDj2c

— 🦖Mark🇮🇪 (@CaseMcFred) December 13, 2022