Fans Got Upset Over Legendary Indian Cricketer's Comment On Warne !!
India
Shane Warne
Sunil Gavaskar
CM / Updated: 2022-03-07
14:19 IST
By Dhiwaharan
Indian batting legend Sunil Gavaskar is in the receiving end for his untimely comment over Shane Warne after his demise. The former cricketer said that Muttiah Muralitharan and Indian spinners were better than Shane Warne in a TV and it didn't go well among the fans.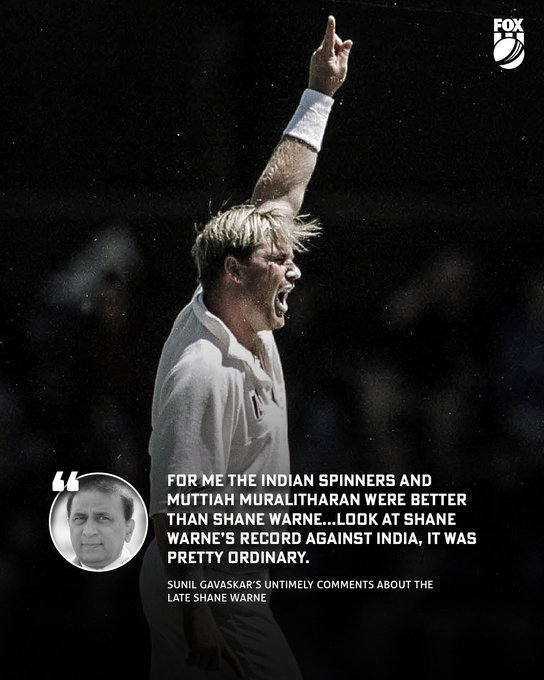 Shane Warne died at the age of 52 on Friday due to suspected heart attacks and the entire entire cricket fraternity mourned for the loss including Indian greats such as Sachin Tendulkar, Virat Kohli and others. Warne took 708 test wickets and another 293 wickets in one-day Internationals, but Gavaskar said that in his opinion, Sri Lankan spin ace Muralitharan was a "rank over him".
" For me, Indian spinners and Muttiah Muralitharan we're certainly better than Warne. Because look at Warne's record against India. It was pretty ordinary against India" said Sunil Gavaskar in India Today. "Because he didn't have much success against Indian players who are very good players of spin bowling, I don't think I would call him the greatest. I think, Muttiah Muralitharan with the success he had against India would rank over him in any book" he added.
"He was always looking to live life fully, king size as they call it and he did that and maybe because he lived life in such a manner is perhaps the reason why his heart couldn't take it and he passed away so soon, " Gavaskar said.
Shane Warne's passing away is a big shock….He mastered the art which is very difficult to master which is leg spin: Sunil Gavaskar. #NewsToday #Cricket #RIPShaneWarne | @sardesairajdeep pic.twitter.com/6KqSHf6Tes

— IndiaToday (@IndiaToday) March 4, 2022
The timing of Gavaskar's comments didn't go well among the fans of sports cricket who started calling the current commentator out. Check out some of the reactions that surfaced against Gavaskar below :
Hated Gavaskar when he had spoken crap after David Hookes' death.

And now him nitpicking on Warney's stats on the day of his death feels so triggering.

Surprising that it comes from a man who has spent so many years on the mic on international telivision.

— Vipul (@Sporty_Baba) March 5, 2022
Sunil Gavaskar is so embarrassing lol, not just to himself but to Indian cricket too🤦🏻‍♀️ buddhau just doesn't know what is to be said at what point in time. pic.twitter.com/4wa52i9wAm

— tanya /// ypu era (@th3r2pyy) March 5, 2022
Shocking tone deafness from Gavaskar. A). How can you take a public platform and air your personal theories about the tragedy B). How can you take this as a moment to one up a player because your fav won a head to head C). Not relevant but how nationalist do you have to be to-

— Dweplea (@dweplea) March 4, 2022
Gavaskar needs to be banned from attending interviews and all!

That comment on Warne was so disgusting! Really felt bad

— Pandemic Pep (@afc_anubhav) March 5, 2022
Dear Sunil Gavaskar sir,

Late Shane Warne had Glen McGrath, Damien Fleming, Jason Gillespie, Brett Lee with more than 1000 test wickets in his team and yet he had 708 test wickets.if you are saying he is not the best spinner ever played then you are smoking something really bad.

— siddharth barjatya (@sidbarjatya) March 5, 2022
Gavaskar is probably a egomaniac who thinks he and some of his mates from his era are bigger than the sport itself.

No sensitivity, no empathy. Just words that are meant to hurt someone. Gideon Heigh was uncomfortable when Gavaskar was spouting his bs.

— AV (@RangnickTime) March 5, 2022
Take the prick's name off the Border-Gavaskar trophy. Rename it.

— James Mottershead (@mottersjames) March 7, 2022
I usually hate it when foreign players take a dig at Indian but the humanity doesn't let me defend Gavaskar here.
Gavaskar has been an disgusting for long time, he can't control his mouth. https://t.co/Ba8WKF44KS

— Ajinkya👑 (@HailKingKohli) March 7, 2022