Days after getting the attention of media for sledging uncapped player Suryakumar Yadav of Mumbai Indians, Virat Kohli, again caught into controversy for doing the same to Manish Pandey in the eliminator match that took place between Sunrisers Hyderabad and Royal Challengers Bangalore. After scoring a below par score in the first innings, the Kohli led red team were desperately needed early wickets to take the control of the match. In the process, Kohli sledged Manish Pandey who came into the middle as an one down batsman for SRH.
[wp_ad_camp_1]
David Warner who won the toss asked RCB to bat. Except AB DE Villiers, none of their batsmen performed well in the big match. At the end of 20th over, RCB managed to score only 131 runs. Team Sunrisers chased the total with the help of Kane Williamson and Jason Holder in the final over with two balls to spare.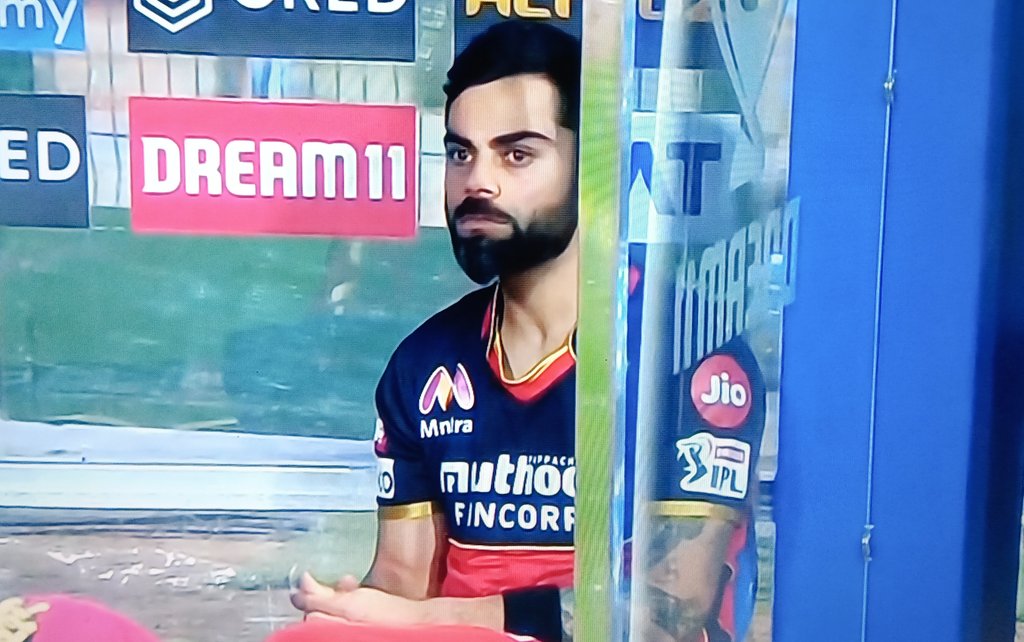 In the post match presentation, Virat Kohli said that his batting squad failed to put enough runs on the board which left them in a deep trouble in the eliminator. "Maybe a bit of nerves, maybe a bit of hesitation, we need to be more expressive with the bat. We didn't have any phases in the game where we got away from the opposition. We just allowed bowlers to bowl to the areas they wanted to and didn't put enough pressure on them. In the last 2-3 games we have hit it straight to the fielders, lot of good shots going to the fielders. It has been a strange kind of phase in the last 4-5 games." Virat Kohli said in the post match presentation.
Meanwhile, in the third over of the second innings, SRH were scored only 6 runs for the loss of 1 wicket. Manish Pandey who came in as an one down batsman, played a solid defence in the second delivery bowled by Mohammed Siraj. Virat Kohli who fielded the ball, while giving the ball to Siraj, shouted "Aaj nai maar rhe shots" which means "Don't worry they can't hit any shots today" in order to distract Manish who could be dangerous in the crease if he stays long.
[wp_ad_camp_1]
Manish went for a maximum in the very next ball. The video is being widely shared in the social media platforms, comparing the incident that took place in a match between Royal Challengers Bangalore and Mumbai Indians. Watch the video below :
Bullying youngsters for fun
First SKY
Now Pandey

cc @GappistanRadio
Source: BCCI. pic.twitter.com/2evPCs5N2k

— Omkar Shrimali (@OmkarShrimali) November 6, 2020
Check out some of the reactions for this behaviour of Kohli :
Weak and wicked. That is Virat Kohli. Don't have guts to sledge Warner, sledging poor Pandey. Selects players from RCB with no performance. Will never win. #RCBvSRH

— Kritic (@Kritic5) November 6, 2020
U have to play alongside Manish later…
He has to play under ur captaincy..

How can u sledge him @imVkohli 😑

— . (@UrsPG) November 6, 2020
#RCB can't win #IPL as long as @imVkohli is their capatain. It's a shame to sledge Indian yongster in such games.

— Vamshi (@kinaaai) November 6, 2020
#AgressionWinsOverCalmness @imVkohli Learn to Score first!! Then Sledge your opponent player's!! I extremely feel disappointed with @imVkohli leading team india @SGanguly99 He is Very agressive and it cost many matches!! Instead he can work on his batting. @RCBTweets @SunRisers

— P.K (@pkcrticsWala) November 6, 2020
#ViratKohli is the only player who can sledge to his own teammate. Virat's #shame behaviour with #Suryakumaryadhav and yesterday with #manishpandey.
Try to be a gentleman rather than sledging hero.
I am huge fan of #RCB but not for #ViratKohli captaincy .

— ಅಭಿಷೇಕ್ ಹೆಚ್ ಎಸ್ || Abhishek HS Malle (@abhishek_HS_abi) November 7, 2020
[wp_ad_camp_1]
In an earlier match, Surya Kumar Yadav of Mumbai Indians tried to hit Dale Steyn at the extra cover but the ball was fielded by Kohli. Since, it was the end of the over, Kohli walked towards the crease with the ball and Surya stood there with a deadpan expression on his face staring at Kohli. Both the players stared at each other before Surya moved on with the bat.
Here's the video :
Watha😂 pic.twitter.com/SRjpZIQrZF

— Vishakan Soundararajan (@Vishak_Sound) October 28, 2020
They both stared at each other due to an incident that took place in the 9th over. During the end of 9th over, when Surya tried to hit a boundary at the off-side, Kohli fielded the ball. After collecting the ball, the Indian captain threw it towards Surya with a frustrated body language and uttered something furiously. When it happened again, Surya kept staring Kohli it is believed.
Watch the video below :
Over no: 9.6 … That's the reason behind the stare of SKY😏…. Kohli can abuse players, but in return no one should stare at him🥱🥱😴#Suryakumaryadhav #sky #ViratKohli #MIvsRCB #mumbaiindians #mi #BCCIpolitics pic.twitter.com/LZbqfTKnhy

— B R I N Z U || H O M E $ H (@brinzu45) October 29, 2020
It is one way of sledging the batsman to make him get out by destroying his peace of mind. However, fans got upset on seeing Kohli using the method to get the wicket of an upcoming Indian talents. Comment your views !!