Fans Celebrated Sivakarthikeyan After Watching "Don" In Theatre!! His Reply Won Hearts
CM / Updated: 2022-05-14
16:07 IST
By Dhiwaharan
Sivakarthikeyan's reply to the fans who were celebrating him after watching his film "Don" in theatre, has won hearts. To the fans who were chanting his name and celebrating him, Sivakarthikeyan stopped them and said "Director, Director" and made sure that content is magic and a director is the reason for the success of a creative project. It is notable that Sivakarthikeyan took blame on himself when his films like "Mr Local" miserably failed to impress the audience.
Made my day ❤️❤️❤️❤️❤️#DON

— Venkatramanan (@VenkatRamanan_) May 13, 2022
Along with Sivakarthikeyan, the film "Don" has an ensemble cast including Priyanka Mohan, SJ Suriya, Bala Saravanan, Mirchi Vijay, Sivaangi, Raju Jayamohan, Kaali Venkat, Samuthrakani, Munishkanth and others. Directed by Cibi Chakravarthy, the film was jointly produced by Lyca productions and Sivakarthikeyan Productions. Anirudh has composed music for the film.
Plot of "Don" revolves around a youth played by Sivakarthikeyan who was compelled to join engineering by his father and a strict Dean who wants his students to be disciplined. The youth wants to find his area of interest throughout the film and also involves in mischievous activities. The film also talks about the importance of looking after our parents while they are alive.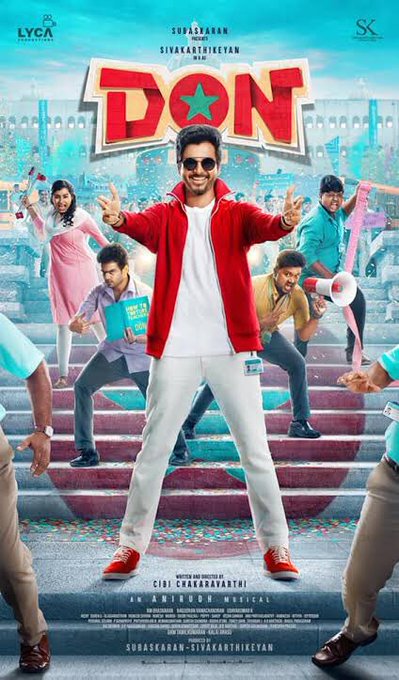 Post the release, the film is receiving good reviews from the audience and critics is expected become a milestone film in the acting career of Sivakarthikeyan. "The true sign of an effective film is when all its jokes make you laugh, and all the emotional moments–even the not-so-inventive ones–affect you. #Don has a surprisingly emotional core, inside its attractive exterior of a fun, college film. It feels honest, and it works" reviewer Sudhir Srinivasan said in his tweet.
In the meantime, a video of fans in theatre celebrating Sivakarthikeyan after watching the film got surfaced in the internet. The lead actor was watching the film with the audience in the same theatre and was enjoying their responses. After the film got finished, fans looked up at Sivakarthikeyan and started chanting for him.
Watch the video below :
The way @Siva_Kartikeyan forwarded his appreciation and claps to @Dir_Cibi mentioning "Director Director" ❤️ pic.twitter.com/u52acNrDkI

— KARTHIK DP (@dp_karthik) May 13, 2022
In reply, the director made them silent and showed Cibi who was standing aside him and said "Director, Director" to make them cheer for him. The way Siva thought about giving the director his due credits, has won the hearts of many online users.
Check out some of their reactions below :
He say *Director director*
How much he understood the hardwork of @Dir_Cibi 🥺❤️
So inspiration man @Siva_Kartikeyan ne ❤️
Lot more to come 💥👑 #PriceSk

— is_haa (@SkArunachalam) May 13, 2022
தன்னை பார்க்க தான் இவ்வளவு கூட்டம் என தெரிந்தும் படத்தின் இயக்குனரை ரசிகர்கள் கொண்டாட்டத்தின் முன்பு அறிமுகம் செய்யும் அந்த மனசு❤️❤️❤️ https://t.co/2w4yDVtk92

— AHBD சகோ 😍/நவீன காலத்து யுதிஷ்டன்❣️ (@ranjithk1322) May 13, 2022
Woww….he said "director director".🤩.Remains me when ajith sir said To media This is my director. @iam_SJSuryah for vaali. https://t.co/k3aEarivPA

— Soorya (@its_soorya07) May 13, 2022
The way he say director director 🥺🥺🥺🥺🥺🫶🫶🫶🫶🫶 has my heart ❤️❤️❤️❤️❤️❤️

He always never fails to give appreciation to the person who deserves 🔥🔥🔥🔥🔥🔥
Thats why everyone's fav ❤️@Siva_Kartikeyan

Director saaar vere level ponghe 🔥🔥🔥🔥🔥💥💥💥💥💥@Dir_Cibi #Don https://t.co/j99zvtdZt9

— Kirthi🦋AS💫 (@Kirthi1710) May 13, 2022