For The First Time In History, Oscar Released The Video Of A Tamil Film !! Fans Just Can't Keep Calm
Written by Dhiwaharan Published on Jan 18, 2022 | 23:33 PM IST | 119
Follow Us
Comments: 0
Official youtube channel of Oscars uploaded a 12 minute video clip from the widely watched, critically acclaimed Tamil film "Jai bhim" of Suriya. The clip included director T.G. Gnanavel talking about how harmful casteism is and about how his period film deals with the issue. As soon as the video got uploaded in the youtube space of Oscars which enjoys 2 million plus subscribers, fans of Tamil cinema got overwhelmed and has been expressing their excitement by dropping comments and sharing the information.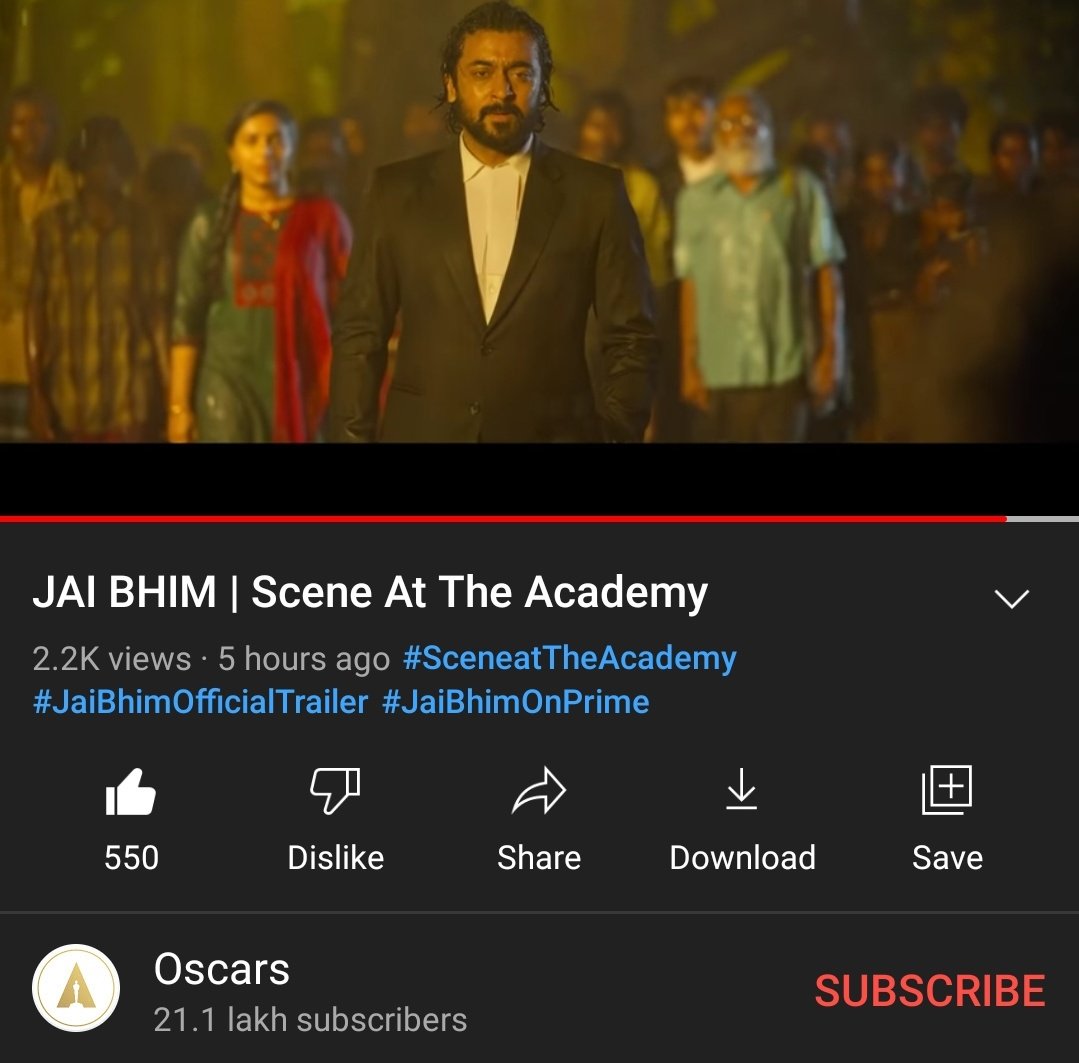 "Jai Bhim" released on Amazon Prime on 1st of November in 2021 with much expectations among fans. Based on a true event that happened in the year 1995, the film concentrates on showing light to the hardship people of tribal community went through at that time. Exposing the police brutality, the film shows how lawyer Chandru won the case without receiving a penny from his client who is a wife of the victim. Though the incident took place 25 years ago, it looks still relevant due to the police atrocities that are still taking place in the state.
Directed by T.J Gnanavel, the film is produced and performed by actor Suriya under his own banner 2D entertainments. Actor Kamal Haasan, after watching the film, said that the film made him shed tears. He appreciated Suriya, Jyothika and the crew members of the film for stretching their voice for the oppressed through their product. Ranjith, through his tweet, said that many more films about many more Rajakannus will be releasing in Tamil cinema in the coming days. Director Karthik Subbaraj also uploaded a tweet in his twitter space supporting the film. Many other celebrities lauded the film, running time of which is 2 hours 44 minutes.
The film received rave reviews from majority number of audience and critics who watched it. Now, it achieved a new feat by featuring in the official youtube space of globally recognized Oscars. It was released with a title "Jai Bhim | Scenes at the Academy" in the youtube channel of Oscar.
"Jai Bhim weaves in real case studies helmed by Activist-Lawyer Chandru, who brought justice to indigenous tribes in Tamilnadu through his relentless efforts. Writer-director TJ Gnanavel reveals how the story narrative was formed and executed" description of Oscars for the video of Jai Bhim read.
Important scenes such as Police forcefully arresting the innocent tribes to solve crimes, Rajakannu and his family facing Police brutality, Lawyer Chandru seeking justice for Rajakannu and his wife were featured in the youtube channel of Oscars. Director T.G Gnanavel could be seen depicting how casteism is much more dangerous than racism in the video as well.
"The film is not just about the custodial violence faced by the tribal people but how it is happening based on caste" the filmmaker said.
Watch the video below :
As soon as the video got featured in the Oscars, fans of Tamil cinema can't keep calm as they could be seen expressing their overwhelming response through the comment section and by sharing the video in various other social media platforms. Check out some of the reactions below :
First tamil movie to be in Oscar's youtube channel proud moment for every indian @Suriya_offl #JaiBhim

— Pazhani (@Pazhani2102002) January 18, 2022
at last a tamil movie being recognised🥲

— jaya suriya s (@jayasuriyas21) January 18, 2022
Your so called "OTT Star" is shining big. @Suriya_offl 🔥#JaiBhim pic.twitter.com/5Dk48SQmUo

— P r e M (@CinemaForLife__) January 18, 2022
Suriya's #JaiBhim becomes the first tamil movie to get featured on OSCARS official channel pic.twitter.com/o40uad1GeK

— Mokka Memes (@MokkaMemes_) January 18, 2022
Proud moment for Tamil Cinema Industry

— Dev (@iamdeveshp) January 18, 2022
Then, LEGEND @ikamalhaasan made Kollywood proud with his strong content oriented films. Now, his FanBoy @Suriya_offl is continuing the JOB.!#JaiBhim | #OSCARS pic.twitter.com/680ez2F02l

— ᏰᏝᏗᑕᏦᎩ™♠️ (@BLACKY_Backup) January 18, 2022
#JaiBhim அட் தி ஆஸ்கார்ஸ் 🔥

Oscars Official YouTube Channel has posted a scene from #Suriya's #JAIBHIM 👏👏

What a PROUD MOMENT for the COUNTRY 🔥👑

நாம ஜெய்சிடோம் மாறா 🥺❣️ pic.twitter.com/jTvw4G0e2L

— VCD (@VCDtweets) January 18, 2022