Fans Attacked Blue Satta Maaran In PVR Theatre??
By Dhiwaharan
A number of pictures of "Blue satta" Maaran visiting the PVR theatre was doing rounds in social media platforms during Thursday evening. Online users alleged that the movie reviewer got physically attacked by fans for the way he degraded actor Ajith kumar through his tweets and "Valimai" review. However, Maaran came up with a tweet making fun of the entire narrative and confirmed that nothing that sort happened.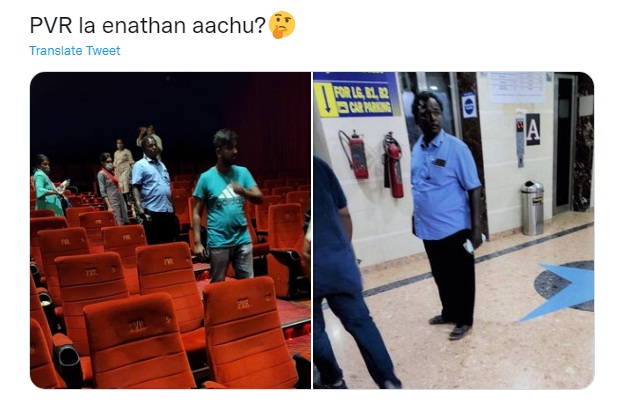 The movie reviewer cum director has been facing the wrath of fans ever since he made a tweet degrading the dancing ability of actor Ajith kumar in the opening song of "Valimai". Along with fans, many celebrities including Bigg Boss winner Aari, producer Dhananjayan, National award winning director Seenu Ramasamy, senior filmmaker Pandiraj called out the movie reviewer.
However, Maaran didn't stop his tweets about how toxic the fanbase of top actor are. Now, in Twitter, a number tweets surfaced alleging that Maaran visited PVR theatre to watch the recently released Malayalam film "Pada". A number online users claimed that the movie reviewer got attacked in the theatre premises.
Check out some of the tweets and pictures below :
சென்னை PVR தியேட்டரில் படம் பாக்க சென்ற ப்ளு சட்டை மாறன் மீது மர்மநபர்கள் தாக்குதல் நடத்தியதாக சமூக வளைதளங்களில் செய்தி வரவி வருகிறது…. pic.twitter.com/tTCycjDqjF

— Jayam.SK.Gopi (JSKGopi) (@JSKGopi) March 18, 2022
Guys, Blue sattai in PVR Skywalk la #Pada malayalam padam paaka vandhurukaan..

— மானஸ்தன் © (@RascalRaGu) March 17, 2022
Ennathu nethu ni8 PVR la Blue sattai Maaran thaaka patara 🤐🤐🤐

— 𝙰𝚔𝚊𝚜𝚑_𝚂𝚔 (@Akash_Sk98) March 18, 2022
#AK62 Nanbargaley PVR la Nethu Ennanachuna🤣🤣🤣🤣Blue sattai😂😂😂😂

— 𝙎 𝙄 𝙑 𝘼 (@SivaKum06364385) March 18, 2022
ப்ளு சட்டை மாறன் அவர்கள் மீது நடந்த தாக்குதல் சம்பவம் கண்டிக்கத்தக்க ஒன்று..

கருத்தை கருத்து மூலமாக தான் எதிர் கொள்ள வேண்டும். இல்லையென்றால் சட்டப்படி நடவடிக்கை எடுக்க முயற்சிக்க வேண்டும்.. pic.twitter.com/p5RYnqymxR

— Jayam.SK.Gopi (JSKGopi) (@JSKGopi) March 18, 2022
அஜித் ரசிகர்கள் கிட்ட கொஞ்சம் அடி வேற ஒன்னும் இல்ல

— T H A L A ⚡ சதிஷ் 🔥⚔️ (@itisAKSathish) March 18, 2022
இது தா நடந்துச்சி pic.twitter.com/QRDiHwn1tO

— Beena (@Ak61_2022) March 18, 2022
Reacting to the tweets, Maaran uploaded a tweet writing "What would happen in PVR theatre? People would come and go to see films in theatres. Why would someone take a picture of me by hiding. Come and click picture directly man. I am not a celebrity to get my pictures shared like this. By the way, thanks to that brother for providing me free publicity" in his tweet.
Check out his tweet below :
PVR ல என்னடா ஆகும்?

தியேட்டர்னா நாலு பேர் பாக்க வருவாங்க. முடிஞ்சதும் வெளிய போவாங்க. அதை மறைஞ்சி நின்னு ஏன்டா போட்டோ எடுத்த? நேர்ல வந்து எடுத்து தொலைய வேண்டியதுதான?

இதை ஷேர் பண்ணுற அளவுக்கு நான் செலப்ரிட்டி இல்ல. எப்படியோ…வைரல் பப்ளிசிட்டி தந்த அந்த தம்பிக்கு ரொம்ப நன்றி. pic.twitter.com/2D18jWVnsA

— Blue Sattai Maran (@tamiltalkies) March 18, 2022
Maaran defended his comments saying that the mindless hero worship and public nuisance fans are making during the release of their idol's films should be called out first. He wanted  all the celebrities to condemn toxic fan base of top actors before condemning him.