Fans Accused A.R Rahman By Saying That He Forced His Daughter To Wear Burkha !! Here's How She Slammed Them Back !!
CM / Updated: 2019-02-07
19:20 IST
By Dhiwaharan
It is 2019 and here we are, arguing yet another Muslim woman's right to wear a burqa. This time, the woman drawing the nation's ire is none other than Oscar-winning music maestro AR Rahman's daughter Khatija Rahman.
[wp_ad_camp_1]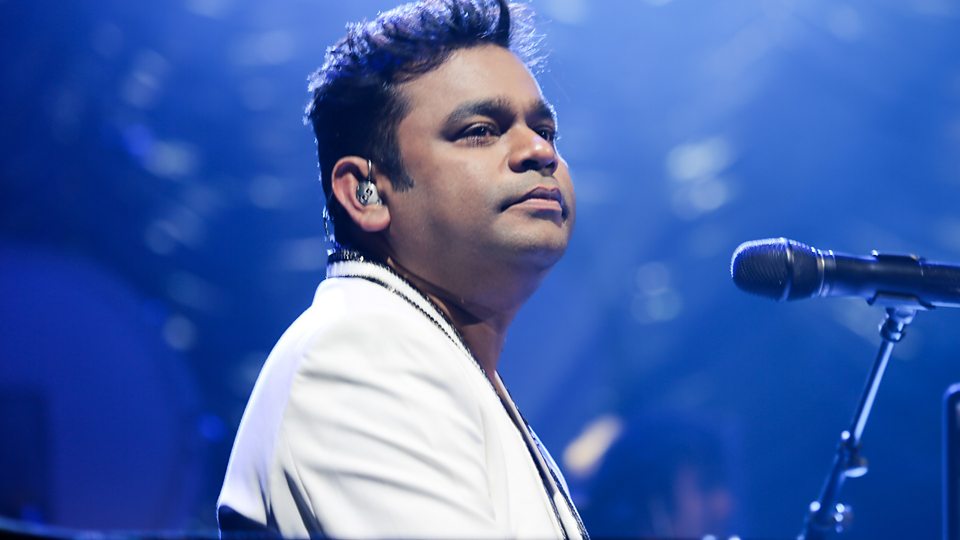 Rahman recently marked ten years of winning the Oscar for best music direction for the Danny Boyle directed Slumdog Millionnaire. The musical genius celebrated the occasion with an event in Mumbai's Dharavi, the biggest slum in the world on Monday. And his daughter Khatija went up on stage to commemorate him. Little did she realise that the simple act of supporting her father would land her and the musician in the eye of a hate campaign.
[wp_ad_camp_1]
All she had to do was wear a burqa. As soon as the photos of the concert made it to social media, Rahman was targeted by alleged proponents of freedom of choice and expression. They said it was cruel of him to enforce his religious beliefs on his daughter, that it was unfair of him to "force" her to wear a burqa.
which creature is under black tent..goat or human??

— Dhaka Suhash (@dhaka_suhash) February 6, 2019
ஆனால் இது அடிமைத்தனம் என்று எடுத்து சொல்ல வாய் எங்கே போனது ? இது என்ன சவுதி அரேபியாவா அல்லது தலிபான் ஆட்சியா ?

— 🔥🔥🔥🔥 Ravi (@senthazalravi) February 7, 2019
1) Khatija JI would have struggled to enjoy the dinner.
2) khatija JI could have sent anybody in her place to attend, nobody would have recognized.

— mahabharath (@mahabharath4) February 6, 2019
It's not a freedom. U made her used to it. If u had given this choice in early age she would have made her choice.

— Manoj Sharma (@IManoj_Sharma) February 7, 2019
Rahman s family with their pet penguin

— Raghav Pandey (@rghvpandey) February 7, 2019
Dear Rahman,

Even if ur daughter wants to cover her face at her own will – u as a father shld not allow that & explain her the freedom of Free & liberty.

— influencer (@Purple_Truth) February 7, 2019
Now Khatija herself came up with a social media post to hit back at the trollers for accusing her. Through her official Instagram account, she posted a write up with a picture of herself and her father in the stage.
Here's what she wrote:
"The recent conversation of myself on stage with my dad has been doing the rounds although I didn't expect such an overwhelming response. However, there were certain comments which said that this attire is being forced by my dad and that he has double standards. I would like to personally clarify to my followers and my non followers on Instagram that the attire I wear of the choices I make in my life does not have anything to do with my parents. The veil has been my personal choice with complete acceptance and honour. I'm a same mature adult who knows to make my choices in life. Any human being has a choice to wear or do what he/she wants and that's what I've been doing. Hence, kindly don't make your own judgements without understanding the exact situation. #freedomofchoice"
Check out the screenshot of the post of her here :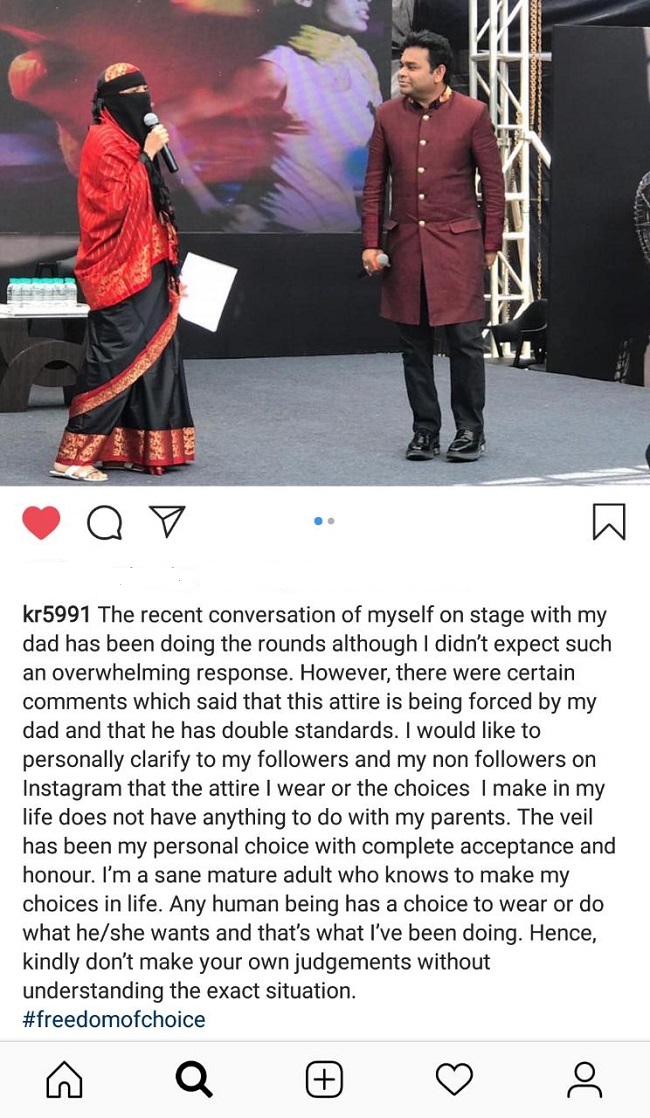 Earlier, Khatija was praised for the speech that she gave at the event about her father and talked about the changes that came after Rahman won the Oscars. She said that her father's humility matters the most for her and he didn't change a bit after winning the award but he did start spending less time with the family because of his work.
[wp_ad_camp_1]
Trollers need to learn how to mind their own business instead of just targeting anyone without knowing precise details. Comment what do you think on this !!