Fan From Kerala Recreated Sivakarthikeyan's Steps From "Chellamma" Song !! Actor's Reply Won Hearts
Dance
Doctor
Sivakarthikeyan
CM / Updated: 2021-10-26
17:07 IST
By Dhiwaharan
The most awaited video song of "Chellamma" from "Doctor" released recently and is going viral among the fans. The 4 minute long song is currently trending at no.1 in youtube with 8 million plus views within four days of time span. The Telugu version of the video song released simultaneously with the title "Chittemma" and is turning out as a huge hit as well.
[wp_ad_camp_1]
Along with the celebrations from Sivakarthikeyan fans who are mostly kids, appreciations posts for the dance steps, visuals, lyrics and music are flooding in the social media platforms. Meanwhile, a fan from Kerala recreated the dance steps of Sivakarthikeyan and uploaded the video of it in Twitter tagged the actor/producer himself only to receive a humble reply in return.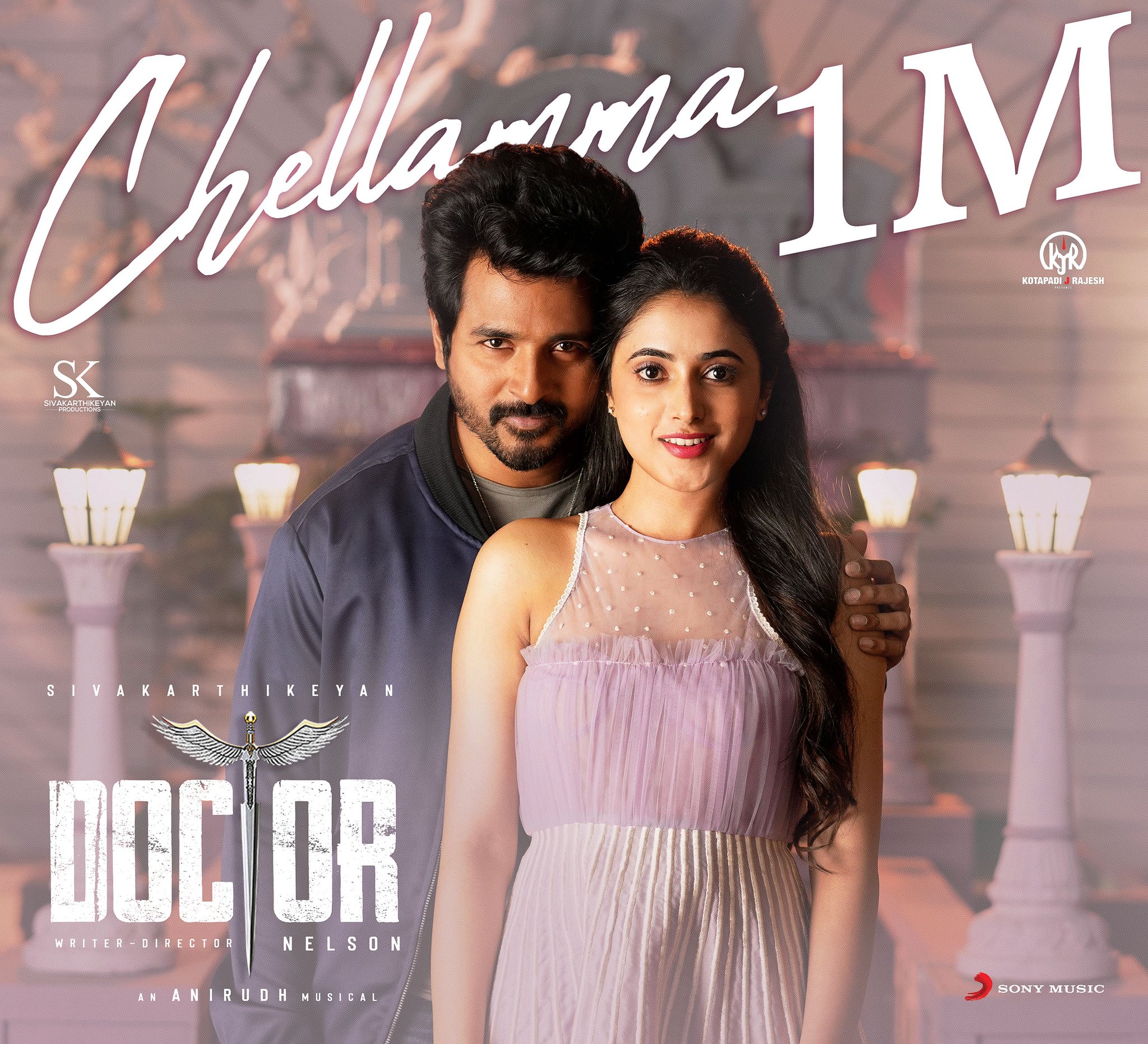 "Doctor" film released in theatres on 9th of October amidst much expectations. The film became one of the first releases post COVID 19 lockdown. Plot of "Doctor" revolves around the protagonist who works as a doctor, decides to track down the antagonist who runs huge human trafficking mafia. He gets himself involved in the mission after finding a girl who belongs to the family of his love interest missing.
By having a bunch of comedy actors such as Yogi babu, Kingsley, Deepa and others, Nelson handled the film by giving importance to the humour. Amidst the tensed circumstance he creates, he himself orchestrates one liners and humorous punches which worked out well among the family audience. Several prolific filmmakers such as Shankar, Venkat Prabhu, Mari Selvaraj has posted tweet praising the film in their timeline.
[wp_ad_camp_1]
While the film is still running with houseful shows, Sivakarthikeyan uploaded a post in his twitter timeline declaring it as a "Mega blockbuster". Most recently, the makers released the video song of "Chellamma" in youtube to boost the hype in order to have repeat audience for the film. As said, the song is garnering humongous amount of positive response from fans.
Watch the song below :
Couple of days ago, a fan from Kerala recreated Sivakarthikeyan's dance steps and uploaded a video, tagging Sivakarthikeyan himself. "Love from Kerala" he added as a caption for his post.
Check out his post below :
♥️ from Kerala @NeerajSukumaran 🥰@Siva_Kartikeyan @Nelsondilpkumar @AlwaysJani @SonyMusicSouth @SKProdOffl @anirudhofficial #doctor #chellamma #Sivakarthikeyan #MegaBlockBusterDOCTOR pic.twitter.com/ZcVWsoenG1

— NeerajSukumaranHimasagar (@NeerajSukumaran) October 24, 2021
The video garnered the attention of Sivakarthikeyan himself who immediately replied to encourage the youth. SK, in a humble manner, said that his dance moves are better than mine. "Nice bro actually better than mine" the actor wrote to make Neeraj happy.
Here's his tweet :
Nice bro actually better than mine 👏👏😊👍 https://t.co/MekpzA39HE

— Sivakarthikeyan (@Siva_Kartikeyan) October 24, 2021
The tweet garnered huge reception from the followers of Sivakarthikeyan. "A follower said that one need a special heart to tell such thing" whereas another fan of the actor asked him not to act so humble which will lead people to cheat him. Check out some of the reactions below :
Ipdi sollathukum oru manasu venum ❤️ mad respect bruh 🙏🏻💯!

— Mohammed Ihlas (@MohammedIhlas3) October 24, 2021
Anna Ithelam Over 😂😂👻
Ungaluke Theriyum Viji Ku Aprm Dance Na Nenga Thannu 😏🔥💃 pic.twitter.com/HNUz6yRl6T

— DON🔥 (@DONOffl_) October 25, 2021
[wp_ad_camp_1]
Evlo humble ah irunthu nenga yenatha sathika poringa epdi irukathinga apro yellaru easy ah yemathittu poite irupaga

— SK_soul.madhu (@SK_Soul_Madhu) October 24, 2021
It takes a lot of guts to say something like this.. nice to see… something to learn… @Siva_Kartikeyan #Sivakarthikeyan #Doctor #ChellammaVideoSong https://t.co/TPuFt0GyRL

— Karthikeya Murthy (@kmthecomposer) October 25, 2021
'Nice bro' nu mattum sollirukkalaam😌

There is no one better than you na…😑

YOU ARE THE BEST! 💯❣️@Siva_Kartikeyan https://t.co/ReSeinNfiu

— ᴰᴼᴺ𝚂𝚁𝙴𝙴🤍 (@sreesksissy) October 25, 2021
seen any star so down to earth????? I mean, to THIS EXTENT!!!! maaaannnn! you are one in a billion😭 and thats undeniable

this sweetuhhhhh🥺💙💙 https://t.co/lybcIG1EyW

— RSK💙✨ᴰᴼᴺ (@RushdhaSK) October 26, 2021
Ithala solla periya manasu venum, that's why like you more than your movies ❤

— Mano 💫 (@Manohar17_) October 24, 2021
இந்த தன்னடக்கம் இதுதான் உங்கள இவ்வளவு உயரத்திற்க்கு கொண்டு போய் இருக்கு… https://t.co/MwkVOWfrxS

— நவீன காலத்து யுதிஷ்டன் (@ranjithk1322) October 25, 2021
On the work front, Sivakarthikeyan is busy shooting for his upcoming flick "Don" which is being made under his own production. He is also expected to be seen in "Ayalaan", a science fiction of "Indru Nettru naalai" fame Ravikumar. Comment your views on these old posts of the actor !!