Fan Criticized Venkat Prabhu For Not Making A Family Movie Like "RRR"!! Filmmaker's Reply Won Hearts
Manmadha Leelai
RRR
Venka Prabhu
12 months ago
By Dhiwaharan
Venkat Prabhu is pretty much busy promoting his upcoming film "Manmatha Leelai" by appearing in interviews, uploading tweets, replying to fans in Twitter. On seeing his promotional videos of the film, a fan came up with a comment saying that he just watched "RRR" with his family and that's the kind of films which would attract the audience. Countering the comment, VP, without getting offended or losing his cool, said that it is time to enjoy a movie with friends, denoting that his film would engage the audience among youngsters and friends.
Teaser, Trailer and other promotional videos of "Manmatha Leelai" promised an adult coming of age comedy drama by having actor Ashok Selvan in the lead role.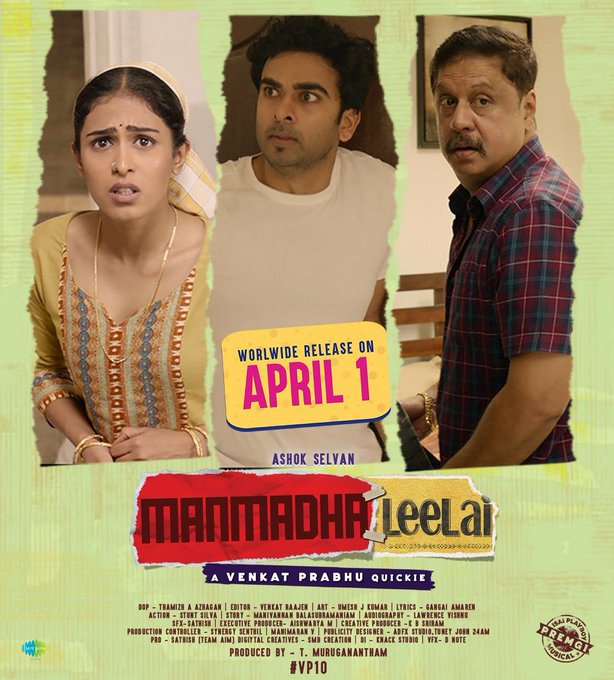 Glimpse of the film which is a 40 second long clip showed the 32 year old actor lip locking with his heroines such as Samyuktha Hegde, Smruthi Venkat and Riya Suman. The glimpse video became sensationally viral in no time due to the content it carried. In the trailer, it could be understood that two period the protagonist which is during 2010 and now, has been covered to engage the audience.
Venkat Prabhu is actively promoting the film through his official Twitter handle as it is going to hit the screens from 1st of April. Check out some of his posts and rewteets below :
Advance Bookings open for #ManmadhaLeelai 😬

Go and get your tickets now! pic.twitter.com/VYa77i5bcE

— Black Ticket company (@blackticketco) March 30, 2022
Get ready UAE and GCC!! Fun starts April 1st!! #manmadhaleelaiFromApril1st #ManmathaleelaifromApril1st https://t.co/nUlyW8aMIh

— venkat prabhu (@vp_offl) March 30, 2022
As promised by @vp_offl people can enjoy watching movie with your friends, colleagues, girlfriends, neighbours in your favourite Theaters from tomorrow #ManmathaLeelai #manmadhaleelaiFromApril1st pic.twitter.com/Y0nxstZK2N

— RockFort Entertainment (@Rockfortent) March 31, 2022

On seeing the filmmaker's post containing visuals of physical intimacy between hero and heroine, a Twitter user came up with a comment saying "Just now watched "RRR" with my family. There was not even a small amount of glamour throughout the film. That's the reason behind the film's huge success"
The tweet grabbed the attention of VP himself who decided to give him a cool reply to make others realize what kind of film "Manmatha Leelai" is. "Then now it's time to enjoy with your friends🤣😂 #manmadhaleelaifromapril1st" replied Venkat Prabhu which made the user to delete his tweet.
Here's his reply :
Then now it's time to enjoy with your friends🤣😂 #manmadhaleelaifromapril1st https://t.co/272aGG1QYY

— venkat prabhu (@vp_offl) March 30, 2022
The tweet of the seasoned filmmaker inspired many Twitter users on how to take criticism lightly and on how to stay positive in every situation which is evident through the reply comments VP received.
Check out some of the replies below :
Epdi nae ungala Mari Joly mode lae irukarthu 🫡

— Praba ⚡ (@NameisPraba) March 30, 2022
Humor Sense oda முழு uruvam bro neenga 😂😂😂 @vp_offl pic.twitter.com/i7sFGPEs3I

— 𝓐𝓱𝓶𝓪𝓭 aka King👑 U1 (@YSR_Fanatic) March 30, 2022
இந்த மாதிரி வாழ்க்கையை லைட்டா ஹேண்டில் பண்ண கத்துகனும் ❤️ @vp_offl ✅ https://t.co/llc95KZ8za

— உத்தம வில்லன் (@nameisK7) March 31, 2022
Love this guy🫂 Nee vere level saar ey😍 https://t.co/5niGrJR2Vb

— Lokesh Prabhu (@Lokesh__prabhu) March 31, 2022
Celebrity nu oru thought ye illadha oru Simple Manushan❤️ Personal aave VP ah romba pidikum https://t.co/mtEnJRO12g

— மாறன் Socialist (@itz_vampiree) March 31, 2022
That's @vp_offl For You 😂👏❤️

Cool Reply 😄 https://t.co/AWT6i4ak4z

— 𝙎𝙏𝙍 𝙋𝙀𝙍𝙆 𓃵 (@str_perk) March 30, 2022