Famous Pakistani Player Caught Having Affairs With Multiple Women !! SHOCKING SCREENSHOTS !!
Written by Dhiwaharan Published on Jul 25, 2019 | 19:53 PM IST | 219
Follow Us
Comments: 0
Pakistan cricket team's top order batsman Imam ul haq facing the wrath of public for the texts he sent to multiple women, screenshots of which are doing rounds online. Going by the screenshots, we can see one of a girl accusing Imam for having affairs with multiple women.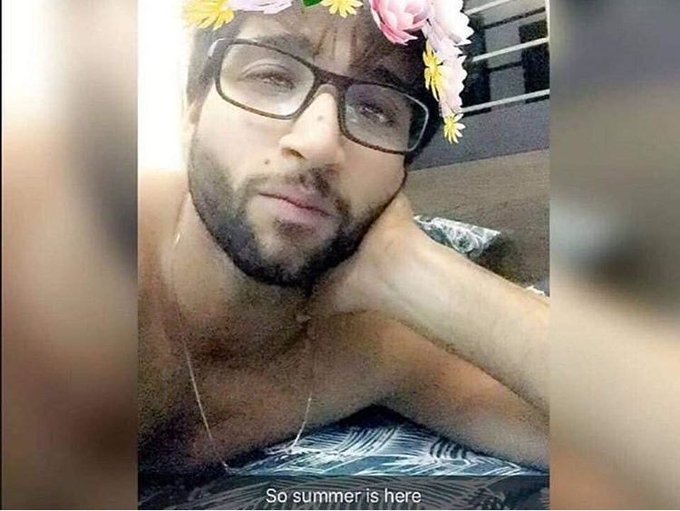 [wp_ad_camp_1]
The chats shows Imam saying to the girl that he could not marry her but asking her to love him. The obscene chats are expected to ruin the reputation of Imam ul haq.   According to reports, a Twitter user has leaked some Whatapp chats and accused Imam of exploiting women.
Imam's WhatsApp chats with four women has been leaked on social media. Imam was an integral part of Pakistan's World Cup campaign and scored a 100 against Bangladesh at Lord's helping his team win by 94 runs. But Pakistan, in the end, fell short on net run rate and could not make the semifinals finishing fifth behind eventual runners-up New Zealand.
Check out the screenshots here :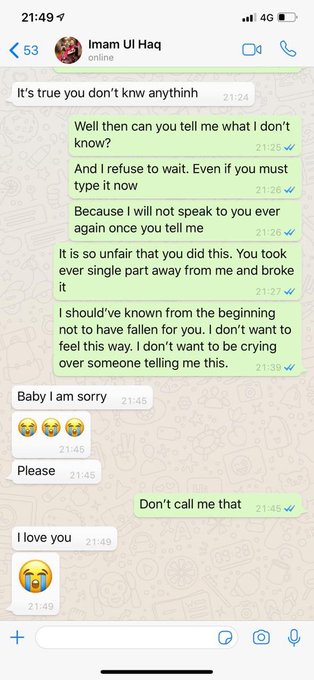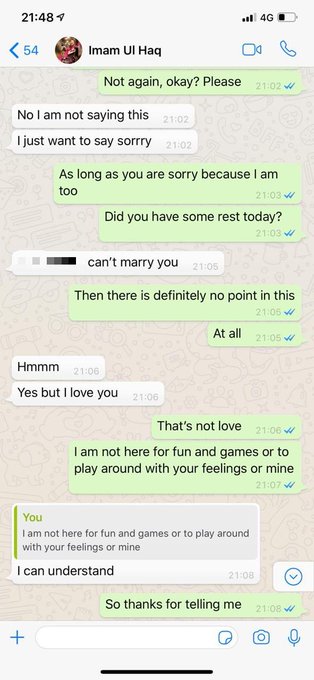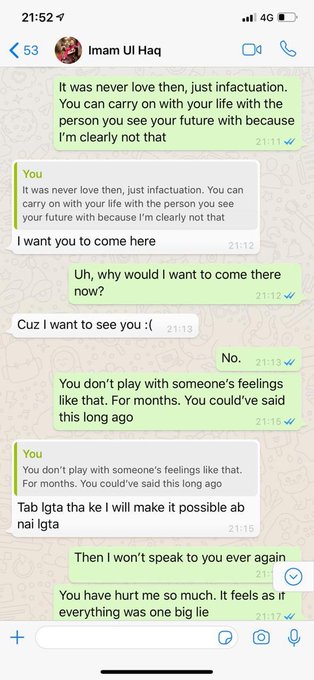 [wp_ad_camp_1]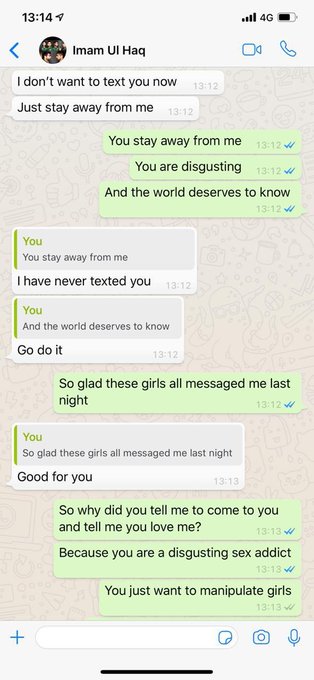 Here's the tweet that revealed the screenshots of Imam ul haq :
So apparently Mr. @ImamUlHaq12 was dating 7 to 8 (that we know of) women and kept using them and manipulating them. He kept telling them the whole time how he's single. Some of the screenshots attached from girl 1: pic.twitter.com/UzIl98ryAw

— Aman (@LalaLoyalist) July 24, 2019
 The incident seems to have divided Twitter users with some questioning the cricketer's conduct while others criticising the girls. Check out some of the reactions for these chats :
#Imamulhaq screenshots leaked.

Inzi: pic.twitter.com/QJHYWmBBHY

— Haroon (@haroon_harry2) July 24, 2019
[wp_ad_camp_1]
It was her choice to go meet him in his bedrooms!
Girl did you took permission from social media to be physical with lier ???
This ain't no Harrasment 😡
Idk y they always endsup on social media and trying to be victim for something they did on their own. #Imamulhaq #MeToo pic.twitter.com/7RoEqIh0Ht

— murtazza_ali (@murtazza_ali) July 24, 2019
Don't think this Imam ul Haq allegation falls under me too, these screenshots do suggest Imam's a liar, womanizer & flirt but none of the allegations are of abuse or physical violence, in-fact all these are consensual https://t.co/EXd6ZL4uFt

— Osama. (@ashaqeens) July 24, 2019
Girls know when to give a shutup call to a guy when needed. In Imam-ul-Haq's case the girl is equally responsible for what she's going through. She chose this for herself by herself. Stop misusing #MeToo

— Ravia Sale'm (@raviyasaleem) July 24, 2019
Reporter:- What do u want to say about #Imamulhaq controversy?

They: pic.twitter.com/bUJDSrqWqc

— Lazy Man Memes (@lazymanmeme) July 25, 2019
All those screenshots involving Imam ul Haq aren't fake. What's fake is IMAM himself. He played with several women at the same time. This is an awareness message for all the girls, please don't believe someone so easily. It's a bad bad bad world!

— Komal Shahid (@ArmedWithWords) July 24, 2019
#Imamulhaq after giving tuff time to his GF. pic.twitter.com/263oQdBo1H

— MEMEOLOGY 🤖 (@Baba_e_Gormint) July 24, 2019
Not Defending anyone but so far it seems mutual sexting.
Both of them were enjoying this Chutiyapah.#Imamulhaq pic.twitter.com/FpY7bfiw3w

— 🇵🇰 (@KaptaanDeadPool) July 24, 2019
What do you think on these chats leaked ?? Comment your views below !!