Famous Heroine In Huge Trouble For Mocking Indian Army!!
Army
Bollywood
Indian
Richca Chadha
CM / Updated: 2022-11-24
20:17 IST
By Dhiwaharan
Bollywood Actress Richa Chadha is in huge trouble after uploading a tweet which didn't go well among the public and the supporters of Indian Army. The actress is facing the heat after reacting to the statement of Lt. General Upendra Dwivedi who said that the Indian Army is ready to execute orders like taking back Pakistan-occupied Kashmir. In June 2020, twenty Indian soldiers were martyred in the Galwan clashes.
View this post on Instagram
"We are fully prepared to take back PoK from Pakistan. We r waiting the orders from the govt. We will complete the operation quickly. Before that if Pakistan is violating ceasefire, the answer will be different, even they can not imagine." – Commanding-in-Chief Northern Command IA said.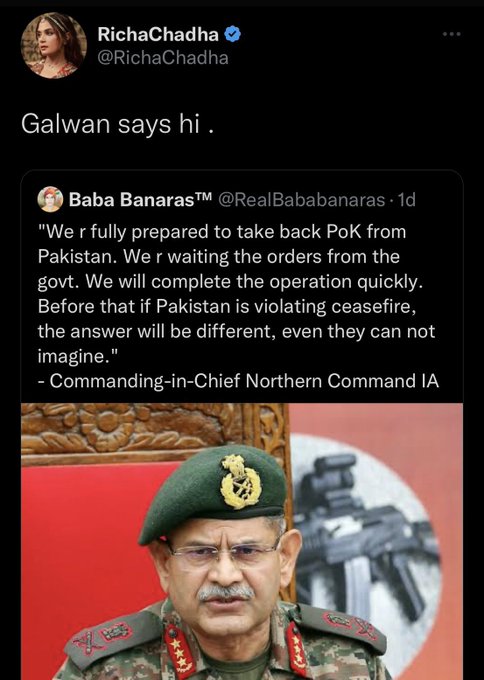 Users of the online platforms are trolling the actress for "mocking" the Indian Army and belittling the sacrifice of the Jawans in the 2020 Galwab clash between India and China. Manjinder Singh, one of the leaders of BJP party said that the tweet is "Disgraceful" and should be withdrawn at the earliest.
Many other online users got upset over the remark made by the actress. Check out some of the reactions below :
The price of freedom is borne by our dead. I am aghast. The fallen men of Galwan skirmish don't deserve to be mocked at!!
Jinhe Hind Par Naaz hai wo kahan hai??? pic.twitter.com/ofygYLJCNb

— Manan Bhatt (@mananbhattnavy) November 23, 2022
3) Actress Richa Chadha mocked Indian Army with 'Galwan taunt' after Lt General Upendra Dwivedi said that Army ready to execute any order given by GOI, including taking back PoK from Pakistan.

She mocked Army 'Galwan taunt'. Our 20 soldiers sacrificed their lives in Galwan clash pic.twitter.com/FpxECRBgUw

— Anshul Saxena (@AskAnshul) November 24, 2022
I filed a police complaint against actress #RichaChadha at #JuhuPolicestation (Mumbai ) .
Nobody has a right to mock our soldiers .
I hope @MumbaiPolice will act against her as per the law of the land . @mieknathshinde @Dev_Fadnavis pic.twitter.com/In0HD9LuJa

— Ashoke Pandit (@ashokepandit) November 24, 2022
Absolutely insensitive and unjust. This is the last thing an Indian can say or even think. Gutted and being from the fraternity it's shameful!#RichaChadha

— Payal Ghoshॐ (@iampayalghosh) November 24, 2022
You don't deserve an Indian passport #RichaChadha

— bhaavna arora (@BhaavnaArora) November 24, 2022
20 Brave Army men laid down their lives, to protect us, in Galwan!

They also caused massive casualties to Chinese Soldiers.

& this Bollywood or whatever Actor Richa Chadha insults them & then runs away by protecting her Twitter account.

Problem-is people who follow her kind.

— Ishkaran Singh Bhandari (@ishkarnBHANDARI) November 24, 2022
I appeal to all the members of film & tv industry to come forward and condemn #RichaChadha 's mockery against our brave jawans.
Your silence will send a wrong signal to the nation at large.
The anger against our industry then becomes justified.

— Ashoke Pandit (@ashokepandit) November 24, 2022
Now, after her statement caused a row, the actress came up with a press note, asking apology to the public. "Even though it can never be my intention in the least, if the 3 words
which are being dragged into a controversy have offended or hurt anyone, I apologize and also say that it would sadden me if even unintentionally my words have triggered this feeling in my brothers in the Fauj of which my own Nanaji has been an illustrious part" Richa said.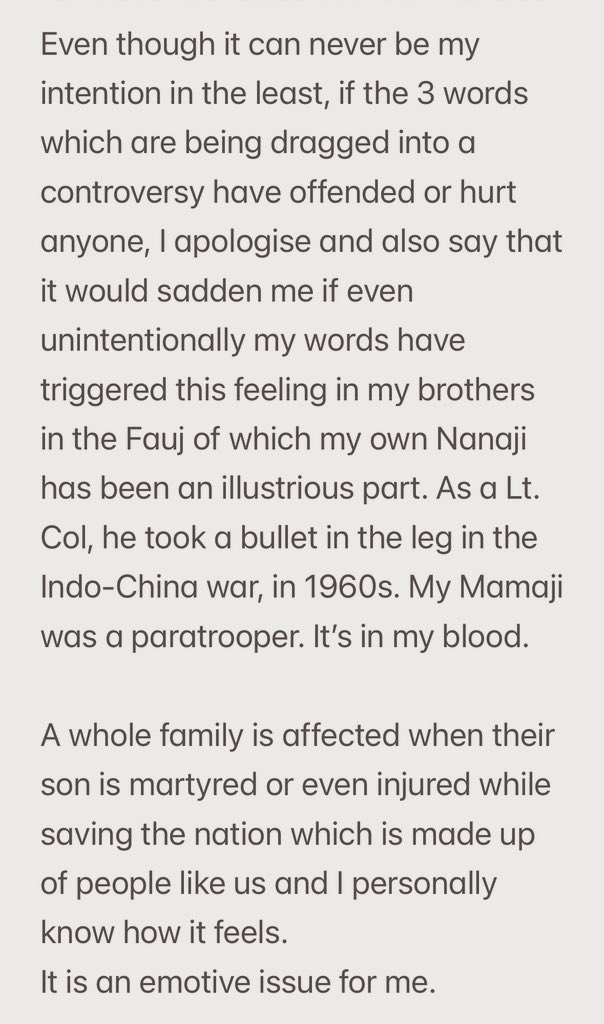 "As a Lt. Col, he took a bullet in the leg in the Indo-China war, in 1960s. My Mamaji
was a paratrooper. It's in my blood. A whole family is affected when their son is martyred or even injured while saving the nation which is made up of people like us and I personally
know how it feels. It is an emotive issue for me" her post further read.
@BediSaveena pic.twitter.com/EYHeS75AjS

— RichaChadha (@RichaChadha) November 24, 2022
Moments ago, she posted another tweet that said "Just received a 'call', had muted replies so had no idea… bye all"
Just received a 'call', had muted replies so had no idea… bye all

— RichaChadha (@RichaChadha) November 24, 2022