Famous Hero Requested People Not To Misunderstand Superstar !!
raghava lawrence
rajinikanth
CM / Updated: 2020-01-24
14:26 IST
By Dhiwaharan
More than being an actor and director, Raghava Lawrence is known as an ardent fan of Superstar Rajinikanth. His recent speech in Darbar audio launch is very much evident for his love for the actor and aspiring politician. Now Lawrence has came up with a press release by requesting people not to misunderstand his idol in the Periyar issue.
Superstar Rajinikanth's speech in the 50th anniversary of Thuglak magazine created furore in the state Tamilnadu. After his remark on E.Ve.Ra Periyar during his speech in the event, protest against the actor emerged from dmk party. A police complaint has been filed against Rajinikanth by a political group as well.
மக்கள் தலைவரின் நெத்தியடி பேட்டி.. 😍👌🤘 pic.twitter.com/kGGQmHlm2e

— மாயவரத்தான் கி. ரமேஷ்குமார் 🤘 (@mayavarathaan) January 21, 2020
[wp_ad_camp_1]
At the 50th anniversary event of "Thuglak" magazine, Rajinikanth said that Periyar conducted a protest in 1971, at Salem with naked images of lord Sri Ramachandramoorthy and Sita. "In 1971, Periyar took out a rally against superstition in Salem. In the rally, naked images of Lord Sri Ramachandramoorthy and Sita with sandalwood garland. The incident was covered by no news outlet at that time" said Superstar Rajinikanth who lauded Thuglak which was founded by Cho Ramaswamy for publishing the news in the cover image of their magazine. He said that Thuglak severely criticized Periyar's rally.
Rajinikanth said that the DMK government led by Kalaignar seized the copies of the magazine and prevented people from reading it as it gained them a bad name among public. "The DMK government which was ruling the state at that time seized the magazine's copy. But Cho reprinted it and sold it in 'black' The magazine which was sold for 10 rupees bought by people for 50,60 rupees at that time" he said in his speech.
This speech from the actor many supports of Periyar to raise voice against Rajinikanth who is about to start a political party for the upcoming state election. In a way of making them understand, Raghava Lawrence has come up with press release. In the statement Lawrence said that Rajinikanth don't know to plan and defame others.
"I don't know politics but I know my elder brother Superstar very well. He is not the one who hurts others by his speech or words. He won't scold back those who use curse words against him. He don't know how to plan and defame others. But now they are saying that he defamed Periyaar" said Lawrence in his post.
[wp_ad_camp_1]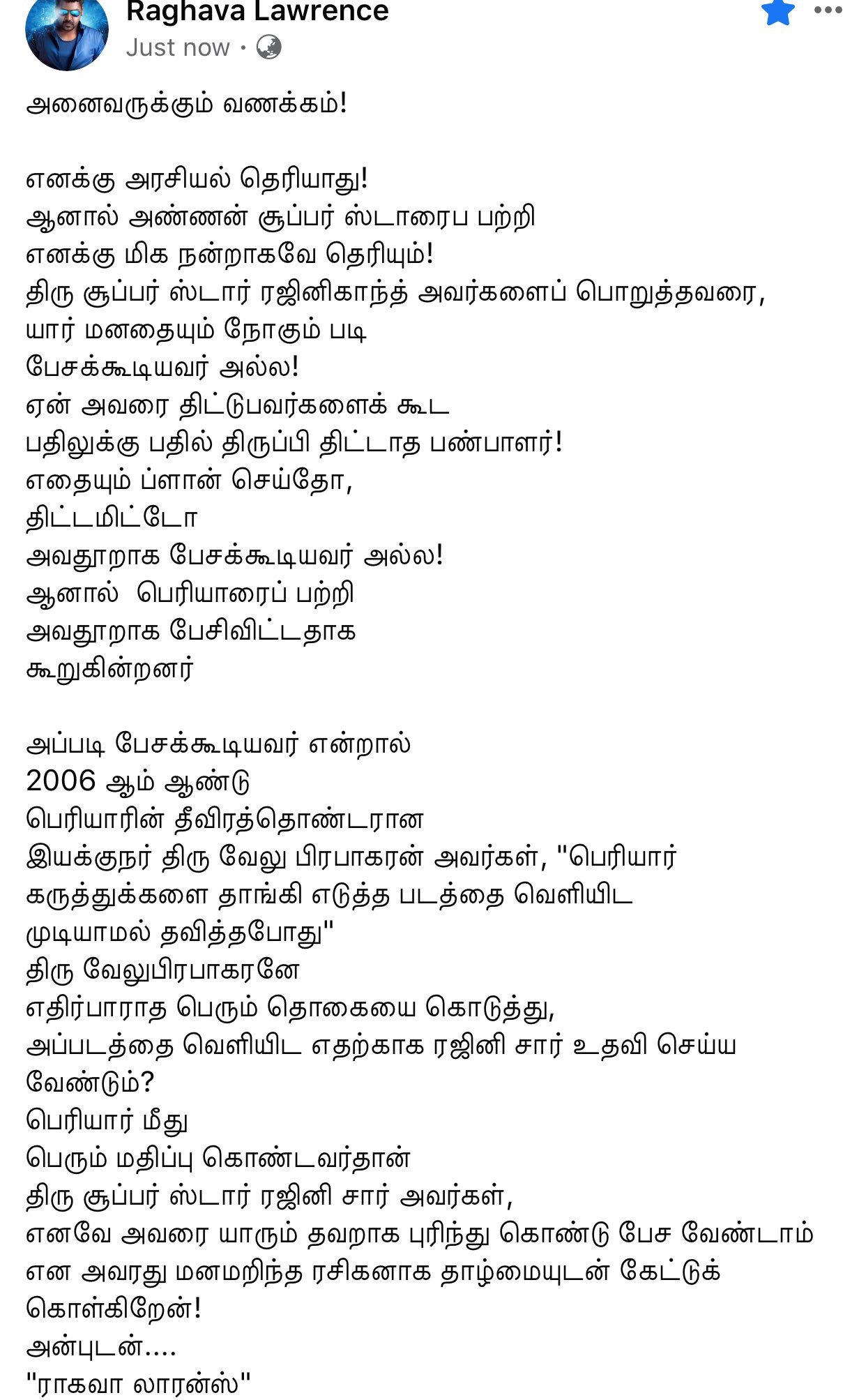 Lawrence further ex0lained an incident where Rajinikanth helped director Velu Prabhakaran who is and ardent supporter of Periyaar. "Rajinikanth helped Velu Prabhakaran by proving him a huge sum of money to release his film which contained the ideologies of Periyaar. He is the one who has huge respect on Periyaar. So I request people not to misunderstand him" said lawrence in his post.
[wp_ad_camp_1]
Check out his post here :
January 23, 2020
What do you think on this press release of the actor, director and dancer ?? Comment your views below !!