Famous Director Cum Actor Brutally Trolled BJP's Annamalai !!
Written by Dhiwaharan Published on Nov 11, 2021 | 12:11 PM IST | 140
Follow Us
Comments: 0
After so many reactions that surfaced trolling Tamil nadu BJP leader Annamalai based on the making video of his visit to the rain affected places in Chennai, Director cum actor Naveen Mohammedali uploaded a tweet in his twitter timeline to make fun of the politician. He who is known for directing and performing in a film named "Moodar Koodam", indirectly said that he knows the struggles behind directing and acting in a film, denoting the video that showed BJP leader Annamalai posed for pictures after clearing the crowd and setting camera angles.
[wp_ad_camp_1]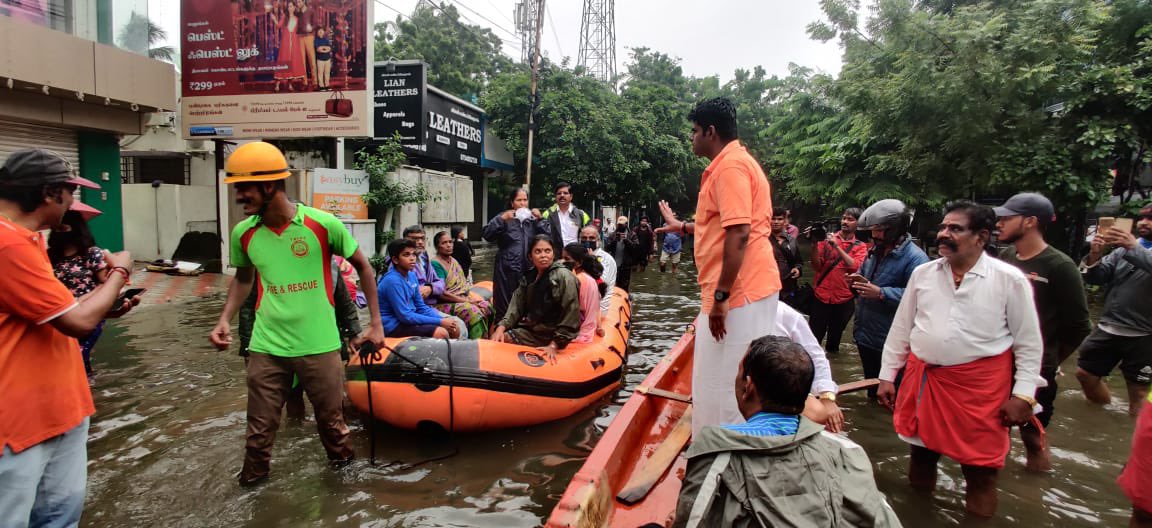 Video of Tamil nadu BJP leader Annamalai posing for pictures while visiting the houses in Chennai to know about their problems in order to solve them, became a subject to severe online troll as it shows the politician conducting a photo shoot while sitting in a boat surrounded by water. Politicians meeting people to gain publicity amidst this situation is common but the making video of the BJP leader's photo shoot got leaked only to get trolled by the netizens.
Since Saturday, heavy rainfall overwhelmed Chennai and neighbouring areas, leading to waterlogging in several places. Chennai city received around 20 cm of rain on Sunday. India Meteorological Department has predicted more rains for Chennai, other regions of Tamil Nadu and surrounding states such as Andhra Pradesh in the next 48 hours.
[wp_ad_camp_1]
The reason behind the continuous rain is another low-key pressure system that has formed over the Bay of Bengal that is set to reach Tamil Nadu by November 11. The civic authorities are clearing waterlogged areas on the war-footing levels. Red alert has been provided to Chennai city on 10th of November and 11 of the same month and holidays were announced to schools and colleges.
Tamil Chief minister MK Stalin, Leader of opposition Edappadi K Pazhaniswamy and many other political leaders are visiting places across the city and meeting people to know about their hardships in order to resolve the issues. Meanwhile, a video of Tamil nadu BJP leader K Annamalai visiting an area with the help of a boat which has knee deep water and participating in a photo shoot went viral across the social media platforms.
In a video that got surfaced, Annamalai caught pretending to be inquiring a lady who is a resident in the area about the situation. Throughout the video, a voice could be heard instructing the people around to move and pose appropriately to click pictures. Two men could be seen effortlessly walking in the water near the boat of Annamalai which caused severe troll in online platforms. Annamalai could be seen clearing people who were standing near him to pose for pictures.
Watch the video below :
Mmm…😁😁 pic.twitter.com/I7yxXdZGKv

— James Stanly (@JamesStanly) November 9, 2021
[wp_ad_camp_1]
Hashtags such as "Goat on the Boat" trended in Twitter to make fun of the politician's stunt. Meanwhile, filmmaker Naveen came up with a sarcastic tweet to troll the BJP leader. "People like me who directed, acted, positioned camera angles, cleared crowds, instructed junior artists simultaneously know the struggles about how hard it is to do" Naveen said by adding a making picture from his film set.
Check out his tweet below :
டைரக்டரே நடிச்சி, கேமிரா ஆங்கில் செட் பண்ணி, crowd clear பண்ணி, ஜூனியர் ஆர்ட்டிஸ்ட்ங்களுக்கு இன்ஸ்ட்ரக்‌ஷன் குடுத்து ஒரு ஷாட் எடுக்கறது எவ்வளவு கஷ்ட்டம்னு அத செஞ்சி பாத்த என்ன மாதிரி ஆளுங்களுக்கு தெரியும். #MoodarKoodam pic.twitter.com/AYkQnGYvj9

— Naveen Mohamedali (@NaveenFilmmaker) November 10, 2021
The tweet garnered huge reception from the users of twitter. Check out some of the reactions his tweet received :
நீங்க அண்ணாமலைய எதுவும் சொல்லலையே. 😂😂

— கார்த்திகேயன் தியாகராஜன் (@karthaa) November 10, 2021
Start camera action….. pic.twitter.com/HhGaKSrY1b

— ibrahim (@ibrahimsh7860e) November 10, 2021
😂😂மூடர் கூடம் , சரியான தலைப்பு .

நானும் படத்தை பற்றித்தான் சொன்னேன்.

— S.KAMAL (@yeskamal) November 10, 2021
அதுக்காக அண்ணாமலையை விட நீங்க பெரிய நடிகனாகி விட முடியுமா! என்ன! அந்த மூதேவி! எக்ஸ்ப்ரஸன்ல தான் சொதப்புது. மகேஷ்பாபு பெட்டர் போல் தெரியுது.

— கருப்பண் (@yokiyankaruppu) November 10, 2021
He needs You for his next stunt 🙂😀 pic.twitter.com/nwcEwybBwk

— India Talkz (@India_Talkz) November 10, 2021
அண்ணாமலை கேள்வி பட்டு இருக்கியா 😎🔥😝😝😝 pic.twitter.com/EscQQg4mPy

— -ஸ்டீலி.😎 (@siddiq003) November 10, 2021