Facts About Ms. J.Jayalalitha We Bet You Did Not Know.. Check Out!
By admin
It was very uncommon those days to see Women Empowerment as a word that was often used as it is being these days. But recalling the past, one Woman stood tall and brave to bring about a tidal shift to this norm of " Women are for households and Men man the country ". It was none other than the current Honorable Chief Minister of Tamil Nadu, Ms.J.Jayalalitha, fondly known as, Amma (meaning, mother).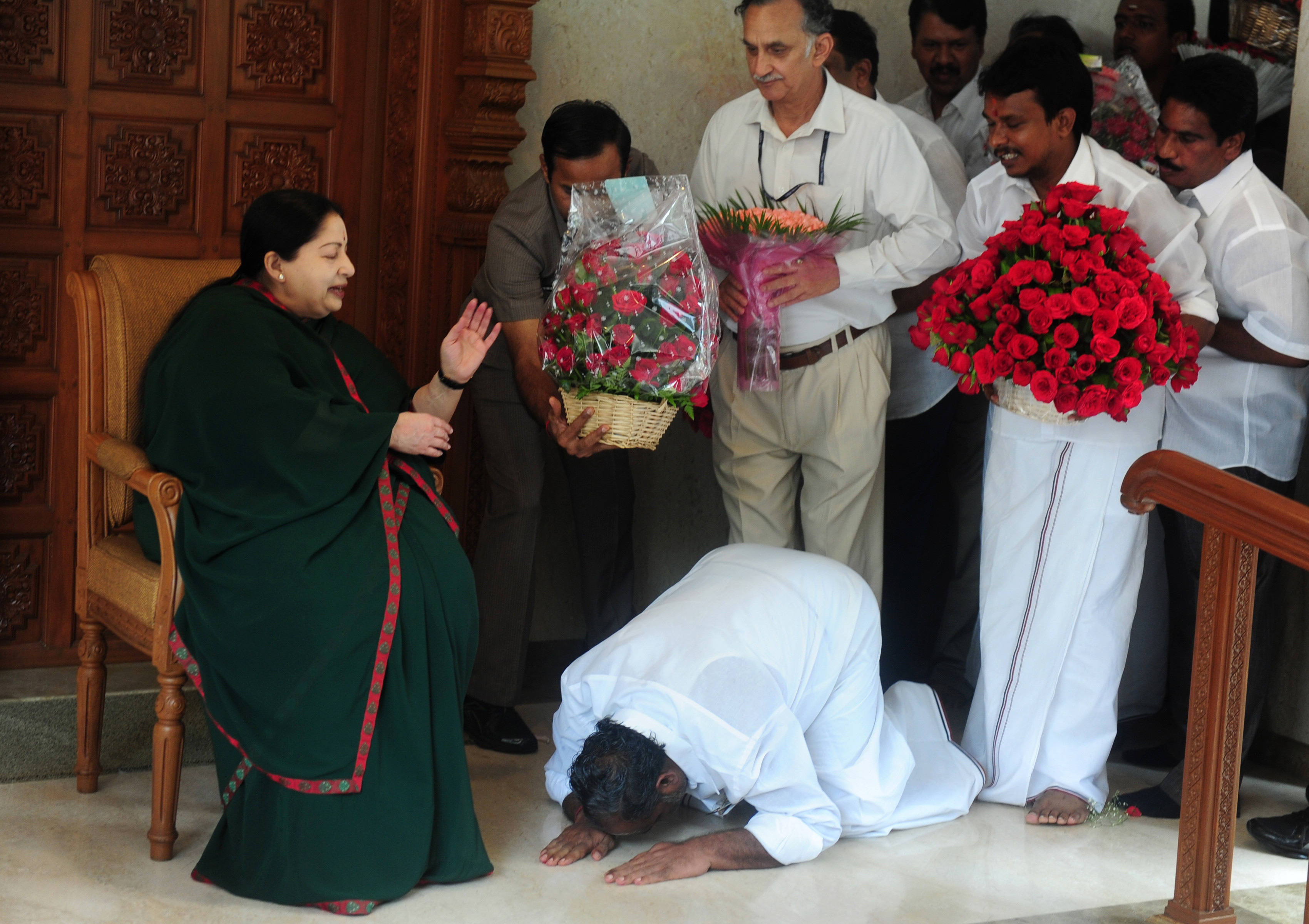 She broke the gender inequalities laid down by the society. In fact, all she did could be summarized by this simple statement:  She came. She won and She Conquered. Be it in the industry (film) to which she belonged or the field of politics; the politicians with whom she acquainted herself with in order to gain the supremacy as the heir of the great actor, politician, the then Chief Minister, Mr.M.G.Ramachandran, is still considered a landmark in her career as she was new and young, yet she outclassed the senior members of the party and rose to fame instantaneously.
Here is a compilation of certain interesting unknown facts about the Lady Herself.
Note:
These are excerpts from Interviews, Newspaper Writings and Media Content from then and there.
1. WIDOWED AT THE AGE OF 16??

Yes, I know this sounds rather more weird, but that's not what I am about to say here. Her first Movie in the Tamil Industry was "Vennira Aadai " (white dress) at her tender age of 16. The movie went on to get her an impression of a strong and charismatic performer with the audience. Although, the interesting part is that the Movie was certified with "A" rating which unfortunate for her, even she couldn't watch because she wasn't even an adult by then.

2. SHE WAS FORCED TO ACT OWING TO HER FAMILY SITUATION
She was amazing at scholastic. She secured first rank in the state in her Matriculation common board exam. Her mom, Sandhya, was by then a well-known actress in the industry and thus she gained access for Jayalalitha at such young age, although her passion was not acting because she was more of a scholastic person who was driven by her academics.
3. LOVE BLOSSOMS
During her movie career she already fell in love with a married actor, Shoban Babu. She was caught in people's sight, watching him through her binoculars from her residence. But still it did not materialize and she continued to rather be alone and excel than be with someone's company and be satisfied with what she had, as she was very brave and was constantly looking out for opportunities to move ahead.
[wp_ad_camp_1]
4. BOOK-ISH
Ms.J.Jayalalitha, apart from being a successful actress and acclaimed politician was an avid book reader. She used to carry English books all the time to her shooting spots and would be drowned with them during breaks in between shots. She was equally interested in writing contents which gave her another aspiration to dream about.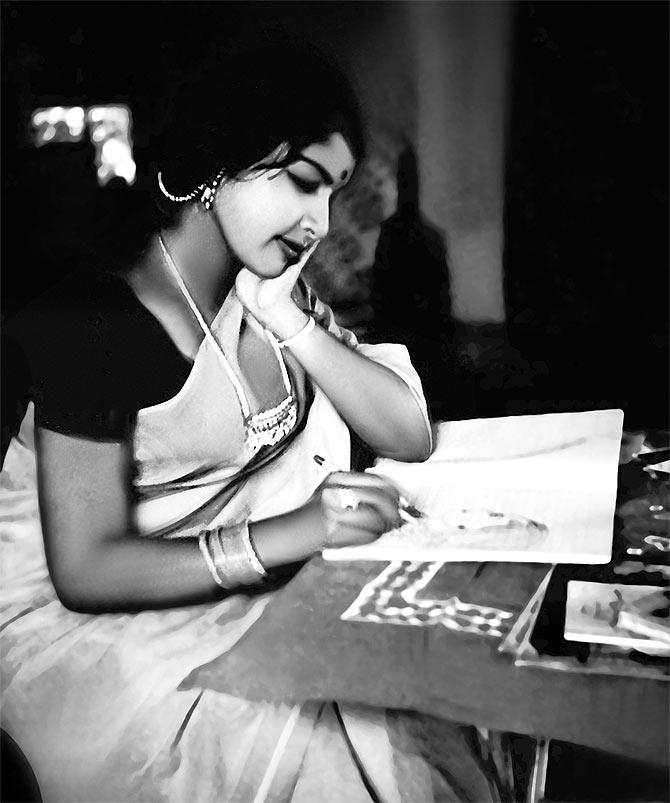 5. BOX OFFICE RECORD BOOKS – REWRITTEN!
Her performance in movies not only were critically acclaimed but stromed the box office with collections. For the record, out of her 125 films as the female lead, 117 were box office hits. Her Bollywood film " Izaat" also faired pretty well and gave her a statistical lead in Bollywood ahead of other actresses at that time. Though she never capitalized on that share of market and chose to continue down south, she had offers flowing down from time to time. She never failed to impress anyone who ever saw her on the big screen. Her mannerism and acting skills got her a place that no one could ever possibly do.
6. LOWEST PAID CHIEF MINISTER IN THE HISTORY
When she became the Chief Minister, she was given a cheque as her first salary. She said that she had "abundant source of income and she does not need a salary". On being told that she should receive a salary as public servant, she accepted a salary of Rs.1/-. This led to further sparks about her making her even more impressive among the publics and even a few experienced politicos that they decided to join her and work on alliances. She created a turbulence of change in Tamil Nadu which did get under scrutiny most times, yet she kept going.
[wp_ad_camp_1]
7. THE GUINNESS BOOK OF WORLD RECORD WAS NO EXCEPTION
She holds the record for hosting the "largest wedding banquet/reception". In 1995, during her first term as Chief Minister, she organized an obscenely lavish wedding for her 'foster son' Sudhagaran. The Guinness record book notes that over 150000 guests were invited to the wedding at a 50-acre ground in Chennai.
In a breathless prose of the New York Times, the reception featured "a cardboard and papier-mache 'fort' that covered an area as big as several football fields.
A media report back then read:
"For miles between Jayalalithaa's official residence and the wedding site, streets were decorated with Grecian statues and gilded lions. Shrines were erected, with icon-like images of Jayalalithaa in place of Hindu Gods. Fountains played, and the turmoil of daily street life was hidden from view by walls of banana leaves."

8. AN ANGELIC DEMICE!
The politician joined the Mahamakam( The Kumbh Mela of South India)  Festival in Kumbakonam, Tamil Nadu in 1992. Although the 'ghats', where she was to take the customary bath were barricaded, the crowds that engulfed to see her were stuck in a stampede. Nearly 50 people died in the incident reported a famous daily newspaper.
9. THE NO JEWELLERY NOTION
It is interesting to note that in 1997, she vowed not to wear any Jewellery after the then Government of Tamil Nadu, run by DMK, confiscated all her jewellery during investigation into cases related to owning disproportionate assets. Things recovered from Jayalalitha's house included 750 pairs of footwear, 800 kilograms of silver, 28 kilograms of Gold, 10000+ sarees,91 watches and 44 air conditioners.
For fourteen years, she never wore and jewellery and wore it once again in 2011, after storming back to power. She said she had to wear them because her party workers insisted her and she respected their sentiments. That right there, was an example of how much determined a women can get.
[wp_ad_camp_1]

10. AN ALTERNATE PROFESSION, MAYBE?
In an acclaimed interview with the most famous Simi Garewal, who has the gift of getting her celebrity guests to open up and reveal their secrets, making her syrupy interviews one of the most popular shows on television, in 1999, when she was questioned what should would have pursued if it wasn't for politics or movies, the answer came as a shocker. She wanted to do LAW. Well, that makes sense now, considering the recent Assets case she has upon her and the way she managed to get out of it altogether. The LAW brain does work so efficiently. Who knows, maybe down the line she may as well excel in that in no time, given her track record to excel in new professions.
COURTESY : Reeviewz Editorial Team