Facebook Love Became Reality!! Polish Woman Reached India
Written by gokul krishnan Published on Jul 20, 2023 | 20:54 PM IST | 117
Follow Us
Comments: 0
In a heartwarming tale of love transcending borders, Barbara Polak, a Polish citizen, embarked on a life-changing journey to India to marry Shadab from the quaint village of Khutra in Jharkhand's Hazaribagh district. Their extraordinary love story began in 2021 when fate brought them together through the virtual world of Instagram, and their friendship bloomed into a deep and genuine affection for one another.
As their love grew stronger, Barbara and Shadab decided to take their relationship to the next level and sought approval from the Hazaribagh SDM court to formalize their union in holy matrimony. The couple's application shed light on their unique cross-cultural love story, captivating the hearts of many.
also read: Ameesha Patel's Transformation Journey From Super Hot to Super Mom in Gadar 2 !!
Barbara, a strong and compassionate woman, is a mother to an eight-year-old daughter named Anya. Despite her Polish roots, she embraced the Indian culture and tradition with an open heart, making her bond with Shadab even more special. Shadab, on the other hand, expressed his unwavering commitment to Barbara, declaring his desire to stand by her side through all the trials and tribulations that life might bring their way. His belief that life is incomplete without love resonated deeply with his sentiments for Barbara.
One of the significant aspects of their relationship was their shared passion for the digital world, which initially brought them together. However, Barbara was concerned about Shadab's frequent presence on social media platforms, such as Instagram Live and Reels. In a testament to their love's strength, she lovingly guided him to consider pursuing higher education or exploring better employment opportunities in Poland. Her support showcased the depth of their love and the shared aspiration to build a promising future together.
also read: Devarakonda's Recent Video With Samantha Triggered Netizens!!
Barbara's determination to help Shadab secure a permanent job in Poland after their marriage spoke volumes about her dedication to their relationship. This gesture symbolized the unity of two souls from different countries, cultures, and backgrounds, intertwining their destinies to create a harmonious and loving life together. Shadab's family, displaying remarkable understanding and acceptance, wholeheartedly supported his decision to marry Barbara and embrace a new life filled with love and possibilities. The approval and blessings of family members are an integral part of Indian tradition, making the bond between Barbara and Shadab even stronger.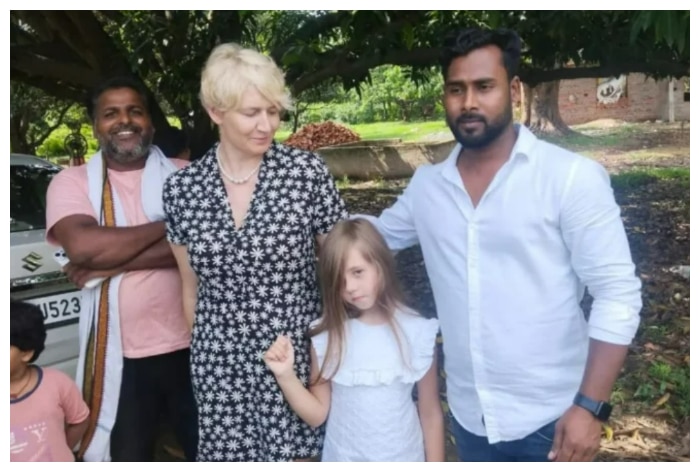 Amidst the beauty of India and the charm of Hazaribagh, the couple found solace and serenity in each other's presence. Barbara fell in love not only with Shadab but also with the enchanting country that would become her new home. For her, India was a land of diverse cultures, colors, and traditions that she embraced with warmth and appreciation.
Barbara's arrival in India on a tourist visa, valid until 2027, was a testament to her commitment to building a life with Shadab. Her entrepreneurial spirit was evident, as she revealed owning a private firm in Poland, showcasing her independence and determination in both her personal and professional life.
Their love story touched the hearts of many, breaking down barriers of culture, nationality, and background. It served as a reminder that love knows no boundaries and that it can thrive even in the most unlikely circumstances. Their tale of love was an inspiration for people across the globe, promoting the idea that true love conquers all and that when two souls find each other, geographical distances become insignificant.
also read: Samantha Is In The Receiving End For Endorsing Sadhguru!
As Barbara and Shadab took the courageous step of joining their lives in marriage, they embarked on a journey filled with promise, hope, and the promise of a future filled with love and understanding. Their story showed that love can be found in the unlikeliest of places, even in a virtual realm like Instagram. In a world where differences often divide, Barbara and Shadab's story was a testament to the power of love and unity, bringing two hearts together from opposite sides of the world. Their journey of love was a reminder that love knows no borders, and it is capable of bridging any gap that life presents.
Here is the video below:
As their love story continues to unfold, Barbara and Shadab's bond serves as a beacon of hope for people seeking love and acceptance, showing that true love has the power to transcend all barriers and create a lasting, beautiful connection that knows no bounds. With each passing day, their love story reminds us all that love is the most potent force that brings joy, meaning, and fulfillment to our lives.