Articles
JUST IN : BIGG BOSS Eviction Result Leaked !!
With just one week to go for the grand finale of Bigg Boss season 4, a contestant among the 7 members who are competing for the title, got evicted from the show. Bigg Boss conducted a ticket to finale task during the week time to make a contestant go directly to the finals without getting evicted. A contestant who scores maximum number of points from the nine tasks will win the ticket to enter finale. It is highly believed that Soma shekar is going to win the ticket as he is currently leading the table.
[wp_ad_camp_1]
Meanwhile, on the other side, steps for eliminating a contestant is also being processed. Followers of the show were voting for their favourute contestants throughout the week. Now, a number unofficial reports has reported that Shivani Narayanan got eliminated from the house after receiving less number of votes from the audience.
Shivani Narayanan, the young Internet sensation who made youngsters go gaga through her ultra glamorous photoshoots in Instagram, entered Bigg Boss house as a participant. Since her entry, the TV actress didn't involve in any kind of activities and restrained herself from arguing with her co-contestants during tasks. However, she spent most of her time in the house with Balaji Murugadoss, a co-contestant of her who is also a model. Their combination attracted a number of viewers who started creating Instagram accounts dedicated to the duo. Suchi who entered the house as a wild card contestant encouraged them by saying that their combination looks eye candy for the audience.
A number of promos released by Vijay Television showing them as a romantic couple. However, Shivani's mother who entered the house during the freeze task, condemned her for not playing her individual game. "Are you thinking that no one can see what you are doing in this house ?" she asked her daughter.
[wp_ad_camp_1]
"Why are you keep following his words ? Is this your individuality ? Why are you boasting that you are being yourself ? Is roaming behind him means you are being yourself ?" she expressed her frustration over her daughter's relationship with Balaji. After this incident, Shivani came back stronger and performed her tasks well. She got saved the next week before Ramya and Ajeedh.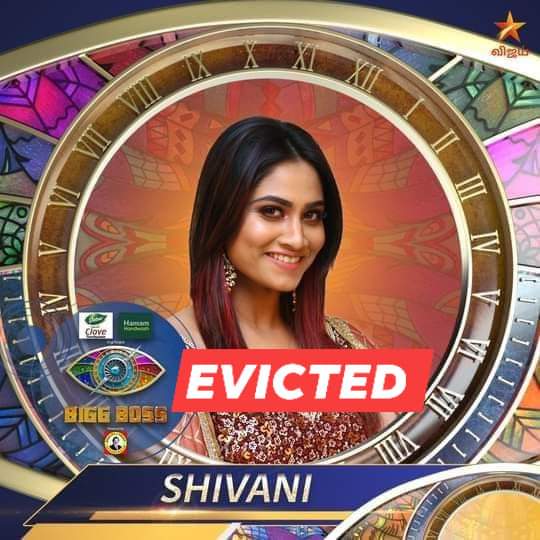 Now, after getting nominated with Ramya, Soma shekar, Rio Raj, Aari, Balaji Murugadoss and Gabriella, Shivani garnered less number of votes it seems. Check out some of the reactions for her eviction below :
Happy to see this tweet. Expecting this name in every eviction week

— Rajesh S (@iamrajesh_s) January 8, 2021
Shivani Evicted🔥
Ivalo days vanthathey over ivaluku😑#BiggBossTamil4

— Raja VJッ (@rajavjoff) January 8, 2021
If Bala wasn't in nominations or evaded because of special power, she might have not been evicted

— 💫⁷ (@whalienmin) January 8, 2021
Super… #Shivani is out! Appo double evictions illaiyaa? #BiggBossTamil4 #BiggBossTamil

— Ramyaa A S (@ramya30380) January 8, 2021
#shivani ya… Not Ramyapandian ?

Hyena laughy girl still not evicted..

Singapenney song vera..#Shivani may be mixture..but she doesn't have quality to hurt anyone..or laughing at anyone#BiggBossTamil4

— LHS (@tamilyoungsters) January 8, 2021
[wp_ad_camp_1]
😭😭😭😭😭 Honest ah vilaiyanda… No problem.. Inime full support to Ramya

— Muthuraj (@muthukumar4303) January 8, 2021
Shivani can go out happily. She did yest task so well. Proved herself a tough women. #BiggBossTamil4

— AK (@AK08915) January 9, 2021
So Shivani endured all this pain to get evicted tmrw..but she did her best and this experience will help her alot in future. Both Shivani n Ramya hats off for that effort and never give up attitude! ❤#BiggBossTamil4

— கருப்பு தேவதை💫 (@Karuppudevathai) January 8, 2021
The Chennai based model who started establishing her career in entertainment industry since her childhood days, initially participated in beauty contests and fashion shows at state level. She debuted in Television through Saravanan Meenatchi in a minor role. After appearing in few more serials as lead, Shivani participated in Vijay Tv's popular dance reality show "Jodi Fun Unlimited" in which she paired with her co-artist Mohammad Azeem. Comment your views on this eviction of Shivani !!