Tamil nadu government has officially implemented complete lockdown in the state to prevent the spread of the COVID 19 virus. Chief minister MK Stalin who made the announcement after having a meeting with committee of health experts and the members of the legislature of 13 other political parties which includes the members of ADMK, Congress, said that a complete curfew has to be observed.
[wp_ad_camp_1]
ATM service has been allowed to function along with the transportation of agricultural. Vehicles that carries goods and necessary things are allowed to be operated in the 7 days long complete lockdown. For medical emergencies and death funerals, people are allowed to travel from district to district with E-pass. People doesn't need E-pass to travel within district for medical emergencies. Media and news agencies can function as usual.
Continuous process industries, Industries manufacturing essential commodities and medical equipment can function with the restrictions allowed in the previous lockdown. Pharmacies are allowed to function. Milk, water and news paper distribution will be available. It is reported that people of Chennai and other districts will be provided essential vegetables, fruits through the Department of Horticulture. It has been planned to provide them through vehicles with the help of local organisations of respective districts.
Important government departments are allowed to function and the state has advised the employees of private companies, banks and other companies to work from home. E-commerce can be operated from 8 AM to 6 PM. Hotels are allowed to provide parcels from 6 AM to 8 AM, 12 PM to 3 PM and 6 PM to 9 PM. Swiggy, Zomato are allowed to function at the above mentioned timing. Petrol, Diesel bunks are allowed to function as usual.
[wp_ad_camp_1]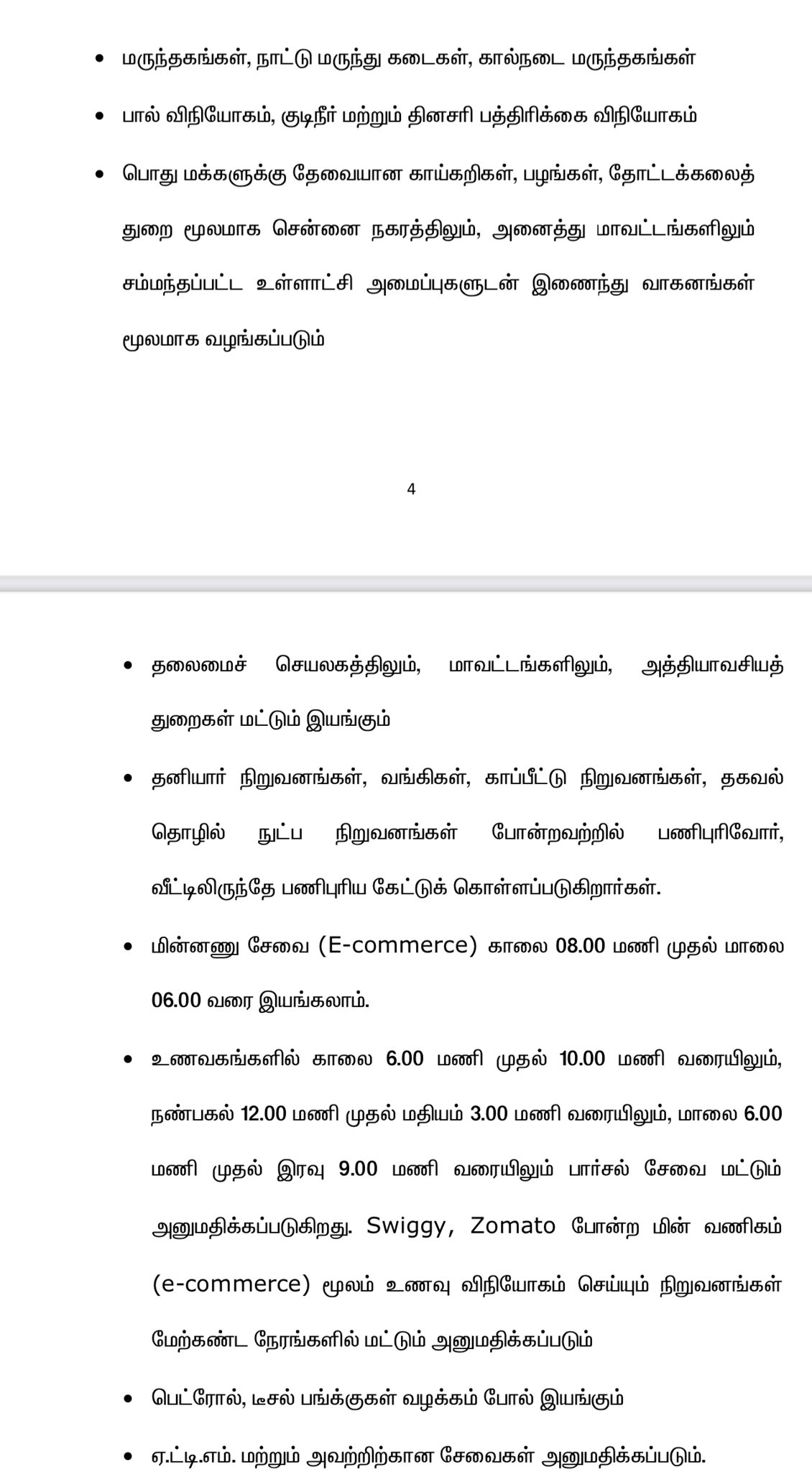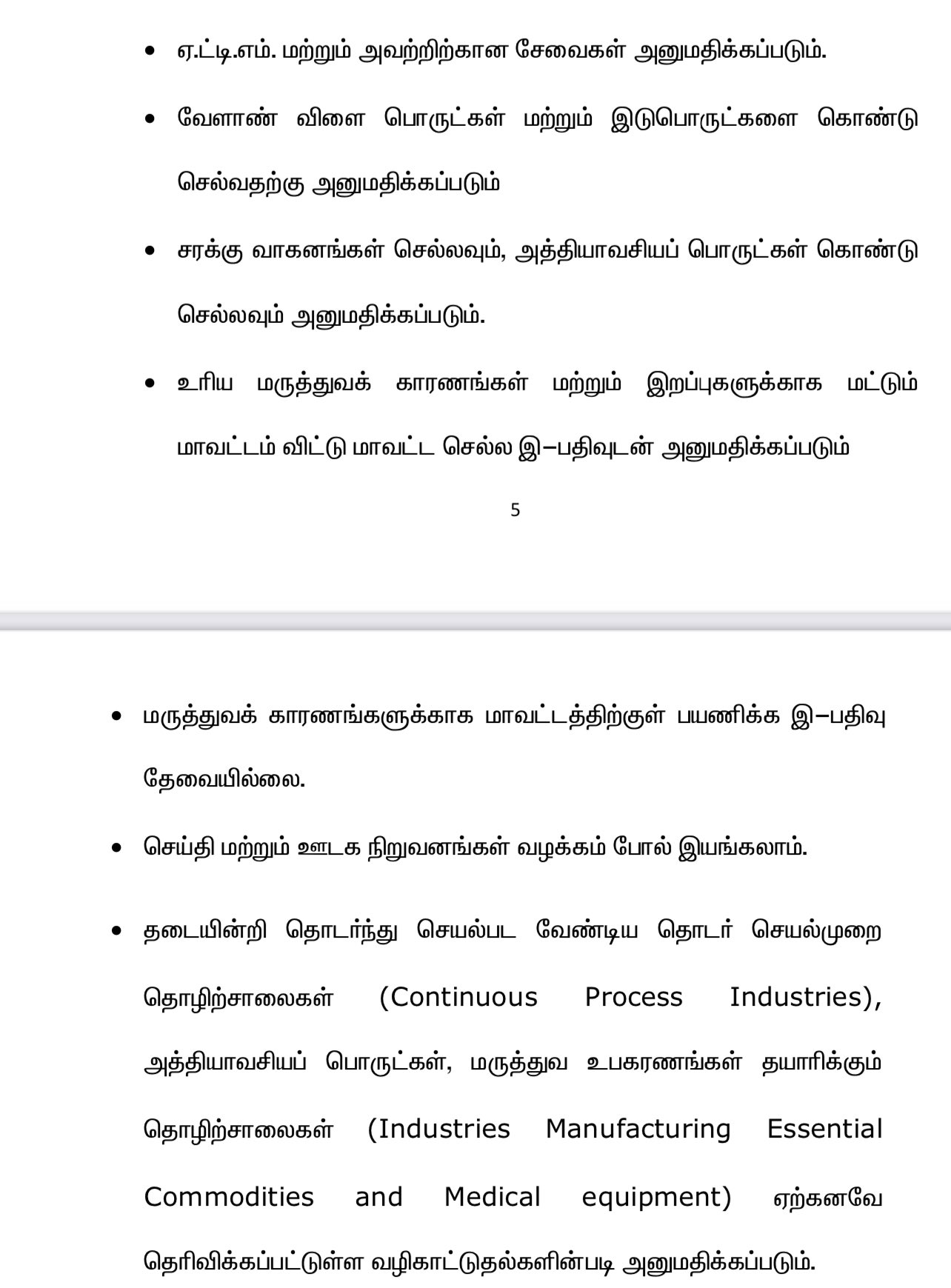 MK Stalin, reportedly said that people are roaming around, treating the lockdown situation as holidays which led the virus to spread wider. "To prevent the spread of the virus, a situation to impose the complete lockdown without relaxations has been created." Stalin said. Members of the health exprets committee has suggested him the same, says the reports. "The same view has been conveyed to me during my visits to districts during the past two days," The chief minister added.
[wp_ad_camp_1]
"We have lost many lives since the Corona infection started. Many frontline staff including doctors have succumbed to the virus. We have to put a stop to this." Stalin said in the meeting. "On the request of Tamil Nadu government, the Union government has increased oxygen allocation upto 519 metric tonnes. Besides, 100 metric tonnes of oxygen is being received from Odisha. Oxygen is being procured by air and train services too." Stalin said.
"Tamil Nadu government has held talks with the Maharashtra government for getting 900 metric tonnes of oxygen. An IAS officer is stationed at Maharashtra to ensure this supply." The Chief minister said and it has been reported that steps are being taken to procure 2,180 oxygen cylinders from Singapore and the efforts to procure Oxygen from countries like South Korea and other countries are being mad, according to reports.