"Even Dance Master Misses A Step But My Man"- Thalapathy Fans After Watching This Video
CM / Updated: 2022-06-27
18:13 IST
By Dhiwaharan
Fans of Thalapathy Vijay can't keep calm after watching the making video of "Jolly o Gymkhaana" song in which the actor was seen dancing flawlessly while dance master Jani who misses a step while performing a series of steps with Vijay for the song. Many fans of the actor lauded about the dancing skill of their idol and flaunted his ability of outsmarting even a master who creates the steps.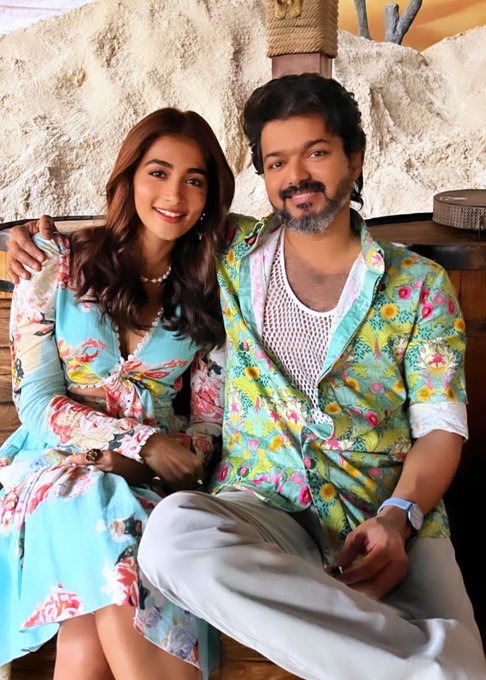 Actor Vijay, known for his huge fan base, was last seen in "Beast" directed by Nelson Dileepkumar. The actor who debuted 29 years ago in the Tamil film industry, influenced an enormous number of youths and kids. Several fan clubs are being operated only to celebrate him. Most recent example for the power of his fan base is the collection made by "Beast" despite being a film with average plot and predictable screenplay.
Apart from his acting and singing skills, Vijay enjoys a separate fanbase for his dance. Having atleast one solo/ introduction song for himself in his movies, Vijay attracted fans from all age groups through his dance skills. In "Beast", Vijay's performance as a dance in "Arabic Kuthu" and "Jolly o Gymkhaana" songs were enjoyed by fans much in theatres.
Now, Sun network which produced the film, has released a glimpse of the behind the screen from "Jolly o Gymkhana" set. A set of shots showed Vijay and Jani master dancing together for the song "Jolly o Gymkhanq" and the latter forgot to forgot what the next step his.
However, actor Vijay continued dancing without interruption. Watch the video below :
Cool as a cucumba 🤩

Watch the blockbuster #Beast starring #Thalapathy @actorvijay and @hegdepooja now streaming on Sun NXT

Link : https://t.co/p0smIr5iuR#BeastOnSunNXT #PoojaHegde @Nelsondilpkumar @anirudhofficial @selvaraghavan @manojdft @Nirmalcuts pic.twitter.com/4MMd80ywsC

— SUN NXT (@sunnxt) June 26, 2022
The actor's ability of memorizing dance step and performing them without flaw impressed fans and they couldn't resist themselves from talking about it. "Even Dance master missed this Steps & speed, But my man @Actorvijay 💥 #Varisu" a fan said whereas another one wrote "Dance master kashta padraan 😂✨🔥
Namma thalapathy kooda aada 🔥"
Check out some of the reactions below :
Even Dance master missed this Steps & speed, But my man @Actorvijay 💥 #Varisu pic.twitter.com/xPKCFk7unS

— × റോബിൻ ⱼD × 🕊 (@PeaceBrwVJ) June 26, 2022
He is better then dancers❤️complete dedication 🙏 me as a fan still learninggggggggg about dedication ☺️

— vj (@sankarkrish333) June 26, 2022
Dance master: ennala unga speedku aada mudila na 😍🤩

— DeepakVJ (@deepak_vj07) June 26, 2022
Dance master kashta padraan 😂✨🔥
Namma thalapathy kooda aada 🔥

— Mr. Procrastinator (@Pradeep56136204) June 26, 2022
Jani master eh step ah maranthutapla, Aana Thalaivan😎🔥 https://t.co/sM0CahJZ1O

— Harishankar (@Hariroger_) June 26, 2022