"Even After The Film Was Ended, No One Got Up From Their Seat" Tweeted Sky Cinemas !! Comments Are Just Hilarious !!
CM / Updated: 2018-09-15
12:52 IST
By Dhiwaharan
Seema Raja, the big festive release starring Sivakarthikeyan and Samantha Akkineni, was to release on September 13. Sivakarthikeyan, who enjoys a huge fan following, had early morning shows beginning from 5.00 am on Vinayaka Chaturthi. However, the shows were cancelled and screened from the next show.
[wp_ad_camp_1]
Siva has teamed up with director Ponram for the third time for Seema Raja. Earlier, they worked in Rajini Murugan and Varuthapadatha Valibar Sangam, two films which won millions of hearts for Siva. Now, Siva has again teamed up with Ponram after a gap of two years. But this time, Ponram is not just handling an upcoming star Siva Karthikeyan, but someone who is aiming at becoming another 'mass hero' of Tamil cinema.
Another interesting thing about Seema Raja is that Siva is now locking horns with a female villain (played by Simran) in this film. This is a typical stint that many actors in Tamil cinema have pulled off; the ones who aim at appeasing the mass. From Rajinikanth's Mappillai to Dhanush's Mappillai, the examples are numerous.
[wp_ad_camp_1]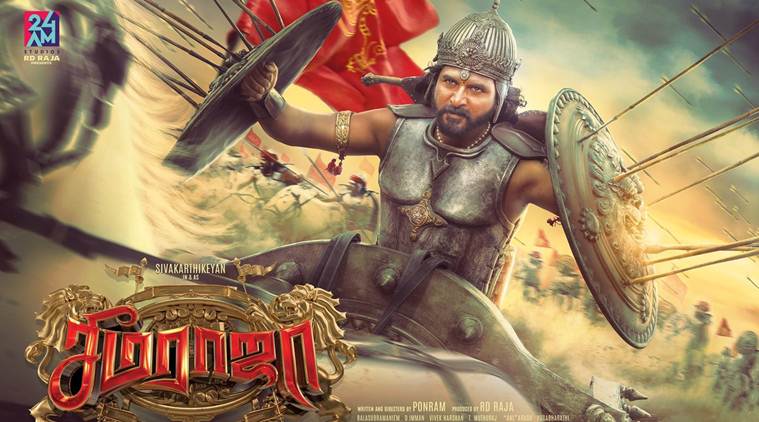 After the first day of release most of the fans expressed their disappointment towards the movie as the content of the film not what they expected. Some also said that their money was entirely wasted.
Meanwhile Sky cinemas tweeted "படம் முடிஞ்சும் ஜனங்க சீட்ல இருந்து எதிரிக்கவே இல்ல…!! #BlockBusterSeemaRaja" ( Even the Film was completed, people never got up from theri seat)
படம் முடிஞ்சும் ஜனங்க சீட்ல இருந்து எதிரிக்கவே இல்ல…!! 😎😎😎 #BlockBusterSeemaRaja

— Skycinemas (@SkycinemasNews) September 13, 2018
[wp_ad_camp_1]
Comments for this post are completely hilarious and you could not control yourself from burst out of laugh :
தூங்கிருப்பாங்க 😂😂

— ナティヤ (@japan_mayil) September 13, 2018
இப்டி தண்ணி அடிச்சு எழுப்பி விட்டுட்டு வா… pic.twitter.com/OomIge6RoD

— வெற்றி!!! (@ragavanradhakri) September 13, 2018
எது செத்துட்டானுகளா pic.twitter.com/CKdCF3gAfF

— DON ஸ்டைல் பாண்டி (@i_StylePaandi) September 13, 2018
செத்துட்டனுங்களா.அட பாவிகளா!!

— Clipper (@Selvaa__) September 13, 2018
யோவ் கொலை கேஸ்ல உள்ள போய்டாத எல்லாரும் உயிரோட இருக்காங்களான்னு பாரு 🙁

— Saravana (@saro_meen) September 13, 2018
😂😂😂 pic.twitter.com/YaGjyp4a7E

— Anegan abinesh (@Iam_DFan) September 13, 2018
மக்கள் பாதியில் எந்திருச்சி வெளிய போய்யிருவாங்கன்னு சீட்டுல கம்ம தடவிட்டாங்க போல…#BlockBusterSeemaRaja

— Arun official (@Arunvelm) September 13, 2018
Intermission லே ஓடிருப்பானுக, சீட்டு மட்டும்தான் இருக்கும் நல்லா லைட்ட போட்டு பாரு …

— மீசை 📶 (@itsrajutwitz) September 13, 2018
இப்பிடி அநியாயம கொன்னுடீங்களே பாவிகளா இடைவேளைலயாவது டீ குடிக்க போனானுங்கனு தெரியலயே 😉 pic.twitter.com/AeierwvXiK

— ஹிட்லர் (@ArunAshik7) September 13, 2018
ஏன் டிக்கெட் காச திருப்பி கேட்டு போராட்டம் பண்ணுறாங்களா?

— புலி (@itspulipandi) September 13, 2018
1. இப்பையாச்சும் கதை ன்னு ஒன்னு ஆரம்பிக்காதான்னு

2. Sk க்கு கொடுத்த buildup க்கு பதிலாக, கதைக்கு importance கொடுத்திருக்கலாம்

3. Still தமிழ் சினிமா நீலாம்பரி யை விட்டு வளர்ல

— JK (@koolfriend4u) September 13, 2018
எந்திரிக்கவே இல்லைன்னா சேலம் சிவராஜ் சித்த வைத்தியர் கிட்ட கூட்டிட்டு போங்கடா…

— பிரபு ☄️ (@prabutwits) September 14, 2018
ரஜினிமுருகன் டிலீடட் சீன்ஸ்தானே போட்டானுங்க…சீமராஜாவ எப்ப போடுவாங்கனு உக்காந்துருப்பானுங்க….🚶🚶🚶🚶

— ஆத்ரேயாடா..🔥🔥🔥 (@RohithR51) September 15, 2018
~தியேட்டர் Staff – சார் படம் முடிஞ்சுருச்சு எந்திரிங்க…

~Audience : pic.twitter.com/Tj9hv5nX7U

— Andrews Elavarasan (@andrewselvrsn) September 14, 2018
Yen adutha show kum serthu tckt vaangitiya 😑 phillips-su veripunda yethadha… naane 560mb waste aayiruchinu irukan pic.twitter.com/qcpTRCd9lz

— DěMîGõD💗VjAňňâ (@Thalapa39134708) September 14, 2018
Antha alavuku asanthu thungaranga😂😂😂

— 😎கில்லாடி🏄🏂 (@itskilladi) September 13, 2018
Uyir ku ethum 🚶‍♂️🚶‍♂️🚶‍♂️🚶‍♂️🚶‍♂️🚶‍♂️ pic.twitter.com/4pYCQal3Vu

— SheikAsarudeen (@asarudeen_sheik) September 14, 2018
— உள்ளூராட்டக்காரன் (@shivaas_twitz) September 13, 2018
வருகின்றவர்கள அட்ரஸ் எழுதி பாக்கேட்ல வைத்துக்கொண்டு வரச்சொல்லப்பா கொண்டு சேர்க்க உதவியாக இருக்கும்

— vaithi krishnaa (@sendhilvaidhya) September 14, 2018
— MP_21 (@MP2139292721) September 14, 2018
தியேட்டர் கதவை திறக்கலையா?

— நடுக் குத்தூசி (@rasamanalan51) September 14, 2018
படம் flop nu குணமா சொல்லணும் … இப்படி பொய் பேச கூடாது .. #TamilNadu #SeemaRaja #SeemarajaRajaVettri #Sivakarthikeyan pic.twitter.com/XUbvPkRIby

— ®🅰Ⓜ🕶 (@iRam_tweetz) September 14, 2018
Bloopers ல யவாது Comedy இருக்குதானு உக்காந்துருப்பாங்கடா… pic.twitter.com/FuJhZCGecZ

— Ganapathy (@GanapathyBM) September 14, 2018
— 🇮🇳Madhavan.G🇦🇷 (@rajiviji357) September 14, 2018
சூரி ஒடா hard work video வாரும்மானு பாத்துட்டு இருந்துருப்பாக 😂

— Ajith (@Im_AjithRacer) September 13, 2018
காசு போச்சுனு கவலையில இருந்திருப்பாங்க, இல்லன்னா படத்தோட கதை என்னன்னு யோசிச்சிருப்பங்க

— K.S.Vinoth (@ksvinoth86) September 15, 2018
என்னமோ அடுத்த இளயதளபதி இவா் தான்னு சொன்னாங்க?

— chandrasekaran (@chandrueees) September 14, 2018
எழுப்பிவிடனும் தல…

— புலி🐯 (@AravindPitchai) September 14, 2018
மூஞ்சில பிலிச்சு பிலிச்சுனு சோடாவ தெளிச்சு எழுப்பி விடுங்க

— ⚡PRAபு ⚡ (@PrapuDev) September 14, 2018