Superstar Kamal Haasan began Saturday's episode of Bigg Boss Tamil Season two with a statement that sounded like his campaign slogan for the upcoming elections in Tamil Nadu. "Exceptions will not become a norm. Violation of the law will not go unpunished," he said.
When Kamal began to speak with the housemates via video link, the show got interesting. He straight up told housemates that the viewers believed these contestants were 'faking' a lot. While Vaishnavi seemed to be a popular pick for 'spot the fake person' game played by Kamal, Mamathi Chari and Mumtaz also emerged as strong contenders. Kamal, however, called everyone's bluff implying that most of them, if not all, were not genuine.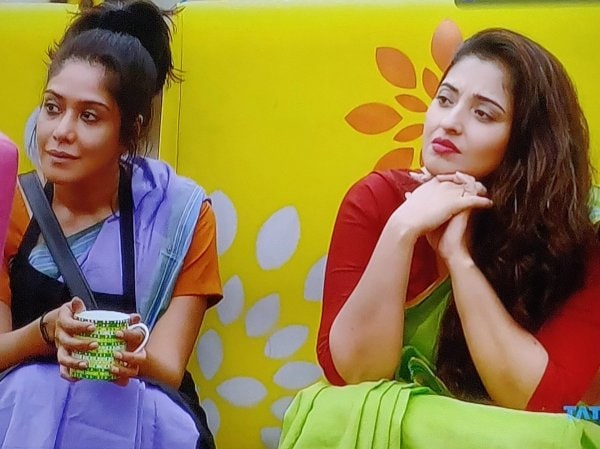 Kamal took Mumtaz and Balaji to task later. He reprimanded Mumtaz for refusing to wear her mic while making some 'unreasonable' demands. She was asked to take off her mic and stay in the garden area, denying her the permission to be part of show temporarily. Remember Kamal said, "Violation of the law will not go unpunished." Next up was Balaji's case. He crossed the lines many times this week by abusing and mistreating his wife on the show.
Kamal had to play a few 'Kurum Padam' (short films) to show that Nithya was being systematically sidelined to show her as the weaker contestant. And most of them were heavily censored, thanks to Balaji's potty mouth. "I have played many short films on this stage. But this is the first time I have showed a film, which is filled with beeps," Kamal noted.
The 63-year-old superstar warned Balaji not to use such foul languages as even children, including his own daughter, were watching the show. And he also refused to even hear Balaji's explanation when the latter tried to justify his actions.
"You may think that what moral right do I have to question you?" Kamal said to Balaji. Kamal was referring to his failed relationships.
"I have endured heartbreaks during the breakups but I never spoke badly about anyone after," he advised. "You should separate from a person with the same respect, you had on them when you first met them."
Kamal spent nearly 1 hour to make everything clear with Balaji in the weekend show. Yesterday first day of the week started with Vaishnavi being selected as the leader of the house through a task given by Bigg Boss. Balaji even shaved his trademark beard the next day after Kamal's advice saying that he shaved it as the sign of change to which Kamal funnily replied as "you removed your glassed too".
Now today in this fresh week Balaji insulted Kamal Haasan and the house of Bigg Boss by using bad language to scold Sendrayan which was caught on camera and had been telecasted in Morning masala. When Sendraayan could not respond well to what Balaji asked in the kitchen table he used "bad word" to scold Sendraayan's inability to hear what Balaji said.
For this Sendraayan shocked and asked "what" angrily to balaji but cooled off a few seconds later. The way Balaji effortlessly uttering the bad word after what happened on Saturday night is not acceptable at all. It is a big insult to the words of 63 years old Kamal haasan who is a veteran of Indian cinema.
Watch the video below :
What do you think on Balaji's contradictory behaviour ?