For past 5 days, people of Tamilnadu has been worrying and glued with the news channels. They couldn't even celebrated the Diwali festival wholeheartedly as 2 years old Surjith was trapped in an abandoned bore well.
[wp_ad_camp_1]
Now condolence messages are flooding the social media as authorities declared him as dead at 2 in the morning. They are mourning in social media platforms with various hashtags. From Union health minister Harsh Varadhan to Congress leader Rahul Gandhi, everyone expressing their sorrow on the departure of the child which struggled 80 long hours.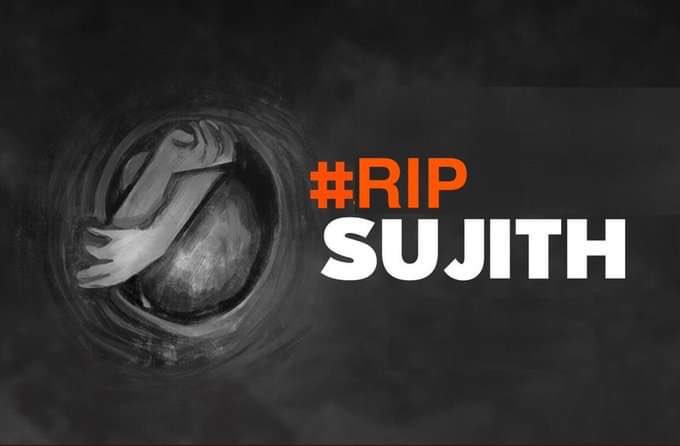 Tamilnadu chief minister Edappadi K Pazhaniswamy also released a press note, in a way of alerting the ministers to oversee if the new rules on abandoned bore wells are being followed. He also expressed his deep condolences to his family.
குழந்தை சுர்ஜித் வில்சன் மறைவு – மாண்புமிகு தமிழ்நாடு முதலமைச்சர் திரு.எடப்பாடி கே.பழனிசாமி அவர்களின் இரங்கல் செய்தி. #RIPSujith pic.twitter.com/NmNGIYNk43

— Edappadi K Palaniswami (@CMOTamilNadu) October 29, 2019
[wp_ad_camp_1]
Here's the messages posted by the people of social media :
IF only that borewell was shut
IF only there was a faster response
IF only there was better technology
So many IF's for just this one incident that took an innocent child.
There's no system to say it was a failure. HOPE we learn from what has happened. #SorrySujith

— Vikram Prabhu (@iamVikramPrabhu) October 29, 2019
சிறுவன் சுஜித்தின் உலகில் நாம் அனைவருமே குற்றவாளிகள். 'இனி இப்படியொரு சம்பவம் நிகழக்கூடாது' என்பதற்கான அடையாளமாக சுஜித்தின் மரணத்தை மனதில் ஏந்தி, அரசு தன் நடவடிக்கைகளைத் தீவிரப்படுத்த வேண்டும். நீ எங்கள் மனதில் வாழ்வாய் சுஜித், போய் வா. என் அஞ்சலிகள்.

— Udhay (@Udhaystalin) October 29, 2019
I'm sorry to hear about the passing of baby Sujith. My condolences to his grieving parents and his family.

#RIPSujith

— Rahul Gandhi (@RahulGandhi) October 29, 2019
Rest in peace my boy
May God give strength to the family

Hereafter every parent's should have an eye on our children's and also our government should initiate new ideas and technologies to rescue these kind of problems in future #RIPSujith pic.twitter.com/yEs4X7iRM5

— Yogi Babu (@yogibabu_offl) October 29, 2019
Heartbreaking to see dis happen over&over again #RIPSujith
In China a kid was saved from 300ft depth borewell
Disheartening to see our country spend so much money on so many other things but not able get technology to save lives from such incidents!
Parents PLS be more careful🙏🏻 pic.twitter.com/d6tRFzWaFF

— Shanthnu 🌟 ஷாந்தனு Buddy (@imKBRshanthnu) October 29, 2019
Very depressing to see we lost #Sujith Govt. should come up with right laws to punish the land owners who leave the Bore wells open! Also should buy the technology & training for rescue in the future. He should be the last one to loose life to this!! #RIPSujith

— S.R.Prabhu (@prabhu_sr) October 29, 2019
Baby #SujithWilson Passed away.The whole world was hoping to see you alive.That hope is in vain today.Deeply saddened….My prayers to the family.#RIPSujith pic.twitter.com/uvKj1hky3e

— D.IMMAN (@immancomposer) October 29, 2019
#RIPSujith really sad sad morning. Let's hope such accidents don't happen again.

— Ashwin Ravichandran (@ashwinravi99) October 29, 2019
[wp_ad_camp_1]
😢. #RIPSujith
May we never again lose another surjith wilson . Awareness campaign most urgent need . Safety precautions MUST be adhered to #BoreWells must be licensed and policed. pic.twitter.com/HsOtYtsVOa

— Kasturi Shankar (@KasthuriShankar) October 29, 2019
#SorrySujith pic.twitter.com/N88KiADV6W

— Samantha Akkineni (@Samanthaprabhu2) October 29, 2019
Heart breaks #SorrySujith

— DD Neelakandan (@DhivyaDharshini) October 29, 2019
#RIPSujith 💔 pic.twitter.com/Zmq315GJoi

— Manjima Mohan (@mohan_manjima) October 29, 2019
Let us pray for Surjith's soul to rest in peace !!