Actor Rajinikanth who is fondly called as "Super star", "Thalaiva" and predominantly worked in Tamil film industry will be honoured with the 2019 Dadasaheb Phalke award. The announcement was made by Information and Broadcasting Minister Prakash Javadekar in the morning of Thursday.
[wp_ad_camp_1]
The announcement emerged days before the assembly elections which is scheduled on 6th of April. While questions were raised on the connection with the large fan base of Rajinikanth and the assembly elections, Union Minister Prakash Javadekar responded saying "This is an award related to the film world and Rajinikanth has been working for 50 years…one must ask proper questions,"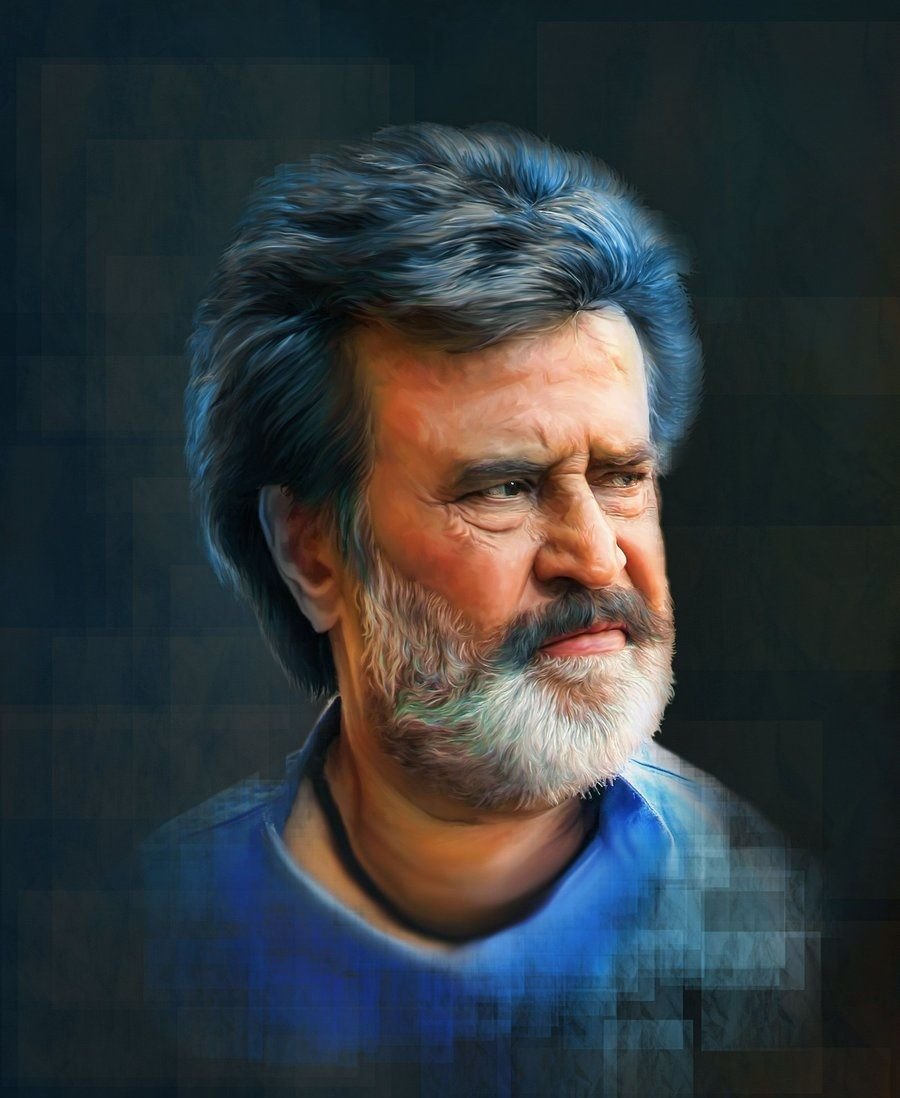 From Prime minister Narendra Modi to the actor's long time friend and Makkal Needhi Maiam president Kamal Haasan, almost all the celebrated personalities from the country wished him the best for the achievement. "Popular across generations, a body of work few can boast of, diverse roles and an endearing personality…that's Shri @rajinikanth Ji for you. It is a matter of immense joy that Thalaiva has been conferred with the Dadasaheb Phalke Award. Congratulations to him." said Prime minister Narendra Modi in his tweet.
Responding to it Rajinikanth wrote "Immensely humbled and honoured with your greetings and the most prestigious #DadasahebPhalkeAward award respected and dearest Shri @narendramodi ji. My heartfelt thanks to you and the government of india" and also released a press note to express his gratitdue.
[wp_ad_camp_1]
Immensely humbled and honoured with your greetings and the most prestigious #DadasahebPhalkeAward award respected and dearest Shri @narendramodi ji. My heartfelt thanks to you and the government of india 🙏🏻 https://t.co/XT9X6paSNT

— Rajinikanth (@rajinikanth) April 1, 2021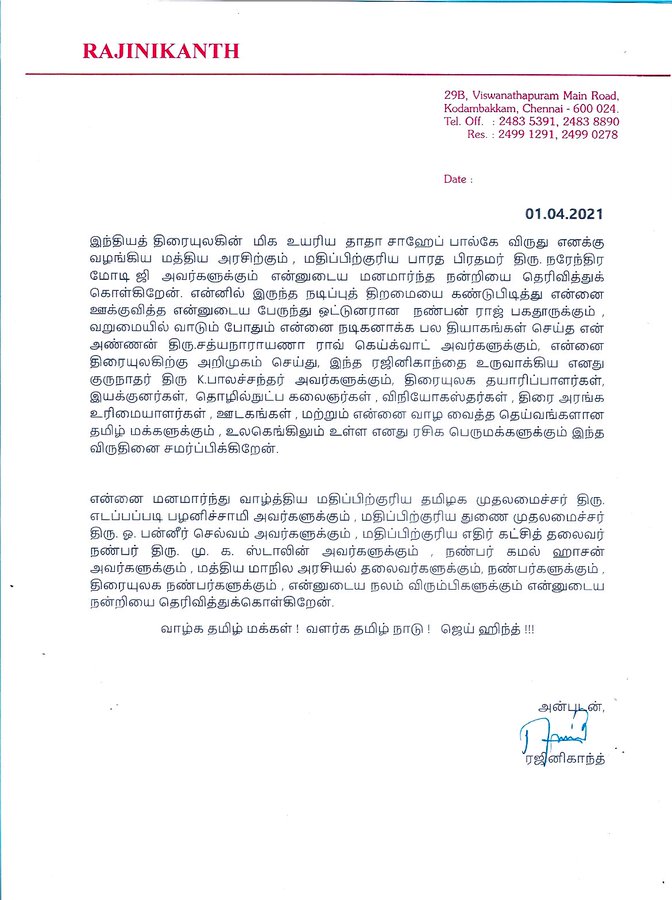 Check out some of the wishes made by the celebrities of India to Super star Rajinikanth :
உயரிய விருதான தாதா சாகேப் பால்கே விருது உச்ச நட்சத்திரமும் என் மனதிற்கு இனிய நண்பருமான ரஜினிகாந்திற்கு அறிவிக்கப்பட்டிருப்பது பெரும் மகிழ்வளிக்கிறது. திரையில் தோன்றுவதன் மூலமே ரசிகர்களை வென்றெடுத்துவிட முடியும் என்பதை நிரூபித்த ரஜினிக்கு இந்த விருது 100% பொருத்தம்.

— Kamal Haasan (@ikamalhaasan) April 1, 2021
Elated at the announcement of the prestigious #DadaSahebPhalke Award to my dear friend @rajinikanth Truly deserving.Your contributions to the film industry are immense my friend! Hearty congratulations! May the force be with you!! pic.twitter.com/OmU4mVQDhz

— Chiranjeevi Konidela (@KChiruTweets) April 1, 2021
Congratulations @rajinikanth sir on being awarded the #DadasahebPhalkeAward!! Your contribution to cinema is unparalleled! Truly an inspiration👏👏👏

— Mahesh Babu (@urstrulyMahesh) April 1, 2021
To the man who inspired millions…To the man who inspired me to come up in life against all odds..To the man who deserves this honour #DadasahebPhalkeAward Love you and salute you for everything you have done Thalaiva🙏🙏🙏🙏#DadasahebPhalkeRajinikanth @rajinikanth

— Sivakarthikeyan (@Siva_Kartikeyan) April 1, 2021
Well deserved recognition, Congratulations Dear @rajinikanth sir on The Dadasaheb Phalke Award.#DadasahebPhalkeAward pic.twitter.com/ackz51XXhJ

— Mohanlal (@Mohanlal) April 1, 2021
'Hearty congratulations to Superstar Rajinikanth on being conferred the Indian cinema's highest recognition, the Dadasaheb Phalke Award. A versatile actor & a great human being Shri @rajinikanth 's contribution to Indian cinema is immense. My best wishes to him' : CM @BSYBJP. pic.twitter.com/bHqbH7qWhs

— CM of Karnataka (@CMofKarnataka) April 1, 2021
[wp_ad_camp_1]
I think all the superlatives combined still won't do justice to what he has achieved and contributed to Indian cinema.
Many many congratulations to Thalaivar @rajinikanth for being conferred with #DadasahebPhalkeAward. pic.twitter.com/bxh5F4k0RA

— DK (@DineshKarthik) April 1, 2021
#DadaSahebPhalke Award won you @rajinikanth sir 😊

— Nivetha Thomas (@i_nivethathomas) April 1, 2021
Congratulations on being conferred with the #DadaSahebPhalke award @rajinikanth sir!! A much deserved recognition! 😊👏

— Ravi Teja (@RaviTeja_offl) April 1, 2021
Congratulations for receiving #DadasahebPhalkeAward. Few have found enduring adulation like you have in your celluloid journey. Your passion for cinema, your warmth & humanity have endeared you to millions. Best Wishes & Blessings. –Sg @rajinikanth https://t.co/Q4gql7NNpm

— Sadhguru (@SadhguruJV) April 1, 2021
Another feather on the cap for #Thalaivar! 😍 Congrats #Rajini sir on being honored with the prestigious #DadasahebPhalkeAward. An inspiration for all to strive for excellence. God bless you…#Thalaivaa #Rajinikanth #DadasahebPhalkeRajinikanth pic.twitter.com/MMCA5A0OXN

— Simran (@SimranbaggaOffc) April 1, 2021
Actor #Sathyaraj wishes #SuperstarRajinikanth on his #DadasahebPhalkeAward!!! 🎊🔥❤️🎉🥳✨@rajinikanth@V4umedia_#SuperstarRajinikanth #SuperstarGetsPhalkeAward #DadasahebPhalkeRajinikanth #DadasahebPhalkeAward #Dadasaheb #DadasahebPhalke #Dadasaheb_Rajinikanth pic.twitter.com/BE6RI0t7qf

— RIAZ K AHMED (@RIAZtheboss) April 1, 2021
Heartiest congratulations @rajinikanth sir on #DadasahebPhalkeAward 💐😇
Huge respect 🙏🏽 pic.twitter.com/3AmSm7IDZm

— Aathmika (@im_aathmika) April 1, 2021
இனிய நண்பரும், தன்னிகரற்ற கலைஞனுமாகிய சூப்பர் ஸ்டார் @rajinikanth-க்கு, #DadasahebPhalkeAward கிடைத்திருப்பதை அறிந்து மகிழ்கிறேன்.

தாமதம் என்றாலும் வரவேற்புக்குரியது!

நடிப்புக்கும், நட்புக்கும் இலக்கணமான நண்பர் ரஜினி அவர்களின் கலைப்பயணம் என்றென்றும் இனிதே தொடர வாழ்த்துகள்! pic.twitter.com/VFYsXWoAhC

— M.K.Stalin (@mkstalin) April 1, 2021
❤️❤️❤️❤️🤩🤩🤩🤩🤩 https://t.co/4koFhedtKw

— Dhanush (@dhanushkraja) April 1, 2021