"Enna Solla Pogiraai" Cinematographer's Emotional Response To Prashanth's Criticism !!
Written by Dhiwaharan Published on Jan 17, 2022 | 20:15 PM IST | 40
Follow Us
Comments: 0
Richard M Nathan who worked as a cinematographer in films such as "Maanaadu", "Comali", "Trisha Illana Nayanthara" reacted to reviewer Prashanth who criticized his work in the recently released film "Enna Solla Pogiraai" starring Ashwin Kumar of "Cooku with Comali" show. In his tweet, Richard responded by comparing the pictures of his 2015 film "Trisha Illana Nayanthara" and "Enna Solla Pogirai" and said that believes about the update of his technical skills in the past 7 years and also said that he is not worried if someone dislikes his works as everyone wouldn't be having a good taste.
"Cooku with Comali" fame Ashwin Kumar's debut film "Enna Solla Pogiraai" released in the theatres on Thursday with much expectations and is receiving various kind of reviews from the audience who watched it. Ashwin Kumar who gained a separate fan base through his Television stint, is making his debut through the Hari haran directorial. Pugazh, Teju Ashwini, Avantika played pivotal roles in the film which was produced by Ravindran of Trident Arts.
The film's plot revolves around Vikram, played by Ashwin kumar Lakshmikanthan finding the love of his life after he gets engaged to a girl. Anjali (played by Avantika) believes that a guy who suffered heart break would value a relation ship more and decides to marry Ashwin who lies that he had a relationship in the past. When Anjali wishes to meet Vikram's ex, he seeks help from Preethi to act as his previous girl friend. The climax lies on whom Ashwin ends up marrying and it is obvious as per the notion of Tamil cinema.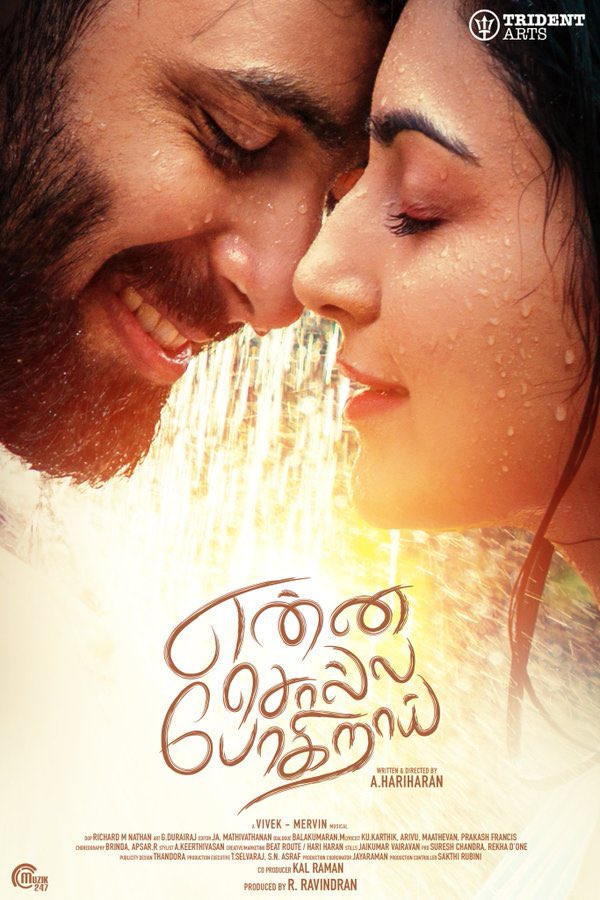 Apart from the fans of Ashwin Kumar, the film created huge anticipation among the general audience due to the audio launch event that took place for the film. The film has been receiving mixed reviews from the critics and the audience. Reviewer Prashanth, in his review, trolled the film mercilessly. He said that the film made him doze off multiple times in the theatre hall and added that there were only 7 members in the theatre hall.
While talking about the film's cinematography, Prashanth said that it could have got inspired from Instagram reels. "The cinematography of this film seems to have got heavily inspired from Instagram reels. They have changed it from portrait to landscape and also added some filters to Ashwin's face during DI" Prashanth said in his review.
Check out the review which garnered 4 lakh plus views so far :
Richard M Nathan who handled camera for the film, reacted to Prashanth's review saying "1) I believe, I've become technically updated in the past 7yrs 2) It's ok if you don't like my work, not everyone has a good taste. #ennasollapogiraireview #EnnaSollaPogiraai" in his tweet. He added a series of screen shots from his 2015 film "Trisha Illana Nayanthara" and "Enna Solla Pogirai" to denote how much he got improved technically.
Check out his tweet below :
1) I believe, I've become technically updated in the past 7yrs
2) It's ok if you don't like my work, not everyone has a good taste.#ennasollapogiraireview #EnnaSollaPogiraai pic.twitter.com/7FJOz5BUO1

— Richard M Nathan (@Richardmnathan) January 15, 2022
Check out some of the reactions and Richard's reply below :
This tweet is not to promote the film brother. It's actually a reply for an arrogant review about my work. Pls go through the attached video and the tweet, it might help you to understand things better. Thank you.

— Richard M Nathan (@Richardmnathan) January 16, 2022
The day I did my first film, I become open to criticism. I am happy about it. But I can digest only genuine criticism. I don't like to be taken for granted sir. Hope you connected the dots already. 😜😜😜

— Richard M Nathan (@Richardmnathan) January 16, 2022
But sometimes, I am forced to sir. If you decode the images you will know why.

— Richard M Nathan (@Richardmnathan) January 16, 2022
I loved every frame I lit and every frame I framed. I will proudly say that's my best work as of now.

— Richard M Nathan (@Richardmnathan) January 15, 2022
More than a Thug, it's the love for my professiona. I love every frame I create. People can criticise, only if it's bad.

— Richard M Nathan (@Richardmnathan) January 16, 2022
Do you see any big difference in the base image and the final image in terms of digital filters? That softness and glow were achieved in lighting and not with digital effects.

— Richard M Nathan (@Richardmnathan) January 16, 2022
But some feel making an artist look good on screen is a crime. Don't know y a DOP is hired for…. Funny people. 😜

— Richard M Nathan (@Richardmnathan) January 16, 2022
Not necessarily we ignore negative people always. Sometimes it good to make them understand a few things.

— Richard M Nathan (@Richardmnathan) January 15, 2022
Agree… then one should say the film was bad. He can't target my work which I believe I've done my best. This message is not for all reviews. It's for a particular person. Find out the reson behind the images. You will get your answers.

— Richard M Nathan (@Richardmnathan) January 16, 2022
If he his bad. I am his dad. 😜

— Richard M Nathan (@Richardmnathan) January 15, 2022