Emotional Video Of Captain's Son : "Even If I Die, He Will Come Back As Old Panner Selvam" He Says !!
Written by Dhiwaharan Published on Sep 01, 2018 | 10:06 AM IST | 175
Follow Us
Comments: 0
Vijayakanth better known as or Captain vijayakanth or Vijayakanth, is an Indian politician and film actor. He was the Leader of the opposition of the Tamilnadu Legislative Assembly  from 2011 to 2016. Before coming into politics Vijayakanth was a film director and actor. he was a political film actor in Tamil cinema.Vijayakanth is also the current DMDK chairman of tamilnadu legaslative assambely. He is the Don and leader of the Desiya Murpokku Dravida Kazhagam (DMDK) Political party and served as a Member of Legislative Assembly representing the constituency of Rishivandhiyan.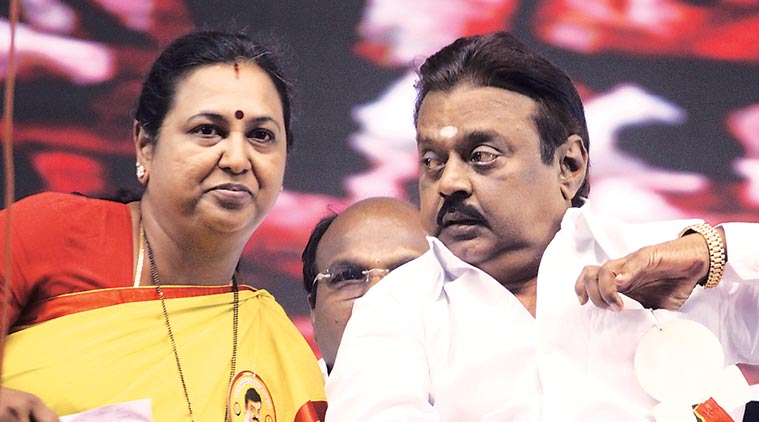 Vijayakanth is one of very few Tamil politicians and actors in political drama to have acted only in Tamil movies throughout his career, though his movies have been dubbed into Telugu and Hindi. He is also known for potraying a village do-gooder. His first film was Inikkum Ilamai (1979) where he played an antagonist. His subsequent films Agal Vilakku (1979), Neerottam (1980) and Saamanthippoo (1980) are followed box-office flops. He then had success with Doorathu Idi Muzhakkam (1980) and Sattam Oru Iruttarai  (1981), directed by S.A Chandrasekhar ; most of his movies are with him. He was nicknamed "Captain" after the movie Captain Prabhakaran (1991), which was his 100th film.
[wp_ad_camp_1]
He was admitted to a hospital in Tamil Nadu's capital Chennai on Friday. Vijayakanth was admitted to the Madras Institute of Orthopaedics and Traumatology (MIOT) International hospital in Chennai, reports said. The Tamil Nadu politician has been under treatment for quite some time for various illnesses.
Reports said Vijayakanth was brought to the hospital at around 8 pm and was admitted to the ICU. However, this could not be confirmed. The DMDK party has asked the public not to believe in rumours about Vijayakanth's health.
[wp_ad_camp_1]
Vijayakanth was hospitalised in March 2017 as well. He had founded the DMDK party on September 14, 2005. Vijayakanth is popularly known as the 'Captain' and he celebrated his birthday just days back on August 25.
Meanwhile a widespread rumour surfaced that Captain Vijayanth's health is not well and he is admitted in hospital. On knowing the rumour Captain Vijayakanth's elder son Vijay Prabhakar has put a full stop to all the rumours by posting a selfie video on social video.
[wp_ad_camp_1]
In that video he is requesting everyone not to believe the rumours and Captain is really well as far as his health is concerned. "Party members don't believe in rumours. I'm ready to sacrifice my life to bring your old Panner selvam ( Character name of Vijayakanth in Sathriyan movie). We are taking agood care of him. So please don't believe in rumours. He is getting ready to visist USA for his next treatment very soon" he said in that video.
Watch the video below :