Emerging Actor Slams Youtube Video For Its Portrayal Of North Madras Girls !!
Girls
North Madras
Ramesh Thilak
CM / Updated: 2019-11-11
18:50 IST
By Dhiwaharan
Youtube channels related to various fields have emerged in large numbers in India recently. Purpose of most of them is to entertain the subscribers of their channel. Starting from prank videos to celebrity interviews, many youtube channels grabbing the audience in its own way. Youtubers nowadays are also publishing Sketch videos in order to attract audience. A youtube sketch is nothing but a compilation of mindless comedy scenes in a single video.
[wp_ad_camp_1]
Not many days ago, a sketch video from "Eruma Saani" youtube channel about "Pullingo" created outrage among its own subscribers which resulted in the makers of it taking it down from their youtube channel. "Eruma Saani" Youtube Channel Facing The Wrath Of Social Media For Their "Pullingo" Video !! Now, a sketch video from a youtube channel named as "Araathi" about "Types of North Madras Ponnu" was not in a good taste according to popular actor Ramesh Tilak.
Ramesh Tilak who is known for his appearance in films like Soodhu Kavvum, Imaikka Nodigal was last seen in Malayalam blockbuster Kumbalangi Nights is expected to be seen in more films which are in various stages of production.
[wp_ad_camp_1]
Ramesh who posted the pictures of his written letter in his official twitter account, feels that the video "Types of North Madras Ponnu" disturbed him. "I saw the video "Types of North Madras Ponnu" in youtube. The most frustrating things I have witnessed in that video is that they portrayed a North Madras girl as a girl who couldn't speak English but excels in her local language. The girl would say WBM instead of BMW to impress her boyfriend. Though I somehow managed sit through the above mentioned scenes, I happened to see a scene where the girl would stitch her own sandal before meeting her boyfriend. On what basis these people are labelling the residents of North Madras as such ?? What wrong in stitching a sandal of her own?? and what's so funny about it ??" asked Ramesh out of frustration in his post.
Check out the pictures posted by Ramesh Tilak here :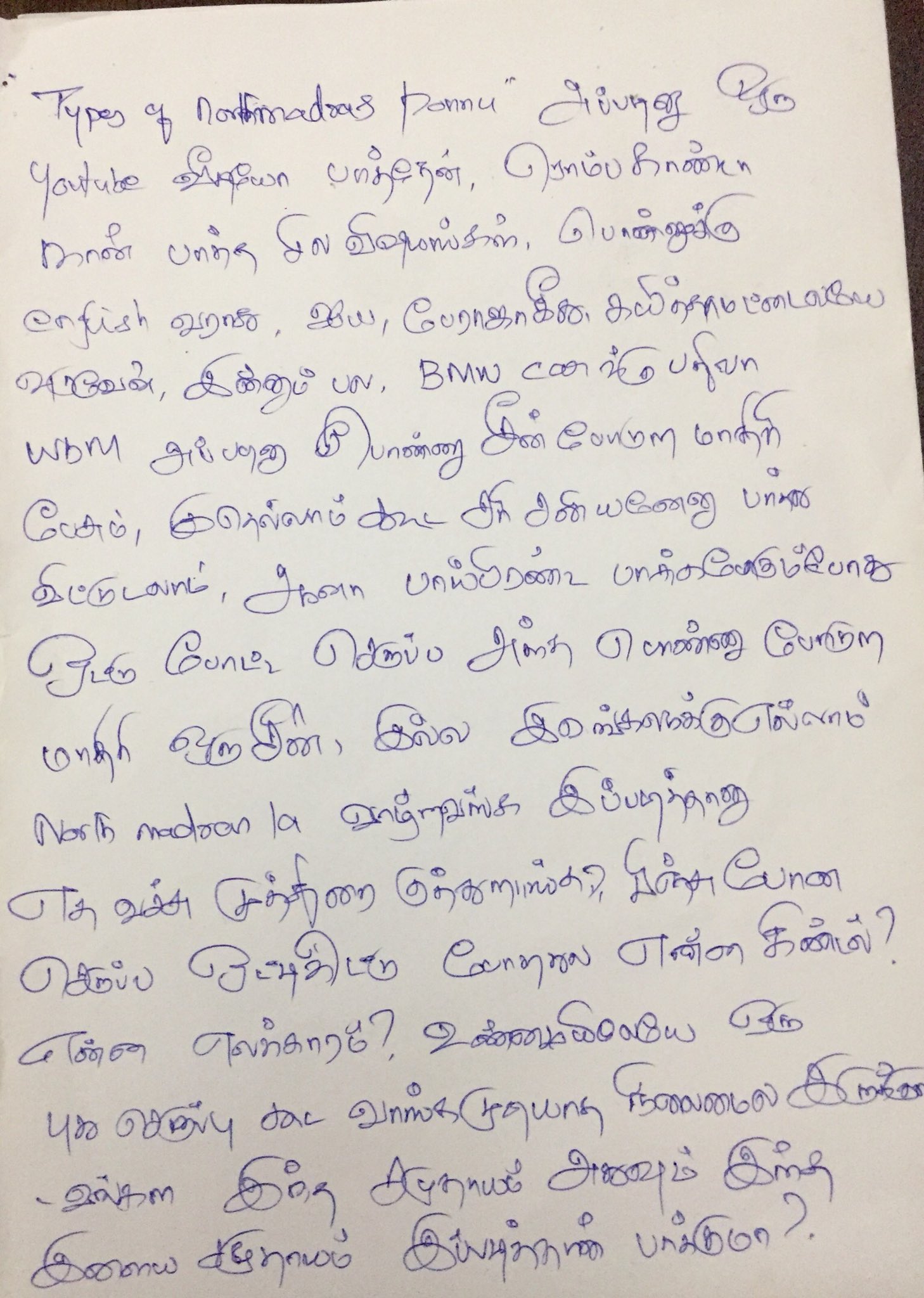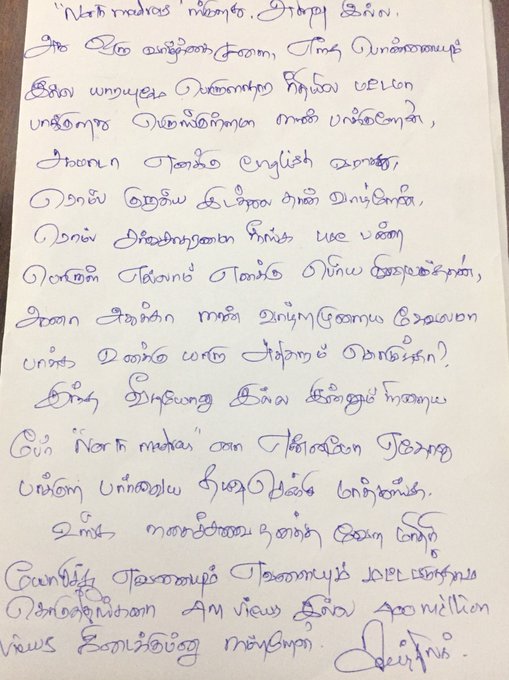 "Is this the way this young generation sees those who couldn't buy a new sandal ??" Ramesh further asked. "North Madras is not a knowledge, it is a lifestyle. "I see it as a big sin to belittle someone by considering their financial status. Who gave you the rights to treat me as a disgust. Not only the makers of this video, I request everyone to change their perception towards North Madras. If you use your humour sense in your videos without discriminating anyone, I believe it will reach 400 million." he added.
Here's the video Ramesh mentioned :
[wp_ad_camp_1]
Check out the post Ramesh posted below :
#Northmadras" 😏 pic.twitter.com/si3QkGWYbT

— Ramesh Thilak (@thilak_ramesh) November 11, 2019
Having acted in critically acclaimed films such as Kaala, Kaaka Muttai etc, Ramesh proved that he is a socially responsible person in real life too. What do you think on this post of the "Soodhu Kavvum" actor ?? Comment your views below !!